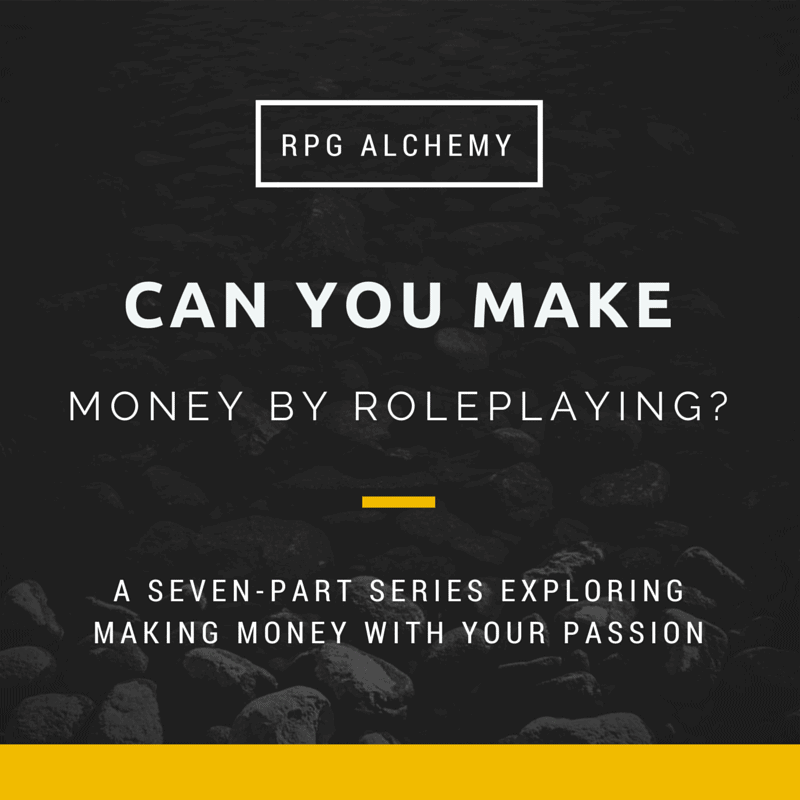 Can YOU Make Money By Roleplaying? is a seven-part series that explores if it is possible to make money with your roleplaying passion. Many gamers dream of publishing their own setting or system, creating a blog that the world adores, or simply earning money by actually playing games. But are those goals realistic and can you really make money by roleplaying? This is article number one in the seven-part series and gives an introduction to what the series is going to talk about.
Have you ever watched Oprah or Tony Robbins talk about doing what you love? One of the key concepts that both of these luminaries put forth is, "The only way to be successful and happy in life is to do what you love and the money will follow." That's really easy to say when your desire in life is to influence and touch people through a nationally syndicated television show or becoming an award-winning performance coach, but what if your desires are more… mundane?
Almost anyone reading this blog probably loves tabletop roleplaying games, board games, card games, or all of the above. Maybe we're not saving the world by wanting to bring that passion to others, but hobbies are an important part of life where we can socially interact and have fun with others. That made me question to myself, is it possible to make money with your roleplaying passion?
I initially sat down and started writing what began as a normal sized article, grew into a very large article, and then quickly ballooned into a topic that was much too large to cover in one single article. I felt like there was so much to talk about in regards to this topic that I probably could have written a small book on it. But I decided to break it down into five manageable topics with an introduction and conclusion.
Here are the different topics I'm going to talk about in the series:
Ways to Make Money Roleplaying – First, I will talk about some of the more common ways that the average gamer looks to make money roleplaying. Some of these ways have been around for decades, like creating actual roleplaying content like books or accessories. While others are relatively newer with the advent of new technologies in the industry, like running a Twitch channel or selling eBooks. Are you a writer, an artist, a public figure, or something else entirely?
Areas of the Market – Next I'll delve into different areas of the market where one could potentially make money, like working for an actual gaming company, creating your own company, building a brick and mortar gaming store, self-publishing, building a blog or gaming website, and a host of other areas within the industry. I'll touch on the potential of each of these areas as well. Which areas are saturated? Which aren't? Which have actual monetary potential?
Enough Money to Justify the Work – In our middle article of the series, I'll break down if the money you make is enough to justify the work for you personally. Some get into this for the love of the game, others are looking to make a monthly car payment with their hobby, while others are looking to really hit it big and make a living out of their passion. The big question, does making money on roleplaying really even matter to you?
Top Companies and Earners – Next I'll take a look at some of the top companies and earners in the industry. This will talk about the mega-corporation giants and take a look at what a "top earner" in the industry really looks like. I'll also move to different areas on the success ladder and take a quick look at what those in the industry are really earning. Do all of the top performers in each area actually make money? If they do, is it enough to support a full-time job?
My Personal Journey – In the last topic before I conclude the series, I'll talk about my personal journey within the industry. I'll talk about the different websites I've created, what the traffic is like, and what I've really made on them. I'll also talk about a few people I've met along the way and different conclusions I've come to when talking with various people within the industry. What have I actually earned? How many hours have I put into it? Do I feel what I've done is worth it?
Conclusion – Finally, I'll conclude the entire series with a breakdown of what I think about when I ask myself the question, "Can YOU make money by roleplaying?" Is it realistic? What could you really make? How hard would you have to work? Will it really all be worth it in the end?
This series really strikes at the heart of a question I've asked myself for the last seven or eight years. I'm very fortunate that I have a fantastic "real" career that supports my family. But like many driven people all over the world, I constantly ask myself if there is something else out there that I am really passionate about that I could make a living at? And, how could I make a positive impact in my small corner of the universe and have a great time doing it?
Have you ever looked in the mirror and asked yourself, "Can YOU make money by roleplaying?" Have you ever dreamed about making money doing something you love? If so, hopefully this article series will explore some of the realistic answers to the questions that you've asked yourself about this topic.
If you have any questions about the topic we discussed today, or any of the other topics in this series, please feel free to leave a comment below!
In the next article of the series, we discuss the topic of "Ways to Make Money Roleplaying".
Can YOU Make Money By Roleplaying? – Article Series
• Introduction
• Ways to Make Money Roleplaying
• Areas of the Market
• Enough Money to Justify the Work
• Top Companies and Earners
• My Personal Journey
• Conclusion