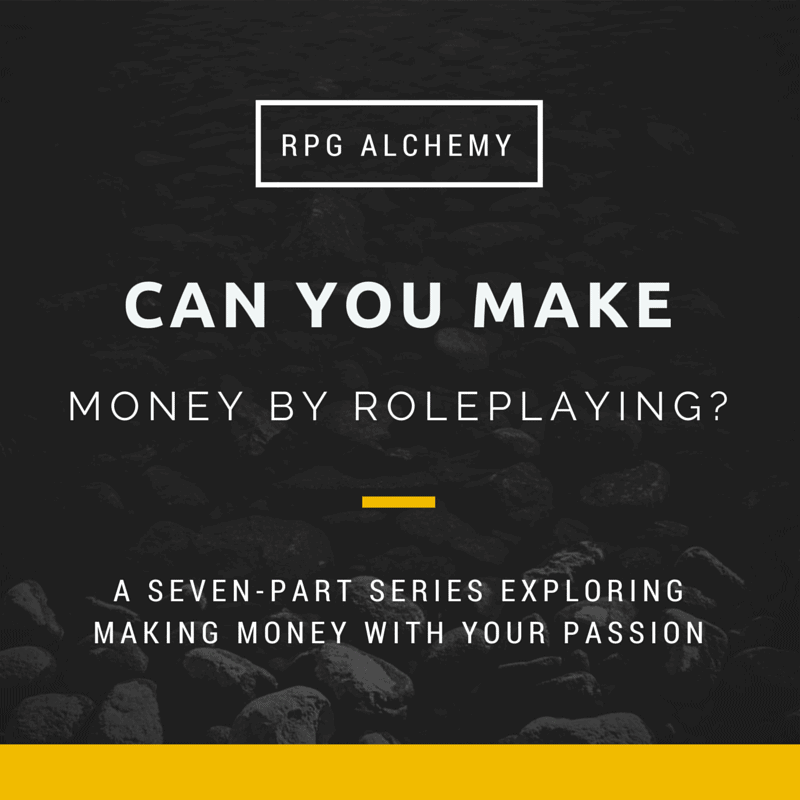 Can YOU Make Money By Roleplaying? is a seven-part series that explores if it is possible to make money with your roleplaying passion. Many gamers dream of publishing their own setting or system, creating a blog that the world adores, or simply earning money by actually playing games. But are those goals realistic and can you really make money by roleplaying? This is article number three in the seven-part series and discusses different areas in the roleplaying market.
I discussed in my previous article, Ways to Make Money Roleplaying, many of the different ways to make money with your roleplaying passion. However, I didn't go much into the viability, or lack of viability for any of those options. In this article, we'll discuss the different areas of the market where one could potentially make money by roleplaying. We'll also discuss some of the pros and cons of each area, market saturation, barriers to entry and if a listed option is truly viable (in my opinion).
Working for an Actual Gaming Company – I would be neglectful in my duties if I didn't start with this option. One of the best ways to live your roleplaying dream could be to actually work for a gaming company, like Wizards of the Coast, Fantasy Flight Games, or any of the other numerous gaming companies out there.
Whether you're a writer, an artist, IT personnel, a salesperson, a business manager, or any other "job" within the industry, working for a company like this would put you right in the thick of it. Sure, maybe being a Network Engineer for Fantasy Flight Games isn't exactly what you had in mind but it could get your closer to the gaming industry than you are now. This option could be one of the safest options on the list when it comes to providing a stable income that could feasibly support you and your family.
One of the possible negatives about this option is that your passion can turn into a "job" if you let it. Jobs in this industry can also be more competitive than normal because of the appeal of working for a gaming company. In addition, gaming companies provide desired items, not items necessary to sustain life, so when the economy is bad they can be hit really hard and suffer significant layoffs.
Creating Your Own Company – This could mean a lot of things, from creating a store, to building a website, to becoming a publisher of roleplaying games. At some point, if you become successful enough in your roleplaying money-making endeavors, you'll probably have to purchase a business license or legally create a business. This could be for tax purposes, liability protection, or because you're going in on a project with others and need to protect everyone's interests.
Depending on what statistics you look at, the majority of small businesses fail in the first couple years. I've seen statistics as low as 50% in the first five years and as high as 80% in the first eighteen months. Either way, creating your own company can be a very risky proposition. Anyone doing so should research the process extensively before embarking on such a venture.  Also, if you follow any of these other options it actually could eventually lead you into having to create a company.  There is a book called EntreLeadership by Dave Ramsey that is fantastic for anyone thinking about going into business for themselves.  He also had a radio show, seminars, and a podcast that talk about both finance and small businesses.
Building a Brick and Mortar Store – Probably a dream of almost every gamer, at some point, was to open up a gaming store. In today's economy, this can be tougher than ever. The absolute, hands-down, best resource I could direct anyone to on what it takes to actually run a gaming store is the Black Diamond Games Blog. Gary Ray runs Black Diamond Games in Concord, California and his blog is the go-to resource for anyone who wants to know the challenges of running a gaming store and what one can realistically expect in doing so. He goes into incredible detail on everything from how much he makes, how long it took him to get there, where the majority of his profits come from, how to maintain inventory, and so much more.
Just like I explained with creating your own company, a brick and mortar store is a small business. They are subject to the same failure rates that small businesses are, possibly even more so in the age of the Internet.
Building an Online Store – There are numerous examples of online gaming stores that sell everything from books, board games, and card games, to gaming accessories like dice, dice bags, dice towers, miniatures, maps, specialty accessories like gamemaster or players aids, and so much more.
Some of these sites sell a broad variety of gaming products, while others focus on a more niche area like simply dice and dice accessories. Even though your store may be online there will typically be a physical component that houses the actual product, unless you are selling PDFs or downloadable software.
While the barriers to entry and initial investment cost for building an online store may be lower than building a physical store, the risks have the potential to be just as challenging. There are a significant amount of choices for gamers to purchase from in the online world. One would seriously have to set themselves apart with their products offered, their pricing, or their marketing ability, to be successful.
Self-Publishing – One of the biggest areas I believe gamers hope to make a lot of money, but don't realize they probably won't, is with self-publishing. Everyone has that dream that their roleplaying setting is unique and will be ravenously desired by the public. But what they don't realize is that most books make little, if any, profit. Of those that do, one must measure the cost of hours versus the amount of money made.
If the creation was a labor of love, then it doesn't matter. But that is not what this article series is about. It is about making money through your passion with roleplaying. In my experience, creating books or published works is typically not a viable money-making alternative for most gamers (but yes, it is for some).
One of the best examples of failure in the self-publishing area I can think of is Alpha Omega by Mind Storm Labs. The core rulebook was hailed by many as having some of the best artwork, layout, and editing for an initial offering ever. The game had a unique kitchen-sink setting as well that many gamers adored. It won several prestigious awards when it first came to market.  However, the rule set was incredibly complicated and took a minor in calculus to understand. The game had incredible financial backing but due to a few keys issues (one being the rules), the game flopped after only a few follow-up releases.
This is just one of many examples of a fantastic product with a few issues that caused it to fail to launch with the gaming community.  I'm not saying it can't be done by the "average" gamer.  I'm just saying that most gamers that have a full-time job and decide to self-publish roleplaying books on the side need to realize that they most likely will not be making a lot of money from it.
Building a Blog or Gaming Website – Just like self-publishing, blogs and gaming websites are often something gamers look to in order to have fun making money with their passion. There are a lot of ways to make money through a website, including advertising, affiliate services, sponsorship, associated YouTube or Twitch channels (again, ads), or product sales. A great thing about building your own website is that the initial investment cost can be extremely low and sometimes even free.
Some of the negatives with building a website is that there are few barriers to entry, so anyone that has an internet connection can become your competitor. In addition, to earn money with a website you typically have to develop a pretty large following that actively engages with you. This can be somewhat challenging since there are already numerous gaming websites on the market and the market itself isn't very large. So you have a lot of sellers competing for not that many buyers, whether they are purchasing an actual product from you or just clicking on an advertisement.
One often overlooked issue with gaming websites is that there are many gaming websites that offer their products and services for free. These gamers love gaming, they love talking about gaming and they have no real desire to pursue being paid for what they provide. Their website is a free labor of love but they are still your competition.
For example, there isn't a huge market demand for "paid gamemastering advice" because you can go to hundreds of different websites and obtain it for free. Similar to paying for advice, there is little or no market demand for professional, unbiased, non-compensated product reviews. There are hundreds, if not thousands, of gamers out there providing that service for free and they do a good enough job at it that most consumers don't feel the need to pay for game reviews.
A good article series that focuses on gaming reviews is "The Death of Games Journalism" by Scrump Monkey at Super Nerd Land.  The article series goes into specifics about advertising revenues, how blogs have changed gaming journalism and what it really takes to make money running an online website that talks about gaming.
Building a YouTube or Twitch Channel – This is an area that I would say has potential when combined with a website. However, one has to remember that the roleplaying niche is still a fairly small niche when compared to other areas of business. All of the YouTubers and Twitch gamers that are making what I would consider "good" money are playing incredibly popular games, like Call of Duty, Minecraft, or League of Legends (all video/computer games). These are games that tens of millions of fans around the world are playing.
You have to consider the fact that a very successful roleplaying YouTube channel may only have 3,000 to 10,000 subscribers. This is a far cry from the 1,000,000+ that other YouTubers in different areas are making. On the flip side, one may look at this as a yet untapped market where no one has really yet hit the big time in the roleplaying YouTube/Twitch personality arena. You'll have to make that determination for yourself but my personal belief is that one of these channels will be infinitely more successful when coupled together and with an actual website.  Though it may not have the potential that a channel in another gaming area might.  It's also a way to get your name out there if you're looking at becoming a gaming personality.
To recap, in this article I've discussed a few of the areas that one could potentially venture into in order to make money by roleplaying. I also briefly discussed some of the pros and cons to each of these options. In the next few articles in the series, I will go into more depth on whether the actual investment you make could potentially net you enough money to justify the work (a lot of this will depend on you). I'll also highlight some top companies and earners in the industry and related areas, as well as go into specifics about my personal journey in the industry.
Do you have any other areas of the roleplaying market that you think I might have missed? Which areas do you think are the most realistic for making part-time money in the industry? What about for making full-time money in the industry? And, how feasible do you feel it is for a gamer to make a living on their passion with roleplaying?
If you have any questions about the topic we discussed today, or any of the other topics in this series, please feel free to leave a comment below!
In the next article of the series, we discuss the topic of "Enough Money to Justify the Work".
Can YOU Make Money By Roleplaying – Article Series
• Introduction
• Ways to Make Money Roleplaying
• Areas of the Market
• Enough Money to Justify the Work
• Top Companies and Earners
• My Personal Journey
• Conclusion