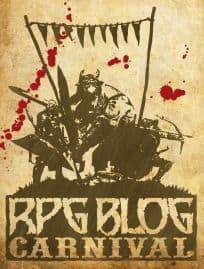 Goblins… the ultimate, low-level cannon fodder for starting a new fantasy roleplaying campaign. I have often wondered, what would happen if these seemingly "speed bump" creatures actually were played as a formidable and dynamic force in a fantasy roleplaying campaign. What if they weren't just little green lemmings marching to their doom at the hands of an adventuring party?
In this three part series, I will explore different options for breathing life into goblin civilization for your campaign. In part three of this series, we'll talk about Architecture, Variations, Sample Tribes and how these topics can help breathe life into your goblins and make them more memorable to your campaign.
Architecture
Most races build structures according to their needs. How a goblin builds a home would vary greatly from how a giant builds a home. I would expect the entrance to a goblin home to be smaller due to the fact that they don't need a fifteen foot high door. Many settings view goblins with a pack mentality, so there probably isn't too much need for many individual rooms inside structures. Large common areas or even a building that is just one room seems like goblin style. Goblins also aren't typically known for their cleanliness or organization skills. Are they more likely to have neatly organized book shelves, or various piles of equipment located in certain areas?
Structures:
– Do they live underground, above ground, or both?
– What structures do they live in (caves, tents, fortresses, underground tunnels, pits, fissures, mountains)?
– What are uniquely goblin structures (temple to the Blood Chief, burial mounds, catacombs, sacrificial pyres)?
– What are their structures made of (type of wood, type of stone, adobe, mud, bricks, metal, etc.)?
– What is the craftsmanship level of their structures (crude, modern, advanced)?
– Do they build their structures or decorate them in any certain way (hang wind chimes in nearby trees, paint clan symbols on buildings, carve warnings in nearby trees to ward off intruders, etc)?
To design a structure, try to think of how a goblin would think of and build that structure. What would a goblin prison look like? Well, goblins seem particularly ruthless in most campaigns. They also tend to value life at a different level than most civilized societies in campaigns. I definitely don't see them creating a huge structure with individual cell blocks and common areas. They probably look at prisoners more like they do livestock. How would this affect how they built their prison? A goblin prison might be a large hole in the ground with only one way out. Or, it might be inside a cave that has only one entrance. The entrance is guarded by goblin warriors and a stone is rolled in front of it to prevent prisoners from escaping.
Where goblins live will also affect how their structures are built. If your goblins live in the forests and inhabit a network of tunnels underneath that forest, they will have vastly different architecture and structures than nomadic goblins living in a barren desert. Remember, they may not even build their own structures. Perhaps they just inhabit abandoned ones. Ask yourself, if I dropped one thousand goblins into this environment, what structures would they build to survive and thrive there? And, how would they build those structures?
Variations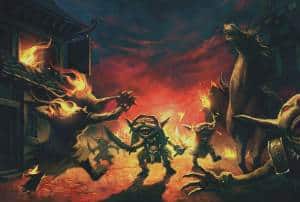 One of the mistakes I think game masters and players make with any non-human race in roleplaying is that they forget about variations. Even if a race or culture is defined by something specific, that doesn't mean every being in that race fits that mold. Not every dwarf tries to grow a huge beard and loves ale. Not every elf values beauty and intelligence. So remind yourself that even though goblins in your campaign might generally fit into a mold, there are always variations.
These variations often take the form about being something physical or mental. Some simple examples are height, weight, color, intelligence level, or personality. But there are other variations that exist as well, such as experience, religion, language, customs, and tastes (many are things we've already discussed). Being different is so essential to human existance that we'd have a hard time even picturing life where all other people are identical. Goblins should be treated the same way.
There are many different things that will affect and shape goblin variability, including (but not limited to): mutations, genetic drift, natural selection, nutrition (or malnutrition), environmental exposure, ecological environment, social environment, and the world around them. A goblin tribe that lives at the edge of a warring human civilization will probably develop much differently than a goblin tribe wandering around a barren wasteland.
Sample Goblin Tribes
Here are some short descriptions of three different goblin tribes, the Mosstooth Tribe, the Tonguecuts, and the Stonemaw Clan. These three examples will show you how taking a little extra time to flesh out your goblins can provide distinction and add flavor to your campaign.
Mosstooth Tribe
The Mosstooth Tribe might be viewed as the 'classic' goblin tribe. They were affectionately named such due to their greenish looking teeth that they clean one per lifetime. Most simply answer to a singular name, such as "Stakoz", "Gok", or some other singular identifier. They know two languages: goblin and not-goblin. The written word is for people they steal from. Physically, they are what you would expect from a 'classic' goblin, they're short and scrawny. They wear clothing and use items that they steal or scavenge from others.
Most tribal members live in a dark forest at the base of a mountain range. Since they don't build any of their own equipment, they are fairly resistant to the basic elements of nature that these areas are exposed to. They are ruled by the strongest and most intimidating of their tribe, which tends to change quite frequently. As such, they have few traditions or beliefs beyond what they need to survive in the moment.
The Mosstooth Tribe has no architecture of any kind. They inhabit the caves at the base of the mountains or abandoned structures that are far away from other civilizations. The likelihood of their tribe existing for any extended period of time is very low, hence there is not much variety within their ranks. If the tribe suffers a major defeat or is decimated in some other way, the remaining members will most likely assimilate into another tribe and adopt their new ways and customs.
Tonguecuts
Some consider the Tonguecuts to be a small goblin tribe, some consider them a mercenary group, but one thing many agree on is that they fear them more than any other goblin. Tonguecuts value both individuality and being part of a group. If you asked one what his name is, he may reply "Mezorg Chainbone of the Tonguecuts". They speak a modified version of the goblin language due to their practice of splitting their tongue at the 'Age of the Warrior'. They use the written goblin language to chronicle their battles.
Physically, they tend to be larger and stronger than the average goblin. Their Spartan-like views on life, training, war, and death, highly contribute to this. Their bodies are typically covered with the battlemarks of war and tattoos marking commemorating the various battles they've been involved in. They are solid crafters that are efficient at building chainmail and heavy armor for their warriors. They favor sharp blades as their weapon of choice. Many of these items are adorned with painted pictures of an open goblin mouth.
The Tonguecuts are known to hire their services out to many different factions, both those considered civilized and uncivilized. Due to this, they have experience in traveling to many different types of environments. They are organized in a way that many would consider militaristic, with a definite chain of command in the leadership. The strongest and smartest are those that tend to survive and stay around long enough to ascend into these positions.
They are feared not just for their prowess but also for their various traditions that have become infamous. In addition to splitting their tongues at the Age of the Warrior, they are known for taking no prisoners in battle and cutting out the tongues of enemy combatants. They often fashion these trophies into battle jewelry that is highly valued in their culture. They worship gods of war and death and have very specific rituals related to birth, death, and service to the clan.
It is believed that they operate from a fortress built in a remote and uninhabited area. There are rumors that they have various hidden camps and stockpiles throughout the areas that they operate in. They have been known to inhabit the buildings and villages of forces that they have defeated for short periods of time. They typically will loot what is valuable to them and burn the area to the ground upon leaving and heading back to their home.
Stonemaw Clan
The Stonemaw Clan is seen by many, and themselves, as the face of the goblin kingdom. If one met a member of the Stonemaw Clan, they might say, "Bex Razorfang of the Razorfang Tribe and part of the Stonemaw Clan". There are many different tribes that are part of the Stonemaw Clan. This distinction is represented in almost all aspects of their lives, one of which is language. Members of the clan use several different dialects of goblin and variations on their written language. They also are familiar with using the languages of some other races that they interact with.
The goblins of Stonemaw come from many different tribes and areas, hence there is a lot of variety within their clan. All manner of weapons, armor, tools, and adornments can be found within the kingdom. They also have a long-standing history that goes back many generations, so there are many different classes within their society, including warriors, crafters, peasants, slaves, and even royalty.
Their kingdom exists in an expansive mountain range as well as the caves and tunnels below it. They refer to this area as their "terrortory", a play on the human words terror and territory There are numerous villages that are subservient to their capital city that is located underground. The clan has established trade routes within their own village that support the capital city. They have even been known to trade with outsiders in order to acquire goods that they feel are important to the clan.
The Stonemaw Clan is ruled by a king that has a council made up of warriors and mystics that advise him. The Stonemaw have a dedicated military that also acts as a police force within their own kingdom. In their society, every goblin has some sort of value, be it warrior, craftsman or peasant. Some goblins just have much less value than others… Even those of lesser value have use within the clan, this is one of the reason why they celebrate births.
Since the Stonemaw Clan is made up of many different tribes, there are a wide variety of traditions and religions that are practiced within the society. They celebrate birth because it replenishes and brings value to the clan. But only the death of the king and those important few that surround him are celebrated, when that time comes.
The goblins of the Stonemaw Clan are excellent craftsmen. Many of the tunnels underneath the mountains they dwell in were constructed by them. They've even developed entire cities within the mountain range. They have a history of capturing slaves and using them for labor in mines deep within the mountains. Due to this, they have prisons that they refer to as "tagaan haac", or slave pens in goblin. They are essentially underground mazes that are laden with traps. Most prisoners don't attempt to escape because they cannot see in, or navigate, the mazes. In addition, the goblins know the area much better and threaten them with torture if they are caught attempting to escape.
The Stonemaw Clan are truly a civilization unto themselves. Practically anything that may be found within a humanoid civilization can be found here. They are somewhat xenophobic in their dealings with outsiders, but are definitely a force to be reckoned with within the world.
These three Sample Goblin Tribes are just half-page descriptions on what environment the goblin is coming from. Even with this small amount of information, it can give players a drastically different view on the little green beings that they are encountering. If one took the time to fully flesh them out as a component to your campaign, even this simple creatures would be a force to reckon with.
Remember, goblins can be much more than an unmemorable encounter that garners experience and helps you get a quick combat in early on in your campaign. Thanks for reading and don't forget to check out the other parts to this series!
Breathing Life Into Goblin Civilization ・・ Part 1/3 ・・ Names, Language, Physical Qualities
Breathing Life Into Goblin Civilization ・・ Part 2/3 ・・ Ecology, Society, Traditions