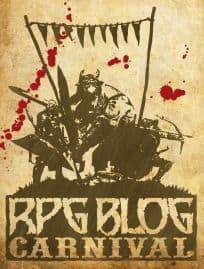 Goblins… the ultimate, low-level cannon fodder for starting a new fantasy roleplaying campaign. I have often wondered, what would happen if these seemingly "speed bump" creatures actually were played as a formidable and dynamic force in a fantasy roleplaying campaign. What if they weren't just little green lemmings marching to their doom at the hands of an adventuring party?
In this three part series, I will explore different options for breathing life into goblin civilization for your campaign. In part two of this series, we'll talk about Ecology, Society, Traditions and how these topics can help breathe life into your goblins and make them more memorable to your campaign.
Ecology
Ecology is essentially the relationship of organisms (goblins) to one another and to their physical surroundings. Ask yourself questions related to this:
– How does their environment affect the goblins?
– How do the goblins affect their environment?
Goblins living in a snowy and mountainous region, arctic goblins or snow goblins, may be more resistant to cold and less resistant to fire. They might primarily inhabit the caves and tunnels inside of the mountain. Or, they may be expert woodcraftsman that are constantly cutting down trees to build cabins, palisades, and fortress-like structures. This would have a noticeable impact to those living and traveling through the region. These types of goblins may often get in fights with other races that are trying to get lumber or hunt near their area. They may also be experts at tracking in the snow and have an extensive background in using snow gear, such as snow shoes, even skiing, or rappelling.
Conversely, goblins living in a desert region may have darker and more leathery skin from being subjected to constant heat. They may be more nomadic, preferring not to stay in one place for too long. They may have numerous pack animals to move their belonging and tents made from animal hides. Living in a desert, they value water higher than gold and would kill to obtain large quantities of it. They might be more resistant to heat or even poison due to the numerous poisonous reptiles and animals they encounter in their native environment. These types of goblins may routinely encounter other nomads and potentially destroy them.
There are numerous off-shoots of goblins, including (but not limited to): air goblins, arctic goblins, desert goblins, jungle goblins, forestkith goblins, snow goblins, dark goblins, goblin flesh-herders, goblyns, nilbogs, and countless others. Some consider hob-goblins, kobolds, and even orcs, ogres, gnolls, and bugbears to be biologically related to goblins. You'll have to determine which of these exist in your campaign on how they relate to each other.
Society
Decide on a few different things that goblins are really known for in your campaign. It may be that goblins are enemies to the entire civilized world. They are known as a plague in any area that they are found and bounties for goblin heads are common among smaller villages plagued by them. Or maybe they are looked at as potentially dangerous neighbors, but tolerated for the trade that they bring to the area. Perhaps they are allies with certain parts of the civilized world due to a greater threat in the area.
– How organized are they as a civilization (mindless warring tribes, dictatorship under one ruler, a crude form of aristocracy, or slaves to a stronger race)?
– Are they the arch enemies of a specific race or faction (dwarves, elves, underground dwellers, any non-goblinoids)?
– Do they work with or for any other races (hob-goblins, kobolds, orcs, ogres, giants, gnolls, bugbears)?
In most fantasy campaigns, goblin society is tribal in nature. They are usually led by the strongest and sometimes the smartest around. Their technology level is something that will vary from campaign to campaign. Some goblins and simply raiders and scavengers taking whatever they can from other races to survive. Other goblins are proficient craftsman that are able to build elaborate structures, craft weapons, armor, and tools, and build machines of war. You'll have to decide how intelligent and able the goblins of your campaign are. It may be that both extremes exist in your world, depending on where you encounter the goblins.
Traditions
Most people don't view goblins as having traditions of any sort. Typically they're viewed as mindless little lemmings that raid local communities and occasionally sneak into lairs or villages to discretely steal what they can. If they have a tradition of any type, it would be worshipping some foul god that all of civilized humanity despises. But their traditions don't have to end there.
– Do they have a religion or worship any specific gods?
– If so, do they have any religious ceremonies they use to worship these gods?
– Do they have any rituals for birth, marriage, or death (are those even things they acknowledge)?
– Are there official "rites" for fighting and taking leadership over the tribe or clan?
– Do they claim their territory in any way (marking trees, leaving painted rocks on border lines, hanging wind chimes on trees and shrubbery, carving designs into large rocks)?
– Do they take prisoners, or do they kill their enemy combatants?
These questions may have different answers for different groups of goblins.
Perhaps the Tonguecuts are a brutal tribe that are known for killing all enemy combatants and taking no prisoners. They are infamous for tradition of splitting their tongue once they reach the age of a warrior. They are equally infamous for their other tradition of cutting out the tongues of their fallen enemies. It is common for Tonguecut warriors to wear "jewelry" made out of enemy tongues, as well as paint pictures of an open goblin mouth on their equipment. They worship gods related to war and death and have specific rituals in determining who the leader of their tribe is. They are known as a mercenary tribe and are often hired or used by other races to terrorize their enemies.
Then there is the Stonemaw Clan which some consider to be an actual goblin kingdom. They worship a variety of gods and have different traditions for worshiping each one. They acknowledge birth as an important part of replenishing their ranks due to the violent nature of their society. Death rituals are reserved for only the most important in the clan. Their call their territory, "terrortory", as a play on the human words terror and territory. They often take prisoners and use them as slaves in their various mining areas. These prisoners are typically never heard from by their loved ones again, unless someone barters for their release with the leaders of the Stonemaw Clan.
Both of these types of goblins could exist in a fantasy setting, but they each have very different feels based on several factors that simply relate to their traditions.
Classic D&D Goblin Deities:
Bargrivyek ・・ Deity of cooperation and territory. He is known as the Peacekeeper because he tolerates no war between goblin tribes. He is not a gentle god and he desires to see goblins destroy their enemies, particularly orcs.
Khurgorbaeyag ・・ Deity of slavery, oppression, and morale. He acts as a trusted lieutenant of Maglubiyet, though he secretly harbors a desire to rule the goblin pantheon himself.
Maglubiyet ・・ God of goblins and hob-goblins. Also known as: Fiery-Eyes, the Mighty One, the High Chieftain, the Lord of Depths and Darkness, the Battle Lord.
Meriadar ・・ Deity of patience, tolerance, meditation, and arts and crafts. His symbol is an artistically decorated bowl, which is used for sacramental feasting and sharing food with others.
Stalker ・・ Deity of hate, death, and cold. Stalker is described as being opposed to all living things, and thus, has no true worshipers.
Remember, goblins can be much more than an unmemorable encounter that garners experience and helps you get a quick combat in early on in your campaign. Thanks for reading and don't forget to check out the other parts to this series!
Breathing Life Into Goblin Civilization ・・ Part 1/3 ・・ Names, Language, Physical Qualities
Breathing Life Into Goblin Civilization ・・ Part 3/3 ・・ Architecture, Variations, Sample Tribes