I recently created a large list of non-player characters (NPCs) that exist in my Star Wars campaign. Since Star Wars is such an expansive universe with a wide variety of races and character types, it can sometimes be overwhelming to think of unique characters with a different race, name, and class on the fly. Here are 101 Star Wars NPCs that game masters can use in their campaign. The NPCs vary widely in power and ability. They could potentially be encountered anywhere in a campaign and could be dropped into almost any Star Wars era.
Here is the first half of 101 Star Wars NPCs (1-50):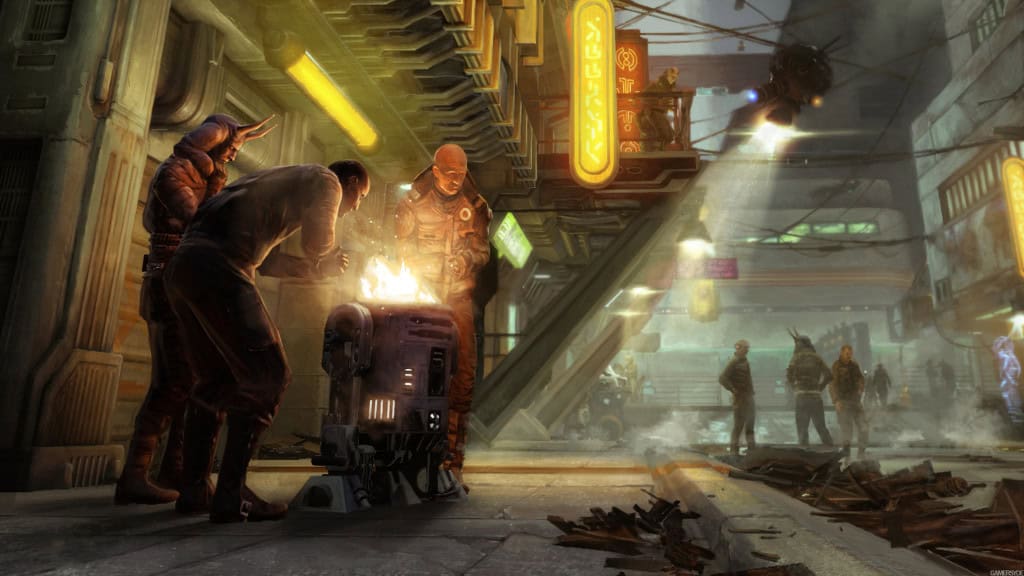 1. (Assassin) K-1 ・・ HK-51 Assassin Droid – A sentient, rogue assassin droid, K-1 is infamous for inflicting massive casualties to eliminate his targets. He is most known for destroying an entire building of 4,000 people to kill one target.
2. (Assassin) The Wraith – Defel (Male) Assassin – No one knows his name so he is simply referred to as "The Wraith", a racial nickname for all Defel. He is known for eliminating targets that are public figures (politicians, entertainers, famous individuals, etc.).
3. (Assassin) Var Scathin ・・ Dashade (Male) Assassin ・・ Var is an assassin that specializes in the destruction of force users. Due to his racial heritage, he is not affected by the powers of the Force. He has no allegiance to the light or dark side of the force.
4. (Assassin) Hoan Harik ・・ Human (Male) Assassin ・・ As far as assassins go, Hoan plays it by the book. He is a gentleman's assassin, if there ever was such a thing. His claim to fame was allegedly killing an Imperial Moff. Shortly after it was thought he was either killed by the Imperials or retired into seclusion (with a huge pay day). He recently resurfaced again.
5. (Assassin) Vossegg ・・ Quarren (Male) Assassin ・・ The biggest question in the sector isn't who killed the crime lord, Junda the Hutt. Everyone knows (or thinks they know) that Vossegg did it. The question is, who hired him to do it? Most believe that Drudo the Hutt is the one who hired Vossegg. If that is the case, Vossegg hasn't told anyone yet. The other Assassins and Bounty Hunters hired to get him haven't either.
6. (Bounty Hunter) Suvo Tetsu – Rodian (Male) Bounty Hunter – Works for the Hutts exclusively, specifically the crime lord Drudo the Hutt. If he is coming after you, you are wanted by a Hutt somewhere in the Galaxy.
7. (Bounty Hunter) Cerlo KaRuda – Herglic (Male) Bounty Hunter ・・ An associate of the Tochi Crime Syndicate, Cerlo is equally known for his ability to find his targets and his inability to return them alive. He tries, he is just not very good at it (the keeping them alive part).
8. (Bounty Hunter) Horo Vondin ・・ Human (Male) Bounty Hunter ・・ Known as the ・・Corporate Bounty Hunter・・, Horo specializes in working for legitimate corporations and hunting down their bad apples. He is considered a high-class bounty hunter that can capture and take a target in with the tact needed to avoid embarrassing the corporation.
9. (Bounty Hunter) Vedocast ・・ Kerestian (Male) Bounty Hunter ・・ Vedocast is a particularily ruthless bounty hunter that is widely known to work for crime lords. He works outside the law and not within the structure of that most guild bounty hunters operate in. He is skilled, ruthless, and highly capable of tracking down nearly any target. Thrown weapons with a tranquilizing poison are his preferred method of capture.
10. (Bounty Hunter) M'jain'we ・・ Nikto (Male) Guild Master – ・・M・・ is a guild master for the local bounty hunter guild. All legal bounties in the sector pass through his agency at some point. He is a very controversial guild master as the Nikto's connections with the Hutts are well-documented. Many claim that Hutts get special preference or discounts with bounties in the sector because of M's influence.
11. (Corporate) Kuna Shule ・・ Human (Male) Corporate Leader – Leads a large trade guild and mining consortium called the Nexus Consortium. They specialize in mining Genetrene and Triminium, which are used in the creation of a medical liquid that is a cheaper alternative to bacta fluid. They also oversee all importing and exporting for the sector.
12. (Corporate) Borelvo Faldor ・・ Khil (Male) Inventor ・・ Borelvo is an inventor that works on building innovative devices for use in corporate industries. Whatever problem the corporation is trying to solve, Borelvo tries to invent something that will provide a solution. He has numerous patents on various items and is very wealthy because of them. He currently owns a significant share of stock in several different corporations that he has worked for.
13. (Corporate) Ara'Tharn ・・ Kian-thar (Female) Corporate Mediator ・・ Ara uses her race's natural ability to sense emotions as a corporate mediator. She has experience brokering numerous deals between various corporations, governments, and the Imperials. She also has been known to work with smaller businesses in order to get rid of criminal elements extorting them for ・・protection・・ money. Her work doing this pro bono has earned her many allies in the small business world.
14. (Corporate) Abin-Di-Shan ・・ Tiss'shar (Male) Protection Agent ・・ Abin-Di-Shan works for the Nexus Consortium as a protection agent. He can be seen with his team of Tiss'shar agents anywhere the consortium deems they have a security threat. Whether it is traveling with a trade convoy, or protecting a facility, Abin and his crew are top-level corporate security agents.
15. (Corporate) Otto Dane ・・ Human (Male) Owner ・・ Otto is a principal owner in the Nexus Consortium. He is a reclusive individual that prefers to run the guild remotely. He has installed various leaders, such as Kuna Shule, to work for him and run his business. Although he rarely involves himself directly, he is always manipulating the company from afar.
16. (Criminal) Drudo the Hutt ・・ Hutt (Male) Crime Lord ・・ His full name is Drudo Jiramma Zocha. His criminal organization specializes in loan sharking, spice (drug) sales, black market trading, smuggling, scams, and gambling. His palace is located on the planet Scorpium and he is rumored to have killed other Hutts to further his organization.
17. (Criminal) Prince Xelas ・・ Unknown race (Male) Crime Lord ・・ His violent criminal organization specializes in assassination, slavery, robbery, extortion, pirating, and kidnapping. It is rumored that Prince Xelas is simply a title that is held the person running the organization. There is some evidence that his organization has a good working relationship with the Bothan Spynet.
18. (Criminal) Balfur Taske ・・ Weequay (Male) Pirate – Balfur formerly led his own pirate gang but he joined up with the Tochi Crime Syndicate and now performs pirating duties exclusively for them. He operates heavily within the spice trade, attacking ships involved with it's manufacturing and transportation.
19. (Criminal) Dua Yovv ・・ Sullastan (Male) Slaver ・・ Known to operate on the planet, Antiria. He has been enslaving a local species of low-tech aliens that lives there and selling them out. He also deals in many other forms of humanoid trafficking.
20. (Criminal) Jesma Niathan ・・ Mon Calamari (Female) Eco-Terrorist ・・ A founding member of the ・・eco-friendly・・ group, The Verdant Accord. She and her compatriots are more commonly seen as eco-terrorists. They are often associated with sabotaging or destroying anything they deem to be damaging to the environment. They are very loose with their definition of what damages the environment.
21. (Criminal) Jarrinaaco ・・ Dresselian (Male) Eco-Terrorist ・・ Jarrinaaco, or ・・Jarin・・, is considered to be an eco-terrorist but calls himself a freedom fighter. He does not work well in groups and is essentially a lone eco-terrorist committing various crimes in the name of ・・freedom・・. He is wanted by the Imperials and local sector government for numerous crimes. He has made the claim that he will never be taken alive for the acts he has committed.
22. (Criminal) Truskka ・・ Togorian (Female) Enforcer ・・ She works as an enforcer for the Tochi Crime Syndicate. Truskka is typically the lead for a small group of syndicate members that travel around the sector dealing with various problems that occur for the syndicate. Their resolutions range from extortion, to sabotage, or even murder.
23. (Criminal) Wishi'suma'caeneo ・・ Chiss (Male) Smuggler ・・ Wishi is an independent smuggler that operates within the sector. He has extensive knowledge about military tactics but does not divulge where he learned them. His ship is named Traitor's Shroud.
24. (Criminal) Xera ・・ Falleen (Female) Outlaw ・・ Xera is a violent outlaw that has murdered several famous individuals throughout the sector. She has seduced and killed numerous individuals, sometimes for money, sometimes for other reasons. It is now more difficult for her to operate due to her notorious reputation, but she still manages to find willing targets.
25. (Criminal) Selmi Artle – Bargawin (Female) Security Specialist ・・ Formerly a legitimate businesswoman in the security field, Selmi began working for Drudo the Hutt and that all changed. She has designed many different security systems for Drudo's businesses. Many of them are not legal in the information they gather and defend Drudo's businesses in an illegal and lethal manner. Selmi is working on perfecting mobile automated targeting drones.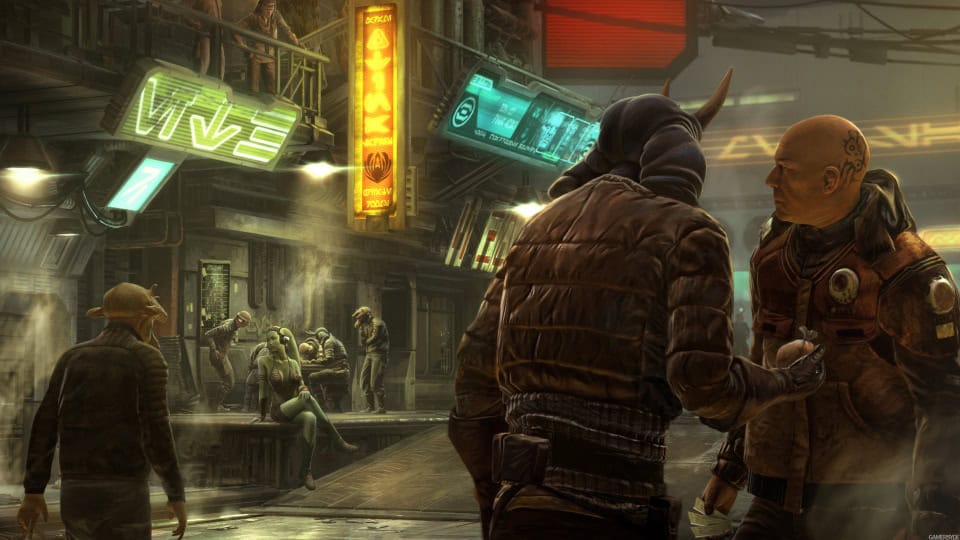 26. (Criminal) Dexian ・・ Berrite (Male) Con Man ・・ Dexian will come off as the dumbest being you've met in recent memory when you first meet him. Somehow, you will usually end up leaving the encounter without money, weapons, personal transportation, or your identification. His slow actions and speech disguise in incredibly cunning and clever individual.
---
We thank our friends at
BettingPromoCodes.org
for their support. Bet on sports at DraftKings and get up to a $1,000 bonus!
Click here
for more info.
---
27. (Criminal) Relphant Ronn – Chevin (Male) Gun Runner ・・ If you are looking for personal weaponry, Relphant is your man (or Chevin). He has numerous connections for acquiring small arms weaponry of all types. He typically uses smugglers or other criminals to transport the goods. His loyalty is to the highest bidder.
28. (Criminal) Krenk ・・ Elom (Male) Pirate ・・ Krenk is a well-known pirate and thug. He is a drifter that has been associated with numerous pirate ships and gangs. He tends to wear out his welcome even in those environments. But he is always able to find work due to his willingness to do anything, no matter how ruthless it may seem. He is an exceptional brawler.
29. (Criminal) Klatu ・・ Klatoonian (Male) Enforcer ・・ Klatu used to work for Junda the Hutt before Junda was assassinated. Since then, he has found himself in the employ of several different Hutt masters. His primary work is done as an enforcer that collects ・・protection・・ money from various small businesses but he is also an adept smuggler.
30. (Criminal) Vorseppa ・・ Nimbanese (Female) Banker ・・ Works for Drudo the Hutt. She is in charge of Drudo's loan sharking business. She also protects much of the ・・legitimate・・ portions of Drudo's empire through manipulation of laws and regulations.
31. (Criminal) Quinno Vth'Kahr ・・ Sludir (Male) Crime Boss – Quinno rose from literally nothing to being a significant leader in the Tochi Crime Syndicate. He was captured from his home world and served as a slave for years. He broke free and worked his way up within the organization. He has become very adept at all things criminal but vehemently opposes slavery within the organization.
32. (Criminal) Onhan Avit ・・ Vodran (Male) Advisor ・・ The right-hand man and advisor to Drudo the Hutt. Onhan has risen above what most of his race aspire to be. He has significant power within Drudo's empire and often conducts business for Drudo when he is unable to. When Onhan speaks, he typically speaks with the power of Drudo the Hutt himself.
33. (Criminal) Viado Tokani ・・ Human (Male) Crime Boss ・・ The youngest major boss in the Tochi Crime Syndicate. Viado's family, the Tokani clan, is firmly entrenched within the syndicate. Simply identifying yourself with the last name of Tokani in the sector should warrant either respect or fear. Viado aims to keep it that way.
34. (Criminal) Zhane Ordo ・・ Human (Male) Spice Dealer ・・ One of the biggest dealers in the sector, Zhane has carved out his own little area in the criminal world. He doesn't work directly for any major crime lord but if his business gets any bigger he may not have a choice.
35. (Criminal) Tichinde Ne Dago ・・ Elomin (Male) Pirate ・・ With a sizable pirate fleet under his command, Tichinde has become a substantial problem for the local government. His connections with local spies have allowed him to find out important information regarding trade routes within the system. He has taken full advantage of this and captured several major interstellar shipments.
36. (Entertainment) Bithabus the Mystifier ・・ Bith (Male) Stage Magician – Famous for his holographic shows, his slogan is, ・・Believe!・・ Currently employed by Arin Riniath of Club Supernova as an entertainer that travels throughout their establishments doing shows.
37. (Entertainment) Thartul ・・ Barabel (Male) Shockboxer ・・ Perhaps the wealthiest and most famous athlete in the sector, Thartul is in the prime of his career, a true champion of his sport. He has numerous rumored connections to various criminal organizations but has never be officially linked with any.
38. (Entertainment) Jado Baize ・・ Human (Male) Speeder Bike Racer ・・ A famous speeder bike racer that travels with his race team, ・・Birds of Prey・・, throughout the Galaxy to various races. He is extremely popular and very well-known for his charitable donations to victims of wars and slavery. He has survived two assassination attempts on his life, both are suspected to have been orchestrated by slavers.
39. (Entertainment) Grom Nardu ・・ Houk (Male) Strongman ・・ Known as the strongest being in the sector, Grom started out as a bouncer at high end clubs. He eventually transitioned into strongman competition where he had great success. He has many sponsorships, but his most famous is a biomedical research company. Since his association with the company he has gone undefeated in competition, leading many to believe that he is using their products to cheat.
40. (Entertainment) Varton ・・ Snivvian (Male) Artist ・・ Often seen at starports, bars and nightclubs around the sector, Varton is a writer and artist that focuses on telling the tales of adventurers. He is a deep thinker and always tries to befriend people with stories he thinks are worth telling. He has met a lot of important people and has a lot of knowledge about many different topics.
41. (Force User) Zhad'syndra ・・ Twi'lek (Male) Fallen Jedi ・・ Zhad (for short) discovered his force powers at an early age. Self-taught, he attempted to do the ・・right thing・・ and follow the path towards good. Growing up surrounded by a criminal element did not help and he eventually turned to the dark side. He can occasionally be found working for criminal elements in the sector.
42. (Force User) Adritia ・・ Human (Female) Jedi Witch ・・ She claims to be a descendent of the Witches of Dathomir. Although she displays some force-like abilities that are similar to those of Dathomir, that is where the similarities end. Adritia is a deranged, esoteric, recluse that people occasionally visit for her sage-like abilities.
43. (Force User) Trolin She ・・ Rellarin (Male) Wanderer ・・ Most outsiders view Trolin as a primitive wandering sage. He attributes his force-like abilities to his spirituality and the rituals he performs. For appearing very primitive, he seems to offer uncanny wisdom and sage advice to those who converse with him.
44. (Force User) Kuroth Arkanus ・・ Human (Male) Jedi ・・ Kuroth is one of the few, known Jedi that operate within the sector. Not much is known about him other than people suspect he is either from the sector or has family there. He has famously taken on, and defeated, two Inquisitors that were sent to destroy him. The Empire is actively searching for him since the most recent incident and he has not been seen since. It is believed he was trained by Koro Koon.
45. (Force User) Koro Koon ・・ Kel Dor (Male) Jedi ・・ Koro is a highly trained Jedi that has resided within the sector for a long time. He was active in helping the local government fight against the Imperials decades ago. When the Imperials left, Koro disappeared and hasn't been seen since. He is believed to have trained Kuroth Arkanus.
46. (Government) Chief Ran ・・Blue Eyes・・ Berand ・・ Human Cyborg (Male) Sector Security Chief ・・ Ran, also known as Blue Eyes (due to his piercing blue cybernetic eyes), is responsible for the security of starships traveling within the sector. He works closely with local governments, corporations, and the Imperials to oversee the safety of all starships, their crews, and passengers.
47. (Government) Cen Oles ・・ Advozsec (Male) Bureaucrat ・・ Cen acts on behalf of the sector government in manners between the government and either large corporations or the Imperials. He is hot-headed and fiercely loyal to local government, which he sees as an extension of himself and his personal interests. He is very security conscious and meticulous in his planning.
48. (Government) Brodrick Tellis ・・ Iotran (Male) Politician ・・ Broderick was instrumental in brokering peace between the planets within his sector when the Imperials attempted to take it over. He is considered one of the key individuals that helped the sector maintain independence. As such, he is incredibly popular with the people of the sector. His strength is leading a strong, stable government through solid education and military traditions.
49. (Government) Queen Eelynn Lora ・・ Human (Female) Queen ・・ Although the royal family does not officially run the sector government, it is still prominent as a visible figurehead for the planets. Queen Eelynn Lora is the current head of the royal family that has ・・ruled・・ over the sector for hundreds of years.
50. (Government) Dash Lora ・・ Human (Male) Royal Spokesman ・・ Dash is a member of sector royalty. Although not a leader, he is the official ・・voice・・ of the royal family. Anything pertaining to the royal family will travel through him. He is a well-spoken diplomat and has high aspirations of bringing the royal family back to true power.
Some of the names and likenesses were taken from different sources in the Star Wars Galaxy, including official Star Wars products, unofficial Star Wars products, fan-made products, and information obtained on the internet. Any of this information that was taken is the property of the respective author. Any information I provide here that I created is free to use by anyone in whatever way they choose.