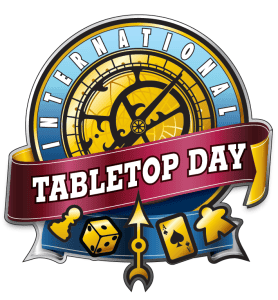 Here are links for pen and paper roleplaying games, board games, card games, and everything that goes with these games that we found interesting on the week of April 10th, 2015.
April 11th is International TableTop Day.・ So this week we have several links that are related to the greatest day of all-time!・ Okay… that could be exaggerating it a bit, but it is pretty important.・ We at least think it should be a Federal Holiday…
– International TableTop Day – International TableTop Day was founded three years ago as a way for the world to celebrate tabletop gaming together. Every spring, fans host thousands of events all over the world and every year, the event grows. TableTop Day 2014 was celebrated in 80 countries, over all 7 continents, and had over 3,000 events in total. 2015 is going to be even bigger!
– International TableTop Day | Facebook – Here is a link to the Facebook site of the greatest day in gaming. You can get some additional information about connecting with other gamers here!
– Monte Cook Games Asset Team (Monte Cook Games) – Are you looking to become part of an official demo team for roleplaying games? Our very own John Lewis is a member of the Monte Cook Games Asset Team and will be running an adventure for Numenera on International TableTop Day. If that sounds like something that interests you, you should check it out.
– Comic Kingdom – John Lewis will be demoing Numenera at Comic Kingdom in Reno, Nevada on International TableTop Day. He'll be running one session at noon and one in the evening. If you're in the area, you should check it out.
– Geek Bar (Chicago) – This has nothing to do with International TableTop Day, other than they will be participating and there will be games, food, and alcohol involved. I heard about this place a while back from a friend of mine and instantly became jealous that I don't live in Chicago.
We browse many roleplaying websites, articles, and social media connections each week. If you・・d like to be listed on here, please contact use via our Contact page!