I recently created a large list of non-player characters (NPCs) that exist in my Star Wars campaign. Since Star Wars is such an expansive universe with a wide variety of races and character types, it can sometimes be overwhelming to think of unique characters with a different race, name, and class on the fly. Here are 101 Star Wars NPCs that game masters can use in their campaign. The NPCs vary widely in power and ability. They could potentially be encountered anywhere in a campaign and could be dropped into almost any Star Wars era.
Here is the second half of 101 Star Wars NPCs (51-101):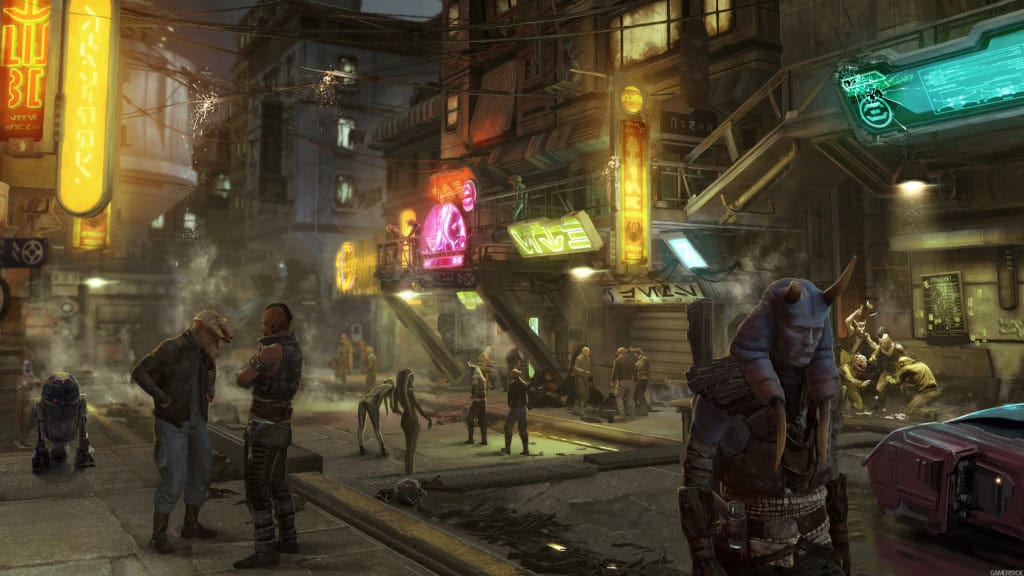 51. (Government) Governor Erach Anson – Human (Male) Governor – Governor Erach Anson is the head of the Triumvirate, the governing body for the sector. Quietly, the Governor strongly believes that the Imperials will eventually take over the sector. He is currently hedging his bets by working both with the local government and Imperials. His primary goal is to hold his position as Governor of the sector no matter who the sector belongs to.
52. (Government) Commander Saquinn – Quarren (Male) Search and Rescue Commander – Saquinn is the head of space search and rescue operations for the sector. If a ship is lost in an asteroid belt, adrift in space, or needs to be located, Saquinn and his team (of mostly volunteers) are activated to go look for and assist those in need. Their focus is on recovering people, not their ships or goods.
53. (Government) Inspector Yasy Tu'Lya – Bothan (Female) Lead Inspector – Yasy is the head inspector for the local government. Their division checks for compliance in many different areas, particularily those related to medicine and mining.
54. (Government) Ra'Tina – Twi'lek (Female) Spy – While not openly acknowledged, the local government does employ a number of spies to protect their interests. Ra'Tina moonlights as a government diplomat, but her real job is as a spy. She is deployed to address long-term threats to the government.
55. (Government) Duron-X – Droid Administrator – Duron-X is responsible for commanding the local government's fleet of droids. Duron-X is a unique, one-of-a-kind droid that is able to plug into the sector's network, monitor, and control all droid traffic. Although there is a safety net in place for command of the droid fleet, Duron-X controls them all under a hive-like mind.
56. (Imperial) Moff Tannis Arkith – Human (Male) Imperial Moff – Moff Tannis Arkith is a sector takeover specialist. He is typically assigned to sectors with minimal Imperial presence with the goal of implementing a takeover. He is considered by many as a military and diplomatic genius.
57. (Imperial) Lieutenant Jafan Typho – Human (Male) Pilot – Jafan is part of a specialized TIE Fighter unit called the Dark Flyers. They have been assigned to the sector with the primary mission of dealing with high risk threats. The Dark Flyers use TIE Fighters with top-tier equipment to accomplish their mission. They are assigned to the Victory II-Class Star Destroyer, The Indestructible.
58. (Imperial) Kai Lya'Lya – Bothan (Female) Imperial Intelligence Agent – No one knows why Kai defected from the Bothan Spynet to work with Imperial Intelligence or how the Imperials came to acquire her. To this day it remains one of the greatest losses from the Bothan Spynet and greatest gains to Imperial Intelligence. It is suspected that many Bothan deaths were directly related to this defection.
59. (Imperial) High Inquisitor Trekur – Human (Male) High Inquisitor – Has formidable force skills and interrogation skills. His mere presence is sometimes enough to break the will of those resisting Imperial Intelligence. Trekur serves directly under the Grand Inquisitor.
60. (Imperial) Tyris Cass – Human (Male) Storm Trooper – Tyris is a Storm Trooper squad Sergeant that has been there and done that. He has the respect of his fellow troopers, his commanders, and of the common citizen that know of him. He's not "your average Storm Trooper". Upon encountering him, his skills and experience bear that out immediately.
61. (Imperial) Dain Landoo – Human (Male) TIE Fighter Pilot – Dain is a hot shot TIE Fighter pilot and he knows it. He is going places fast within the Imperial military but his brash attitude and falure to follow Imperial policy have written checks that even his skill can't always cash. If he gets his act together, the stars are the limit. If not, his career as one of the most gifted TIE Fighter pilots ever could come to a crashing halt.
62. (Imperial) Ricardo Varga – Human (Male) Scout Trooper – Ricardo is a veteran Scout Trooper. His career as a Scout has spanned many planets in many sectors. Due to his experience, he is often deployed solo into areas or as the forward observer to a larger detachment. Ricardo is an expert Speeder Bike pilot and at getting out of hairy situations.
63. (Imperial) Raena Ennada – Human (Female) Diplomatic Official – Raena is a diplomatic official for the Imperial government and military. She will often go into an area and attempt to broker a peaceful solution to a problem before the military comes in and solves it (their way). Those that know her know she is a harbinger that foreshadows Imperial military intervention. It is a huge aid she has when she is "negotiating".
64. (Imperial) Kyle "Boom" Thegas – Human (Male) Zero G Assault Storm Trooper – Kyle, or "Boom" as he is affectionately called, leads an assault team of forty Zero G Assault Storm Troopers. They are attached to an assault shuttle called, The Emperor's Fist. They are strictly deployed in zero gravity environments where heavy combat is extremely likely.
65. (Imperial) High Admiral Galvin Corso – Human (Male) High Admiral – High Admiral Galvin Corso runs the naval operations of the sector for Moff Tannis Arkith. The High Admiral commands a Victory II-Class Star Destroyer, The Indestructible. The Star Destroyer is also responsible for responding to nearby sectors in a military emergency.
66. (Independent) Voth Vitaan – Human (Male) Privateer – Voth is one of the few successful privateers operating in the sector. Voth maintains a small fleet of starships that actively hunt out pirates on behalf of the local government. He has eventual aspirations to use his exploits as a springboard into the political arena.
67. (Independent) Noke Blixin – Skrilling (Male) Scavenger – Noke runs a very large junk yard with a small collection of other Skrilling scavengers. What started out as a complete eye sore has actually turned into an extremely profitable business. His company boasts numerous mechanics, tinkerers, and technicians.
68. (Independent) Jae Yovv – Sullustan (Male) Starship Technician – Arguably one of the best freelance technicians in the sector, Jae hires his services out to anyone with a big job that pays well. He is on retainer with several high-paying clients due to his substantial technical acumen. He has great connections for acquiring repair parts in the sector almost faster than anyone.
69. (Independent) Hosk Lya'Lya – Bothan (Male) Trader – Hosk is a prolific goods trader within the sector. If it is valuable and can legally be sold, Hosk probably sells it or has sold it. His company, Hosk Logistics, operates on several different planets. It has in many different branches of operation, including foodstuffs, textiles, electronics, communications, vehicles, starships, medicine, and fuel, just to name a few.
70. (Independent) Cora Dalle – Human (Female) News Agent – Cora is a field agent for Sektor 242 NewsLine. She is their premier field reporter and well-known throughout the sector. She has aspirations to be assigned to a different, more prestigious area of the Galaxy. But for right now, she's the biggest news fish in a small news pond.
71. (Independent) Tosoro – Adnerem (Male) Proprietor – Tosoro operates one the largest, legal gambling establishment in the sector. He has several businesses spread over multiple planets in the system. Although Tosoro Pleasure Palaces (as they are called) are a legitimate business, they harbor numerous types of illegal activities as well.
72. (Independent) Rafan Berav – Human (Male) Scout – Although unassuming, he is a legendary scout that is well-known for various exploits in the frontiers. These days, he is often found in various cantinas throughout the sector trading unbelievable tales of his adventures for a drink. He has been known to come out of retirement on several occasions.
73. (Independent) Nossor Proko – Quarren (Male) Big Game Hunter – Known for hunting big game everywhere. His home is available for tours and shows like a museum for various big game creatures that he has hunted from all over the Galaxy.
74. (Independent) Darro Enes – Snivvian (Male) Merchant – Darro runs a merchant guild that loosely toes the line between a legitimate corporate entity and a criminal organization. He is extremely conniving and resourceful. His guild specializes in arts and antiquities, specifically ancient cultural arts. He is rumored to own an enormous personal collection of Jedi artifacts.
75. (Independent) Arin Riniath – Mon Calamari (Female) Entrepreneur – Arin runs a chain of nightclubs in the sector called, Club Supernova. They operate differently depending on their locale, but they are a combination of nightclub, sports bar, restaurant, and even hotel (in some areas). They all operate under the Club Supernova brand and are owned by Arin. She is fiercely independent of criminal organizations and has had numerous run-ins with them.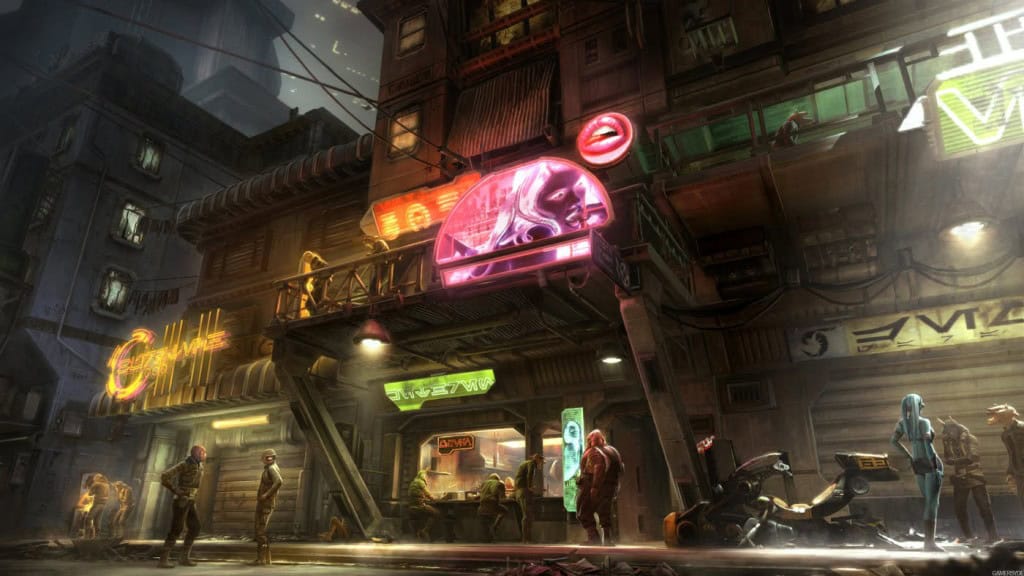 76. (Independent) Garan Zhalto – Adarian (Male) Mechanical Engineer – The Adarian people have a well-developed mining, smelting, and construction industry. Garan has worked in those industries his whole life. His specialty is deep core mining and his skills are sought after within the sector.
77. (Independent) Mione Dangon – Anomid (Female) Wealthy Traveler – Traveling around the Galaxy with her crew on her Starwind-class Pleasure Yacht, The Golden Lily, Mione is a well-known fixture in the sector. She is a retired businesswoman from Corellia. She has extensive connections with local trade guilds in the sector.
78. (Independent) Camus – Gran (Male) Trader – Camus is the head of a guild that specializes in the distribution and transportation of wholesale foods. Their guild is called Reggiano Foods. Their foods come directly from the Gran homeworld, Kinyen, to the sector. They sell to numerous markets and restaurants. All of the employees of the guild are Gran from Kinyen.
79. (Independent) Tinon Nalle – Tunroth (Male) Tracker – A renowned tracker and sharpshooter, Tinon is a tracker for hire or for hire as a big game guide. If the target is a sentient being, he will assist in tracking the person down but not for the purposes of bounty hunting or anything unlawful. He will not take work that opposes the Empire's interests.
80. (Independent) Kraton Jakurra – Human (Male) Mercenary – Kraton leads a band of mercenaries called the Divinity Soldiers. Their group is run in an almost cult-like fashion. The Divinity Soldiers believe that their jobs are divine work from a higher power. Kraton leads them like a pastor leads his church.
81. (Rebel) Stasha Stagris – Human (Female) Intelligence Operative – Stasha is a Rebel intelligence operative that has been working in the sector for many years. She has specific knowledge about the sector and many entities that work within it. Prior to being an intelligence operative, she was a pilot in the Rebel fleet that focused on smuggling goods between worlds.
82. (Rebel) Commander Khoan Berik – Human (Male) SpecForces Commander – Khoan is in charge of Rebel Special Forces based in the sector. It is a small group but it carries out all major ground missions by Rebellion forces in the sector.
83. (Rebel) Ralgadoor – Gorith (Male) Diplomat – Many mysteries surround both Ralgadoor and his race. His kind are not often encountered in the Galaxy and he uses that to his advantage. He has been a diplomat for the Rebellion for many years. It is rumored that he is, or once was, a Jedi. He never discusses the topic and when asked usually states, "It does not matter what I once may have been. For now, I am a Diplomat for the people."
84. (Rebel) Kor'Torra Ter'rek – Ebranite (Female) Terraformer – Kor'Torra is an elder Ebranite that left her planet long ago to help the Rebel Alliance. She uses her vast knowledge of terraforming, specifically knowledge of hydrothermal technology, to help the Rebels establish small bases on remote planets. She is physically crippled and cannot move without assistance. This leads her to assist Rebels around the Galaxy mostly remotely.
85. (Rebel) Corra'vekin – Marasan (Male) Navigator – One of the few to escape the Imperial occupation of his homeworld, Corra'vekin has signed on with the Rebels as a pilot and navigator. He primarily serves on larger starships that are part of a fleet, where he provides navigational advice to the entire fleet. He is a heavily modified cyborg.
86. (Rebel) Kai – Qwohog (Male) Medic – Kai is a field medic with the Rebel military and accomplished rescue diver. He is primarily attached to naval squads or squads likely to encounter fresh water. While on base, he also doubles as a trauma doctor due to his incredible medical knowledge. He specializes in Bacta and Genetrene treatments.
87. (Rebel) Charrl – Ranth (Male) Saboteur – If he wasn't working for the Rebellion, Ranth would probably be attacking and destroying Imperial equipment on his own. It just so happens that working with the Alliance gives him more access to things that go boom. Ranth is a demolition expert and uses his skills to attack and hamper Imperial interests.
88. (Rebel) Grussar Kurupchev – Tarro (Male) Operative – Grussar is an independent special operative for the Rebel Alliance. He has no rank and no official job title. He takes any mission that the Rebels give to fight against the Empire, as long as he can do it alone. Grussar is a quiet and brooding individual who some may deem to be slightly suicidal.
89. (Rebel) Commander Zaalbacc – Wookiee (Male) Commander – Zaalbacc has been a soldier for the Rebel Alliance most of his life. Due to significant injuries that he obtained during this time, he is no longer a ground soldier. He has focused on rising through the ranks and providing his tactical knowledge and experience to Rebel ground forces in the region.
90. (Rebel) Dr. Victor Reese – Human (Male) Scientist – Dr. Reese is often referred to as "The Mad Scientist". His work revolves around one simple topic, time travel. Most consider him crazy but all that meet him realize he is a brilliant individual. His work has provided numerous advances for the Rebels, but none in the area of time travel… yet.
91. (Scientist) Zesl'i Nullatz – Ishi Tib (Male) Chemical Engineer – Zesl'i works in the mining and production industries for various corporations and specializes in the collection of Genetrene and Triminium. He has also worked for the military in developing Genetrene into an explosive compound before leaving for corporate work.
92. (Scientist) Dr. Nien Hur – Sullustan (Female) Holo Physicist – Dr. Hur is currently employed by various corporations working within the holo entertainment industry. She has previously worked with the Imperial military on top secret projects, but those records are classified as top secret.
93. (Scientist) C-L80 – Protocol Droid – C-L80 is a protocol droid that has been around for over two hundred years. He a unique model from an unknown alien civilization. Approximately one hundred and seventy years ago, he was memory wiped and reactivated with autonomous intelligence. He has since then become one of the foremost linguists in the Galaxy.
94. (Scientist) Tarla Vamma – Adarian (Female) Nuclear Physicist – Tarla left her home planet to work with the Imperials where she specialized in atomic fission. But after several years of work, she got fed up with their treatment of non-humans and left on poor terms. She quickly found work in the sector with various mining and construction companies. She is actively wanted by the Imperials for leaving with valuable information during her departure.
95. (Scientist) Var'shanyi – M'shinni (Female) Geneticist – As a geneticist, Var'shanyi's focus has been on modifying organics using solar power and agriculture. She is one of the only individuals in the sector that has the knowledge necessary to grow plants in a zero gravity environment.
96. (Spy) Koskit Irys'bar – Bothan (Male) Spy – Koskit is a member of the Bothan Spy Network. As far as spies goes, he's very well known in the sector and has a James Bond-like reputation. He has quietly been at the center of some of the biggest spy incidents in the Galaxy.
97. (Spy) Na'tina – Twi'lek (Female) Spy – An independent spy for hire. She has many cover occupations, but dancer or personal escort are her most common. She is also rumored to be an assassin but that has yet to be proven.
98. (Spy) Janos Bishto – Human (Male) Spy – Janos has an extensive military background as a scout. After he left the military, he joined a small mercenary outfit. Now he is a spy that contracts his services out to a select group of organizations. He is somewhat of a renaissance man with skills in a wide variety of areas.
99. (Spy) Kham Beruss – Human (Male) Private Investigator – Kham used to work for the Imperial Security Bureau (ISB) before infighting with Imperial Intelligence (II) cost him his job. Now Kham works as a private investigator that has extensive knowledge about the Imperial Intelligence communities and a new found dislike of Imperials.
100. (Spy) Ledo Vikin – Anomid (Male) Information Broker – While not directly a spy, Ledo has worked with various spies and in the spy "industry" for a very long time. He facilitates the exchange of information between spies and their clients. He will not work or associate with the Bothan Spynet. He is neutral in the war between the Imperials and Rebels.
101. (Unique) The Broker – Unknown race (believed to be Male) Fixer – A mysterious individual that hires independent contractors for everything from artifact heists to spice runs. The Broker is a unique individual that wields immense power throughout the sector. No one knows his (or her) motivations, allegiances, or capabilities. There are many rumors about The Broker but no one truly knows much.
Some of the names and likenesses were taken from different sources in the Star Wars Galaxy, including official Star Wars products, unofficial Star Wars products, fan-made products, and information obtained on the internet. Any of this information that was taken is the property of the respective author. Any information I provide here that I created is free to use by anyone in whatever way they choose.