I'm a big fan of verisimilitude in my campaign, and not just because I love to say the word! A couple of months ago I wrote about the importance of naming things (click here) in your campaign in order to bring them to life and make them feel more "real" to the players. Today I want to talk about using a framing device, specifically using・holidays, festivals, and celebrations in・your setting in order to add a sense of personality and dynamic action to your world's settlements.
As gamemasters it's important to give locations a distinct look and feel. Like most of you, I've put a lot of effort into unique geographic locations and interesting NPC's in the towns and villages the heroes travel to.・Often times however・one settlement begins to look like another, at least in our players' minds. I've found that an active event tends to stick out in the player's minds much better than elements that are more "static". Important local or regional events are a perfect "active element". Holidays and social events don't just make a location unique・they make the heroes' interaction with the location more memorable and allow you, as the GM, to showcase certain aspects of the setting that might otherwise go unnoticed.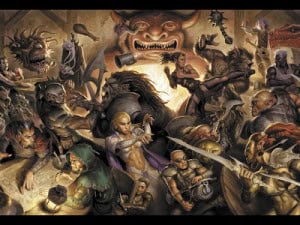 Many different elements can be incorporated into a special event depending on your goals and intentions. Here are several important elements・and different ways to utilize them:
Mood & Tone.・A mid-summer's carnival・with roaming minstrels and free-flowing alcohol has a much more festive feel than the week-long period of mourning required after the death of the local lord. You can use the mood of an event to impact the heroes' interactions with the locals. It may be much easier to pry juicy rumors and gossip out of the locals at a drunken revelry than during somber memorial rites. A spring holiday celebrating love and fertility will most certainly bring out a different attitude than the longest night of the winter's solstice when the locals fear the dark and the creatures of the snow and ice. In my current campaign the heroes recently arrived in a village during the mid-summer festival. They (the heroes) had serious business to conduct in town but found the locals mostly drunk and in no mood to discuss business. Use special events to convey the feel of a settlement's populous.
History & Time. The vast majority of holidays commemorate important historical events. Whether a minor・local celebration, such as the anniversary of the death of a hometown hero, or a major regional holiday, like a・day of remembrance for a nation's victory over an invading force, holidays are the perfect opportunity to showcase your setting's important events and their impact on the world. Event timing can also tell the players a lot about the setting. From a solstice or equinox festival to the week-long annual holiday centered on a series of falling stars, you can use these special events to frame your world's calendar. My current campaign has had dozens of references to the invasion of the Howling Scourge which happened a century ago. The heroes have encountered the tombs of heroes, participated in celebrations commemorating victorious battles, and have searched for relics from the invasion. Making history come alive for your players can have huge impact on your players' immersion.
Values & Ethos. Similar to Mood & Tone above, I like to use special events to convey a sense of a settlement's "alignment" and what the locals hold important. Religious celebrations ranging from a dawn ceremony honoring a sun-god to a sacrificial offering to the goddess of disease in order to protect a town from the plague, religious events display the view of the locals. An order of paladins that hold a tournament to honor the goddess of skill give a settlement a very different feel than a group of town elders that lead dark ceremonies honoring an elder entity from beyond space and time. In a recent campaign I ran the heroes arrived in an empty village and discovered that all the residents were on a nearby hilltop engaged in a religious celebration. Apparently that was so ominous they left the village without bothering to investigate and missed out on getting to know the members of the benevolent order of the god of knowledge.
Colorful Characters. Special events are a great opportunity to bring out the "interesting" NPC's in your campaign. Bards, monks, crazy street preachers, all sorts of colorful characters can be introduced during a celebration. Large gatherings of people bring out all sorts of people. A large carnival is going to attract local thieves, confidence men, and a whole host of charlatans. A religious celebration may feature a variety of priests, monks, adherents, and penitents. A special lunar eclipse will probably feature sages, mystics, and other scholarly types. I've found that special events are the perfect time to introduce the heroes to characters that they might not normally encounter.
Sense of Motion. Another consideration is timing of the event itself relative to when the heroes arrive. A village in the process of preparing for a big event has a very different feel than one recovering from a five-day drinking celebration. You can also use this to encourage players to return to an area or journey to a place they've never been. Perhaps the scholars of a hard to find order will be in a certain town next month during the grand conjunction. A sense of time and motion in your campaign goes a long way to building setting verisimilitude. Whenever the characters in my campaign enter a new settlement I like to find something that I can mention that is either going to happen soon, in the process of happening, or has just happened. This conveys a sense of other people's lives and events beyond the those directly effecting the heroes.
I use special events and holidays a lot in my campaigns. In fact, one of the most memorable elements of a recent Numenera campaign was when the heroes journeyed to a town to track down one of their enemies. I mentioned that the town・was preparing for its annual race in the canals running throughout the city. Although I had only mentioned this as a framing device for the town itself it became the focus for the players. They thought the race sounded awesome and the campaign took a radical shift as the players began looking for a sponsor and vehicle to enter the race with. What happened after that was one of the most exciting sessions we've ever had as the players participating in the great Canal Race of Jyrek and may have started a war with another nation, although that's a whole different story…
The point of using special events in your campaign is not just as a framing device or to build verisimilitude but to also engage your players and allow them choices and options regarding the direction of the campaign. Add a few to your campaign and see how it impacts your players.