Last week I attended in the second annual RageCON・in Reno, Nevada. It was a great con and extremely well-organized. I ran a game of Numenera for several people who・had never played before and I had the privilege of being a guest speaker on two different panels (both focused on RPG's). One of the things that came up during the panels, as well as with the players in my game, was my apparent utter lack of GM preparation. This week I thought I'd expand on that.
I've talked in previous articles about the way in which I run a campaign, which is to say I don't script out adventures or plotlines. I work off of a handful of various elements that I can pull from to create a story as the characters' actions unfold. These elements are usually no more than a bullet point with a single sentence that allows me to follow the narrative in a more natural fashion rather than trying to keep a predetermined story on track. My game prep is usually nothing more than a couple of note cards each containing a few interesting elements. My primary set of notes when I run a game is a list of ideas・usually divided up by location or theme. I thought I'd share some of these Encounter Elements focusing on interesting things that could happen when the heroes are in a "civilized" settlement.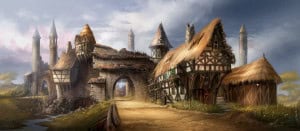 Merchants & Professionals
A nearby street vendor is selling charcoal sketches of heroic adventurers. Upon a second glance you realize the art is of you and your companions and the events depicted have actually happened, all that is but one. The odd sketch shows the party being slain by some foul creature.
A shapely young harlot saunters up to you and offers you a night you won't forget. She shifts her doppelg辰nger・form slightly and tells you that she can be anything you desire.
A herbalist selling exotic ingredients from a nearby cart tells the heroes about the strange ruins where she bought several rare reagents from a group of intelligent squirrels.
A merchant offers you the deed to an old manor in exchange for one of your powerful magic items. The deal is being brokered by the merchant on behalf of an unknown party.
A bounty hunter has tracked the party down and tells them that he is looking for one of the adventurers' relatives.
People are Strange
A young woman and her child stop you in the street along with a priest from a local temple. She claims that you are the father of her child and wants the priest to cast a spell to verify that fact.
You notice a young man across the street carrying a weapon that you once lost on an adventure.
Through a nearby storm-drain you can just barely make out the voices of three people discussing plans to for a major heist this evening.
A beggar near the city gates bears the strange tattoos of an ancient race thought destroyed in the past.
A zealous street-preacher・shouts across the road・and gives the heroes some startling, but incredibly accurate, information.
Interesting Places
Haunting laughter emanates・from a narrow alley between nondescript buildings. Locals seem to either not hear it or they completely ignore it.
A run down tavern on the edge of town is known in certain circles for the high stakes card game it hosts every month on the full moon. The organizer of the event is said by some to be a powerful spellcaster, others claim she's from another plane.
A lighthouse stands in the center of the town, a 1000 miles from the nearest sea.
An abandoned temple to an unknown god lies on the edge of town. Locals claim that certain times of the month chanting and singing can be heard from within.
Locals say that if you listen carefully at dusk you can hear singing coming from deep within the old well near the town's market square.
Local Events
A street faire is in town. Acrobats and performers move through the crowd while foreign vendors sell exotic wares.
An upcoming local election for mayor has the community divided in two.
A local festival celebrating the dead and the undead begins while you are in town. It is led by undead priests of the god of death. During the festival harming the undead is a crime.
Everyone in town is mourning the death of their beloved leader. A massive funeral and procession is planned to・wind its way・throughout the town.
The town is hosting a・horse race from the town square, through an ancient forest,・to the ruins of an old keep, and back to town. The grand prize is substantial.
・Law & Order
Though none of you have ever been to this particular settlement before there is a warrant for your arrest with a fairly large bounty being offered.
By the time you realize that the pick-pocket was actually planting something on you the city guard has arrived and they are looking to make an arrest.
You've seen several members of the town guard interacting with known criminals in a way that suggests a partnership.
The town guard insists on searching through everything of yours before allowing you into the city.
The captain of the guard and his men escort a prisoner through the streets. The inmate is an ancient lich kept in check by magic nullifying shackles.
Just a handful of ideas like the ones above can fuel dozens of adventures or even an entire campaign. Many of these could be combined to produce really interesting situations. Players love to investigate the interesting and the unusual so sprinkle these things throughout your campaign and sit back and see what unfolds.