The way in which I approach gamemastering has changed and evolved a lot over the years; every game I play and person I play with impacts my thought process and style. Of all the RPG elements I've been exposed to I think the way in which I look at success vs. failure has the most impact on my current approach.
At their mechanical core virtually all RPGs have a system to determine whether or not a character succeeds at a task or action. In a lot of older games (and some newer ones) this is usually a simple case of "you succeed" or "you fail". Over the years many・games expanded on this idea with a system of "degrees" of success or failure designed to measure how successful you were (or weren't). A few games have even added an element of benefit・or・detriment to their success or failure dichotomy. Regardless of the specifics all of these approaches force us to adapt a success/failure paradigm.
Prior to the start of my current 5th edition Dungeons & Dragons campaign, I ran Numenera, Dungeon World, and Ashen Stars. While all three of these games still utilize some sort of success/failure aspect・they all feature an element・of something else, the price of success. In Numenera a player can spend points from the Speed, Might, or Intellect pools to lower a difficulty or increase a result. These points are also the same ones that measure your health so they are the price your paying. In Dungeon World a roll of 7 – 9 (on 2d6) basically allows your character to do what they set out to do but at a cost or with a complication. And Ashen Stars uses the GUMSHOE system where you spend points to gain clues (preventing the game from coming to a dead-end with a failed "investigate" roll). All these games have caused me to think less about rolling dice to determine if something happens, and・more to determine the cost of it happening.
Looking at this I've asked myself if the idea of failure is really necessary in an RPG? Is simply not doing what you're attempting really an・interesting outcome? Is the risk of failing the best way to produce tension and excitement? I've begun to feel that after a player describes what they are doing a "failure" result suddenly causes the scene to shift momentum・and sometimes feels disjointed. I think the main problem for me is that failure is often nothing happening, and nothing doesn't feel like a result, and a result should follow and action. I think that is the key; when a character acts something should happen, never nothing. Cause and effect. Action and reaction.・That is immediate character agency propelling action and story forward.
I've embraced this idea as part of my current gamemaster paradigm. When the characters take actions in the game I'm running I'm focused on what effects their actions are having on the world and shifting my attention toward what "success" is costing them. Even in a game like D&D, which embraces a success/failure mechanic, I might describe the result of a character's attack as hitting the enemy's armor and shield and forcing him back regardless of the die roll, the difference between a "hit" and a "miss" simply being the subtraction of hit points as opposed to describing the character missing・their target. When the rogue is picking a door's lock the dice roll isn't telling me whether or not she picks it, but if she picks it before the guards come around the corner or if she keeps from breaking her tools while picking the lock.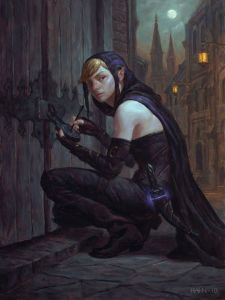 I've got great players at my table that love describing the interesting and creative things their characters are doing. I like to reward their commitment and enthusiasm by not having their characters look incompetent because of an ill-fated die roll. Instead the dice are helping tell the story of what price they paid for their actions. The new 5th edition Dungeon Master's Guide has a great optional rule that allows a character that barely failed a die roll to succeed, but with a DM determined consequence, "You do manage to stab the ogre, but as he turns he rips the sword from your hand!" I love this rule. Even though the DMG recommends using it when a player misses a target number by 1 or 2, I let my players enact the rule for up to a five-point "miss". Consequences, and the price of success are so much more interesting and story propelling than a negative result.
So far this approach has already seen results at my table. I was worried that the players might start feeling like they were always succeeding and therefore not being challenged. However・I've seen players forced to consider・their choices and deal with the consequences of their actions. Instead of worry about if the can do something my players have become more focused on if they should do something. And if they decide to do something, what will it cost them, either now or in the long run? This has added so much more challenge and depth to our game and the players really feel as though their characters' choices and actions mean something. No one at our table grabs a d20 and says "What's the worst that can happen?"
For those of you intrigued by this idea I highly recommend it. In many cases you won't need to make any drastic changes to your campaign or add any house rules, simply shift your perceptions away from "failure" results to a "price of success" paradigm and your game will change. The energy and momentum of your campaign will push the story forward and your players will feel like their characters are the masters of their own fate. If your game focuses on characters that are heroes your players will feel like they are more heroic and capable. In the long run players that feel as though their characters are more capable connect better with their characters and the campaign, and that makes your job as a GM that much easier.