I was recently contacted by Adam Waite who is the creator of a new card based RPG called Neon Sanctum. The Kickstarter for their game goes live Wednesday, March 18th, 2015 and he was gracious enough to provide a set of playtest cards to review the game. You can currently download the Early Access info on the game and playtest it for free. This Early Access download includes the rulebook, cards, an adventure book, and custom battle maps for the game.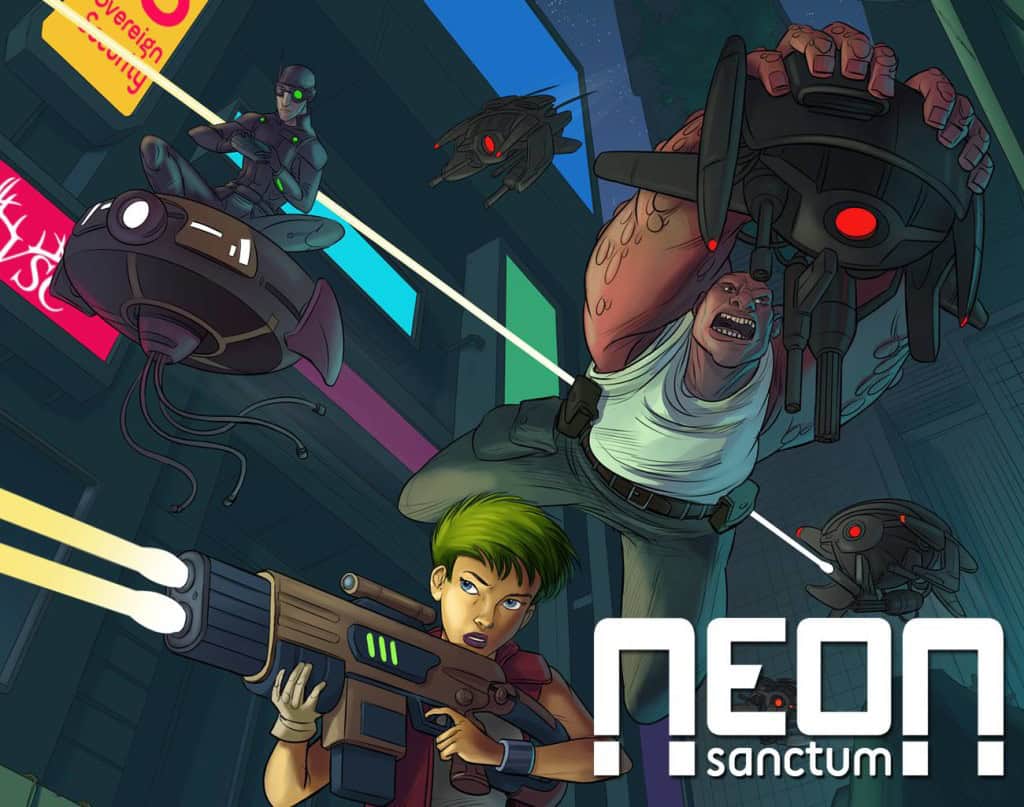 So what is Neon Sanctum? Neon Sanctum is a roleplaying game that uses cards to represent a character's skills, items, life, and everything else you'd put on a character sheet. The game shares many elements that you would find in a collectable card game, board game, war-game, or roleplaying game. By using cards, the players can learn all the relevant rules but the cards contain the basic information they need to play. Cards can be exchanged whenever the player wants a new game, character, or world.
The world of Neon Sanctum is a mix of a cyberpunk and post-apocalyptic setting. Humanity reveled in a golden age where technology abounded in the world and magic became a reality. The world appeared to be moving towards a utopia until it suffered a catastrophic event that left large portion of the world uninhabitable. This event left Dead Zones in the world, which would kill or warp those who entered them without warning. After this catastrophe subsided, mankind emerged from the ruins and began salvaging what they could to rebuild society.
As the Dead Zones faded and society began to re-establish itself, businesses that provided goods and services began to form again and grow. Many of these companies established their name by venturing out into the wastes and recovering technology of the old world. They brought this technology back to their communities which allowed both the community and business to grow. Some of these companies, Sovereign, Pantheon, and Chaodai have built themselves up into mega-corporations. These mega-corps provide their employees with impressive benefits, including healthcare, police, and fire services. Those not working for a mega-corp are left to fend for themselves.
The core mechanic of the game uses two ten-sided dice (2D10). The game master will set a difficulty for a task. The player rolls 2D10 and adds the results together to create a player score (PS). If the player score is equal to or more than the difficulty, then the action succeeds. An average difficulty score in the game for an average task is 11. There are also skill cards and items cards that come into play as well.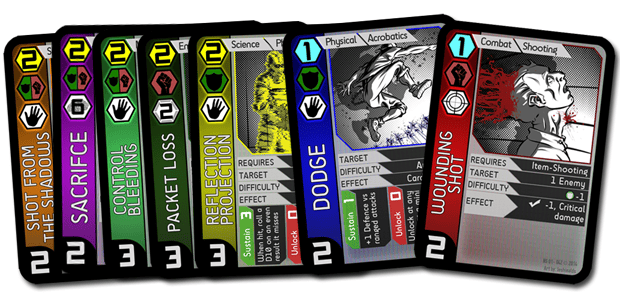 To use a skill card, a player must have it in their hand and have enough action points remaining to activate it. If the skill card requires an item card, they must also have that item card as well. Once they make sure their target is in range of their skill card, they play the skill card and activate its effects. The difficulty field will either state "automatic" or the player rolls 2D10 to resolve the task. Some of the skill cards provided in the playtest deck are Wounding Shot, Stitches, Stealth, Smoke Cloud, Repair, Reflection Projection, Flurry of Blows, Electrify, Charge, Calculate Trajectory, and many, many more. Some of the item cards provided in the playtest deck are Xiang Armour, S76 "Sabre" (Assault Rifle), Pugio 17 (Pistol), DRK 12 (Shotgun), Changdao-88 (Sniper Rifle), Medkit, Gauze, Artis (Chemistry Set), Ammo, and more.
In addition to the item and skill cards, there is also a card for the player that represents their "character sheet", for lack of a better term. But there are also non-player character cards that have all the information the game master needs for his NPCs in the game. Some of the NPCs provided in the playtest deck are a Thug, Support Drone, Rogue, Ogre, Mechanic, Gunman, Guard, Demoman, Command Drone, and Attack Drone.
The game comes with premade characters, a tutorial, and premade adventures for the game master to run. The character creation system uses allows the player to select skill points, skill cards, traits, flaws, mutations, cybernetics, and starting items for their character. There is also an arena setup designed for four players where they can create new characters and pit them against waves of enemies and attempt to defeat them. This allows players to quickly create new characters and test them out.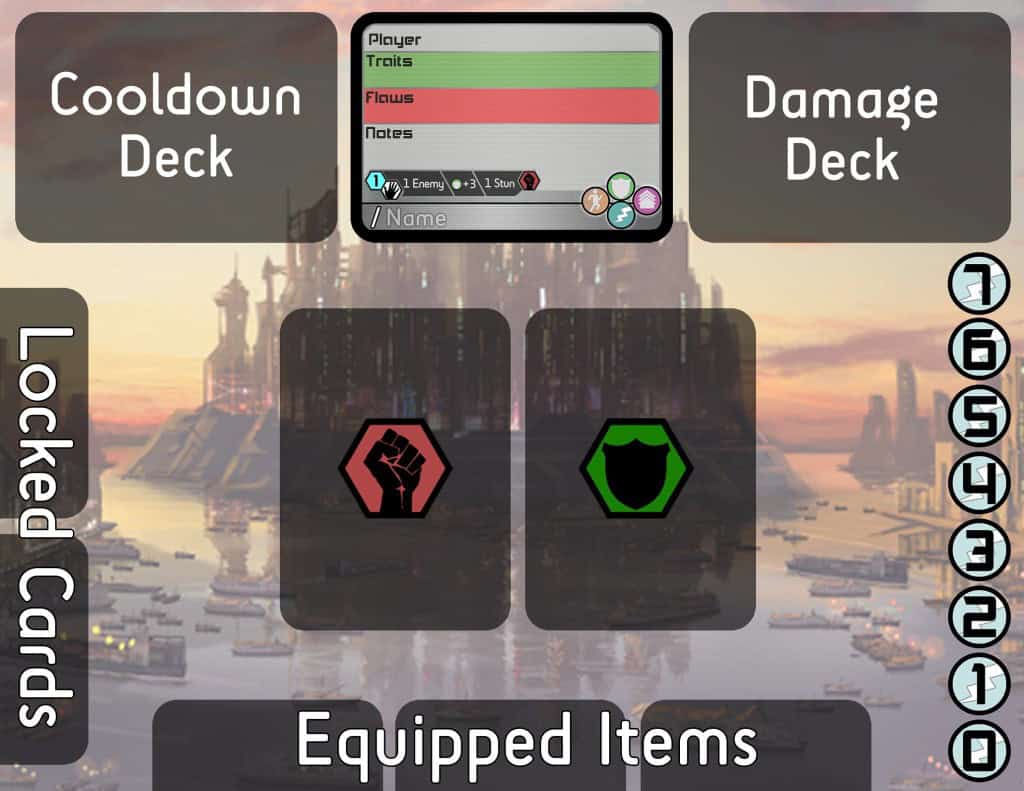 Overall, I found the game to be unique and enjoyable. They've provided everything you need to play the game, including the rulebook, cards, character tokens, maps, as well as premade characters and adventures. The game mechanics are crunchy enough to satisfy the mechanical gamer in me, but light enough to where it didn't take too long for me to figure out the basic concepts for the rule set. I like the fact that the game utilizes both cards AND dice, neglecting to do away with dice like some newer card-based RPGs are starting to do. Retaining the dice still gives me that pen-and-paper RPG feel, but the cards add a little bit of a board game feel to the game for me.
Some of the things I'd like to see for the completed version of the game and future expansions are more skill cards, items cards, and NPC cards. You can never have enough! I'd love to see expanded information on the world as well, including geographical points of interest, expanded information about the mega-corporations and their major arms, and more information on what life is like living in Neon Sanctum. The game is a solid beta product though and hopefully a fully funded Kickstarter will allow them to take the game to the next level.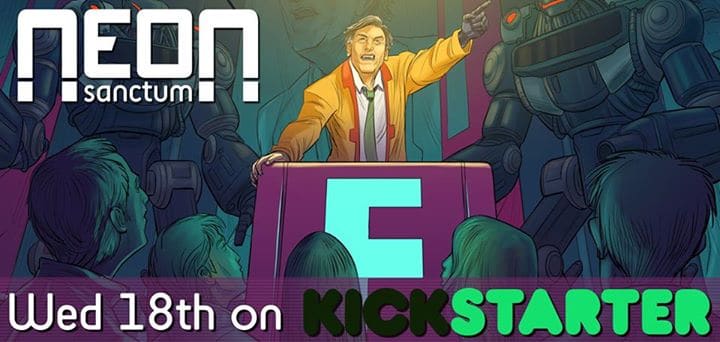 The Neon Sanctum Kickstarter begins on Wednesday, March 18th, 2015. If you like cyberpunk or post-apocalyptic games, check out both their Kickstarter page and their website to get deeper preview of the game. Like I said, you can even playtest the game for free by downloading the free Early Access version of the game. That means you can try it before you back it!