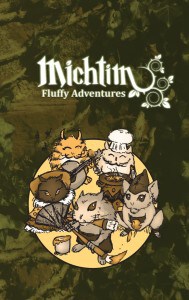 Michtim: Fluffy Adventures is an indie pen and paper roleplaying game by creator, Georg Mir. Although many games are the production of a team of individuals, Michtim was primarily designed by one person. Georg developed the setting idea, game design, layout, and artwork for the game. In the game, players take the role of furry little heroes called, Michtim. These heroes "conduct missions to save the hidden kingdom from the depredations of the furless city dwellers that threaten to build yet another parking lot in the Immergrummel woods." Michtim can be a very simple game to play, but does offer deeper complexities for those that wish to delve into them.
The game doesn't use any of the traditional attributes most gamers are used to in a roleplaying game. Characters use their emotions, Joy, Love, Fear, Grief, and Anger, to accomplish actions within the game. The actual mechanics use a small amount of six-side dice (d6) and "mood markers" to determine success or failure. The overarching theme of the mechanics are that Michtim can use emotions to accomplish actions, like Anger to fight, but the further they give into that emotion the harder it makes it to do other things not related to that emotion. The target numbers and results remain fairly low which allows younger players to be able to grasp the game, but there is a complexity with the mechanics that makes it more than just simply rolling dice and adding them up. I'd classify the system as easy-to-learn with a small amount of (gaming) crunch.
Michtim player characters have Callings, which most roleplayers will recognize as an archetype or class for their character. These include: Adventurer, Artist, Bard, Cook, Courtier, Cybertooth, Daredevil, Frostpaw, Machinist, Sorcerer, Tactician, and Witch. Each of these callings grant different abilities that can be unlocked. Michtim can also learn multiple callings and even change callings throughout the game, so characters have the ability to evolve. There are even synergies between certain callings that can give them special powers when they work together.

The flavor of the setting is sprinkled throughout the book, both through the artwork and environment of the game. There are houses that Michtim can swear allegiance too. Each house (or Haus) has a unique agenda with different core values that they hold dear. There are also important personalities (NPCs) and plot lines that are relevant to the overall story that are provided, so gamemasters and players have a jumping off point to start the game with.
Overall, the layout of the book is very well-done. It's 118-pages is organized very cleanly and it is easy to jump from section to section to find what you need (character information, combat rules, gear, etc.).
The game bears a small resemblance to Mouse Guard or Hero Kids, but in all honesty the game is unique unto itself.  Although the game may look on the surface like it is made for children, there are some more adult-based themes in the background of the game. The three main virtues in the game are Charity, Civilization, and Conservation. There are also themes of conflict, equality, social justice that play a role (or can play a role) in how the game is played.
You may not see this as the type of game your group of middle-aged veteran gamer group is going to be smashing down to play, unless they are very open-minded, mature, story-oriented gamers. But the game is very easy to pickup and play with relatively little prep time, due to the ease of use with the rules.  To me, this game would best be represented as a family-friendly game that could be played by parents and children together. A parent could use this roleplaying game with their children to tell stories with meaning behind them and have fun while doing it.
The two things that strike me as remarkable about the game are its uniqueness and the fact that it was essentially created by one person. The quality of the product is extremely high for a solo venture and the creator came up with an incredibly unique setting that contains unique, but relatively simple, game mechanics. If you're a parent looking for a game to play with your kids, or you are a gamer looking for something that is very different than what the market currently offers, you should check out Michtim: Fluffy Adventures.