Welcome back to our continuing series of Hard Moves (for Powered by the Apocalypse games like Dungeon World) and GM Intrusions (for Cypher System games like Numenera). This week we're looking at all the ways things can go sideways when your players attempt to utilize their finally honed skills and abilities. Before we get to the list you should consider using some of these for the results of an unskilled character's attempt. Even with a generally successful roll, unexpected results can still come up. Don't be afraid to illustrate the risks of messing with things you know nothing about!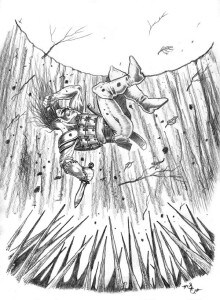 Lock Picking & Trap Disarming
Your sleeve gets caught up in the gears of the mechanism you're attempting to deactivate which triggers the mechanism and pins you in place (while shredding your fancy shirt!).
Your picks break and jam the mechanism effectively rendering the lock unable to be picked.
The last tumblers are almost in place when the guards round the corner and open fire on you and your allies.
The entire mechanism for the trap breaks loose exploding in a shower of gears, cogs, and metallic shrapnel! You avoid the worst of it but your allies are struck by high-velocity pieces and parts.
The good news, you successfully picked the lock. The bad news, you successfully discovered the trap; the hard way.
The tension in the mechanism suddenly gives way jamming a four-inch brass tube completely through your hand. Hope that wasn't your dominate hand!
You only managed to temporarily disarm the trap, the last person through triggers the full effect.
As you finish picking the lock you realize that the entire thing is covered in a nasty contact poison.
The enchantment on the lock makes it get hotter as you pick it. You begin taking burn damage and you're not even a quarter the way done.
In order to access the mechanism you have to reach your entire arm into a blade-lined shaft; what could go wrong!
Strength, Fortitude & Athletics
Despite throwing your weight behind it the only thing that gives is your shoulder causing a tremendous amount of pain and dislocating it.
Not quite far enough. Your jump leaves you just shy of your targeted area, hanging on a narrow ledge by the fingers of you off-hand.
You almost manage to get the choke-hold on but some deft maneuvering on your opponent's part turns the tables and you find yourself on the verge of blacking out.
Several rotten floor boards give way dropping you partially into a crawl space and wedging you waist-deep in the floor.
Turns out you are severely allergic to that type of potion!
That gut wrenching tearing sound? That was your knee!
You smash completely through the barred door and into the pit trap on the other side.
Weeks of adventure have left you with a serious cold. Body aches, coughing fits, and a runny nose impact everything you do.
Your feat of strength fails to impress after you completely rip the crotch out of your pants.
The ledge you are jumping from gives way just as you launch yourself into the air sending you tumbling.
Acrobatics, Speed & Coordination
What should have been a graceful maneuver instead results in unexpectedly doing the splits, pulling your groin, and stunning you for a few moments.
Instead of gracefully dodging the hazard you manage to leap directly into the path of danger and take the full impact of the attack.
You zig when you should have zagged propelling yourself directly into the trap.
As you make your way across the precarious ledge, an unfortunately timed sneeze completely throws off your balance.
Your attempt to deftly escape your bonds results in far greater entanglement.
You stumble and slip but fortunately manage to grab a dangling rope to break your fall, unfortunately the rapid decent burns off all of the skin from your hand!
As you attempt to tumble past the creature it uses its massive tail to smack you and send you flying away like a child's toy.
You've nearly caught up to your fleeing enemy when you round a corner and run into his well-armed allies.
You manage to block the crossbow bolt, however the round penetrates your shield and goes through your arm pinning them together.
The ground is a lot more slippery than you thought. The last thing your allies see is your flailing arms as you slide into the chasm.
Knowledge, Willpower & Insight
What you thought was your enemy's vulnerability turns out to be beneficial.
You have a really good feeling about this person. They are definitely being honest and sincere.
You knowledge of the pantheon is slightly off. Your offering to the goddess is actually a grave insult; her vengeance will be swift.
"They'll respect us only if we all make aggressive, direct eye contact, and show a lot of teeth!"
Your courage utterly fails you, paralyzing you with fear. You drop what you're holding and begin to get faint in the face of an unimaginable horror (at least something horrific to you).
Your pretty sure the ancient script translates as "Sacred temple of the goddess of compassion and mercy." Pretty sure.
Those large beasts are herbivores, you have nothing to worry about.
Something harmless and trivial completely freaks you out and terrifies you (clowns maybe?).
He's bluffing!
The primitive tribe must be offering you shelter and a good meal, or at least something to do with putting you somewhere and eating something.
Stealth, Perception & Observation
It's obvious which of the marble floor tiles are trapped and which are completely safe to walk on.
You're nearly past the guard when a loose flagstone shifts making a grating noise and alerting the guard.
The plants are harmless and safe to eat.
The enemy you and your allies are about to ambush turns out to be cleverly disguised mannequin, giving your real enemies just enough time to get the drop on you.
It's nothing to worry about, just the sound of the wind rustling through the autumn leaves.
You stand motionless in the shadows as your enemies pass by. You feel something crawling up your pant leg.
Your sure the thief used the password, pomegranates.
"Are you sure? That doesn't look like the duchess, unless of course she's moonlighting as a harlot!"
Just looks like the typical group of tavern patrons drinking, eating and talking with one another.
The target your tailing doesn't seem to be aware of your presence.
Final Thoughts
One of the most important ideas that I have incorporated into my GM style is to make every roll interesting. I try to avoid simple pass/fail results and instead opt for ensuring that every dice roll help tell a story. Successful die rolls usually equate to the player telling the story (doing what they intended) whereas unsuccessful rolls are a great opportunity for you as the GM to grab hold of the narrative reins.  Hard Moves and Intrusions are important tools in your story-telling toolbox.
---
Hard Moves & GM Intrusions Part 4: Botched Skills
Hard Moves & GM Intrusions Part 6: WTF!?