Leicester's Ramble is hosting the February RPG Blog Carnival. The topic this month is "How and Where I Write". The idea of thinking about how and where I write also got me thinking about what I've written and how good (or bad) I really am at writing. Everyone has a reason they write and a story behind it. Here is mine.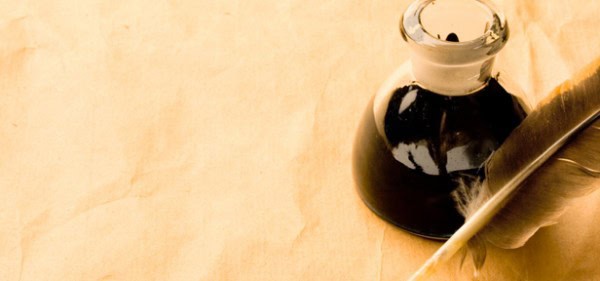 My Writing History
My experience with writing is probably no different than most any other blogger. I often tell people that I was the "dumbest guy in the Honor's English class". When in reality, I probably should have been the "smartest guy in the regular English class". I haven't done much writing outside of building websites based on roleplaying games.
The first gaming site I ever developed was a Palladium fan-site that I created long before the term "blog" was ever even around. That site was a labor of love, much like any fan-site. I can't tell you anything about it other than I developed a lot of personal content for the Palladium Fantasy RPG. My only pseudo-claim-to-fame came from that very site. Author Bill Coffin thought one of my adventures was pretty sweet and included it in the Palladium Fantasy Role Playing Game Book 9: The Baalgor Wastelands. You can see my tiny adventure somewhere in there with my name and everything. I was so proud.
I later developed another gaming website around 2008 or 2009 called Roleplaying Pro. This was the second generation of my writing escapades. I had a better platform, WordPress, and a little actual money to purchase logos and other things to make the site look great. The site took off because, at that time, roleplaying blogs seemed to be exploding everywhere. Everyone and their brother had their own roleplaying blog. Roleplaying Pro stayed up for about two years and was, in my eyes, very successful for what it became. I stepped back from it when my "real" career started to take off and a hosting mishap caused me to lose everything (moral of the story, back up your blogs and websites people).
This lead me into a self-imposed break from writing about roleplaying games, but I still had the itch constantly to write and be involved in the community. In 2014, my buddy and super-duper gamemaster, John Lewis, approached me about doing a gaming blog again. It seemed he had the itch to write too and figured maybe we could pool our resources and abilities together to make something happen. And then RPG Alchemy was born…
How and Where I Write
I am very fortunate to have a room in my home that both doubles as an office and guest room. I have a nice little computer with dual monitors that I do the vast majority of my writing at. I like to keep the area clean and free of distractions since I am prone to getting distracted by squirrels and shiny objects.
If there is one thing I've learned from my previous experiences in writing, it is that small progress daily is what leads to good habits and success. I have a tracking application on my phone that allows me to track my "Blogging" progress each day. I require that I put at least fifteen minutes per day towards my blogging. Sometimes that is combing through other roleplaying websites for inspiration or article topic ideas. Sometimes that is connecting with other gamers via Twitter, Facebook, Google+, site comments, or the various forums that I participate in. Or, sometimes it is sitting down and working on the website or cranking out articles.
I have a folder on my computer where I sort my various document files that contain articles, topic ideas, images, and other notes related to running the website. The articles I write are divided into three buckets: Completed, In Progress, and Shelved. The completed articles are ones that I have posted or have finished and are about to be posted. The in progress articles are articles that I am currently working on. They may be anything from simply a topic idea to a complete article that hasn't been proofread yet. And the shelved articles are articles that, for whatever reason, I stopped writing but didn't want to throw away.
My "day job" actually isn't a day job at all. I work night-shift on the weekends and I have a family of five (which includes myself) that I take care of during the week. Most of my actual writing time is done late at night on my days off. I usually hit the gym or go for a run, grab a drink and a bite to eat, then sit down for a session of writing while the rest of the family is sleeping. I need quiet and a good chunk of time to be able to sit down and really get into a writing mode. So I tend to do most of my writing in large chunks once or twice a week. Most of the writing I've done have been opinion-based articles or writings that I consider helpful for other players, like my 101 Ideas articles.
To keep myself focused and organized, I use Evernote. This program allows me to take notes anywhere an idea strikes me. I can jot them down on my computer, on my laptop, or even on my phone using the Evernote program. There are many other programs that do what Evernote does, but that is what I use. I keep numerous notes which include website information, a to-do-list, social media notes, a mission statement, website goals, article ideas, and project ideas that I am working on. Evernote really gives me the ability to work on my writing any place at any time.
My Future in Writing
I will be the first person to tell you that I don't think I am a great writer. I'm pretty good at spelling, not too bad at grammar, and a pretty fast typist. But I'm not naturally very creative and sometimes don't have an easy time expressing in written words what I'm trying to get across. But… and this is the big "but", where I feel I separate myself just a little bit outside of the crowd…
I am driven to be… driven to be a great blogger… driven to be a great writer… driven to be a great gamer… I am driven to be.
No matter how frustrated I get with what I perceive as lack of progress in my writing, blogging, or gaming endeavors, I always come back to the realization that I really enjoy it. Any success coach will tell you that the key to life is to do what you love, and love what you do. And I really enjoy gaming and I really enjoy writing about it. The two go together as well. The more I write about gaming the better my gaming becomes. The more I game, the better my writing about gaming becomes.
At the beginning of this year, I laid out some pretty specific goals for RPG Alchemy. Most of these had to do with measurable goals related to the success of the website. But I have other goals related to writing that I did not list there. I want to become a better and more creative writer. I also want to become more prolific in the quantity of writing I'm doing. The only way to get better at something is to do it, then do it again, and again and again.
As you trudge towards that magical 10,000 hours to become a master, you'll inevitably encounter roadblocks and setbacks along the way. But as you move further ahead, you'll see the carcasses of others that have gone before you and failed. It should not dishearten you, but motivate you that you got further than them. For a while, my previous websites were two of those carcasses. But like an undead zombie, I've risen from the grave and continue to trudge forward again in my writing. Because I am driven to be…