One of the most critical elements of running a great game is campaign verisimilitude; a realistic, living, breathing setting. Of course realistic is relative to genre! Gamers respond when they・feel their playing in・a world・that acts and behaves in an internally consistent manner and that their characters have agency, the ability to impact that world. As a GM I put a considerable amount of effort into verisimilitude; in fact, I tend to put more work into that then plot design. I've found that with a great setting and engaged players, complex and interesting plots reveal themselves. Providing great verisimilitude can be a daunting challenge, especially for new gamemasters. As the first in a series of articles on the subject, I'll talk about the easiest way to add depth and realism to your campaign, the power of the proper noun.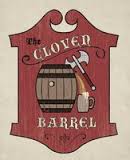 Names. Name everything in your campaign; locations, people, objects, events, everything. Things with names instantly become more real and tangible in the players' minds. In the real world things have names and we use them constantly. The same thing should be happening in your fictional world. When you give something a name it sticks in a player's mind because it tends to convey more information then a generic label. Consider the following examples:
"the forest near town" vs. "the Bloodwood just north of Raven's Crossing"
"the innkeeper" vs. "Milo One-Eye"
"the hobgoblin leader" vs. "Grazak-rul, the Shackled General"
"an old battlefield" vs. "the Broken Sword Downs"
"the queen" vs. "Her Majesty, Queen Falia of the Ivory Throne"
Each of these illustrates the importance of names. The names carry more emphasis and power and instantly engage the players' minds. They become real things and carry considerable more impact than saying "goblin #3". One thing to keep in mind; when you first start adding more names to your campaign your players will think you're highlighting important things that are relevant to specific plot-lines. They may spend way too much time investigating "Milo One-Eye" instead of realizing he's just an innkeeper. Most players assume a named character is the big-bad; "You see Vargos Blackheart, foul wizard of the Iron Circle and four hired swords." And of course they attack Vargos immediately. Even if the players already know Vargos is their primary antagonist they are going to pause a moment when he says, "Captain Lorgan, you and your Blackshield Knights see to it these interlopers never leave my Bloodiron Sanctum!" Even if Captain Lorgan and the Blackshield Knights are all just "warriors" the players suddenly see them as potentially more. Now they're not so sure what to expect or where to focus their efforts. Player uncertainty is GM bliss.
Throw names out all the time. I love to have enemies use dialogue in battle. Sometimes taunting or threatening the heroes but many times I like to have enemies shouting to each other. The addition of a name during combat not only adds layers of verisimilitude but also keeps players guessing. Consider these:
"Molach cover me!"
"Vendar I'm hit!"
"Ural, Grom, archer, in the trees!
"Big Red, CHARGE!"
You just turned an easily forgotten encounter with bandits into something that will resonate with your players long after the battle ends. As GM's we spend a lot of time trying to make certain enemies stand out by giving them increased abilities or special powers but many times you can accomplish the same thing by just turning Bandits 1 – 5 into, Molach, Vendar, Ural, Grom, and Big Red. That brings up a secondary point, nicknames. Even if your players don't consciously think about it an enemy called Big Red conveys additional information; he not only has a name but his associates call him by a moniker. This suggests background, relationships, verisimilitude.
Locations are also important to name in order to invoke certain feelings. The Tomb of Dreaded Horrors sends a different message than fabled Oasis of Mortal Pleasures. Nicknames are useful here as well. The goblin ruins of Raznal-uk may be more commonly known as The Whispering Pit. Locals call the Prismatic Spire,・Zorn's Tower. A guide may tell you about the magnificent House of the Dawning Light while locals refer to the Temple of Pelor. You can convey a lot by keeping in mind the names different・groups use. In a campaign I ran a few years back a goblinoid army was the major antagonists. They were attempting to reclaim the heroes home valley that once belonged to the hobgoblins' ancestors. I drove home the theme of reclaiming the past by having the enemy・refer to important places by their ancient goblinoid names while the heroes were more familiar with their modern names. Here's some samples from the Seven Bridges Valley:
"Rha'vul-khal" was the village of "Cinderhill"
"Mosh-te Ryzuk" was the "Blackfrost Sulpecher"
"Kel-suroc" was the "Twilight Grotto"
"Zal Grozahn" was "Captain Bloodspear"
Not only did this illustrate differences in language and culture but it also forced the heroes to do some research. When they intercepted a hobgoblin comunique and translated it they discovered that the hobgoblins were searching for Kel-suroc but it took a little more to realize that this was the legendary Twilight Grotto, a place the heroes knew well. In this case "Kel-suroc" didn't literally mean "Twilight Grotto" it was just what the goblins historically called the place. This led to an interesting adventure and increased verisimilitude.
Naming things is probably the easiest way・to create a more immersive and exciting setting. Ultimately if you make the campaign come alive in the minds' of your players it will pay off on several levels and your gaming experience will be better because of it.