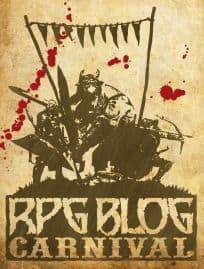 The theme for the October 2014 RPG Blog Carnival is 'Things That Go Bump In The Night' and it is being hosted by of Dice and Dragons. I started thinking about the different times that I've played a horror game. Some of them turned out great and some of them turned out not so great. I mulled over the different factors in each game and tried to think of, as a player, what made the good games good and the bad games bad. I began to realize that I think both game masters and players shoulder an even greater responsibility in a horror game to achieve a great story and outcome. Here are several important keys, I believe, that a player can address to make a horror session or campaign great.
Allow Yourself To Be "Scared" – Anyone who knows anything about Human Performance will tell you mindset is everything. It is the same when playing a horror game. You have to get in the mindset of what you're about to play and allow yourself to be scared, shocked, surprised, horrified, grossed out, or whatever the situation calls for. If you're just going to laugh and make fun of situations that are meant to invoke a certain feeling ("Oh that Cthulhu minion can't scare me!"), as a game master I'd just assume kill you off, kick you out, and keep playing with the players that are into the game. Allow yourself to get in the appropriate mood and have fun.
Play The Right Game – There are definitely certain types of games that are specifically built for horror. Call of Cthulhu is an obvious choice, but there are many, many others, including: All Flesh Must Be Eaten, Delta Green, Apocalypse World, Unknown Armies, Dread, Trail of Cthulhu, Cthulhu Dark, The World of Darkness, Ravenloft, and Rippers, just to name a few. You could definitely invoke horror in any game, but some are going to be built for it while others… eh… not so much (Toon – Horror, anyone?).
Define Your Background – The more defined your background is, the more the game master has to work with. Define your character's fears, traumatic past events, what they like or dislike, friends or family members, former careers, places they've visited, and other things like this. These things give the game master a lot to work with. Maybe your character used to be a soldier but they left the service because they "saw too much". Or maybe your character has an intense fear of something specific because of a traumatic past event. You think that stuff isn't going to come into play in a horror game? As a game master, they will be all over what you give them in a game like this.
Watch Your Character Choices – Depending on the system, powers that provide things like, automatic stuns, immunity to fear, temporary invulnerability, can become problematic in a horror game. These types of character powers can be really fun in certain game settings, but they can really deflate the enjoyment of a horror game. "Don't worry guys, I can just cast temporary invulnerability, use my auto-stun, and take down that guy in one-round with the cultist dagger!" Sounds like an epic ending to the campaign… not.
Play Your Character, But Play The Game Too – A lot of horror games have some mechanic for fear and some mechanic for horror. Sometimes it is hard to roleplay your character being afraid of something when your not afraid of it. But if there is some game mechanic that says your character flees in terror, then you should probably have your character flee in terror. If there is a game mechanic where your character is slowly going insane, then have your character slowly go insane. Maybe he starts developing a strange twitch with his eye. Or, he reads books upside-down because "it is easier that way". This can be some of the funnest part of roleplaying in a horror game.
Run If You Have To – This isn't D&D 4E where everything is tailor-made to be around your level. In most horror games, you will run into monsters that you have no business being in a fight with. The first Delta Green campaign I ever played I was a military soldier attached to a group of intelligent people as a bodyguard. These people were investigating some strange happenings in a small town in the middle of no where. I remember we saw some "strange" things, but my character was always able to rationalize most of it somehow. That is, until we wandered into a building and discovered a great tentacled horror inside a back room. Everyone else ran. My soldier engaged the threat. He was promptly sliced in half by one tentacle swing. And… I made a new character. If one good thing came out of that, every player was truly scared of what could happen to their character from that point forward.
Investigate – Most horror games are not hack-and-slash. Most good horror stories have a lot of investigation in them. Be ready to investigate and piece together clues. This is part of what makes horror games a great game to mix things up with when you get tired of playing your stereotypical fantasy-themed or sci-fi themed game that you've been playing for months, or years. The Gumshoe System and Trail of Cthulhu lend itself to this type of horror and investigation game spectacularly.
Voice Your Paranoia – We've all been there. Sometimes game masters will have an idea of where the path in their game is heading. He or she sits quietly at the end of the table while the players discuss the possibilities of the situation. Who is the real bad guy? What are their plans? What is inside that locked room? Who left the strange note written in blood? Who is trying to kill us? Sometimes the answers we come up with are better than what the game master had planned. If you voice those opinions with other players openly, sometimes the game master might think, "Hey, that's even better than what I thought of." And magically your conversation takes the game in a different, better direction without you, as a player, even knowing it.
Trust Your Game Master – A good horror game, in my opinion, takes more effort than the average roleplaying game. From what I've seen, game masters tend to put more time into developing horror game sessions and campaigns. The story lines just seem to be a little deeper, the characters have more purpose within the game, the plot twists often have deeper meaning, and the subtle clues are usually carefully planned and placed. Trust the effort that the game master has taken to develop this story line and work with them on it.
I've played a lot of horror games but only played in two solid, horror campaigns and they were both extremely memorable. I don't think this is by accident. Both times the game master for each campaign put a lot of effort into each one. The players at the table put just as much into it and I feel that was definitely a recipe for memorable gaming. So when you're ready to sit down and play a horror campaign, whether it is a single session or a full length campaign, prepare. Get in the right mindset, choose a good game, flesh out your background, be careful of character choices, play the game mechanics, run if you have to, investigate, voice your paranoia, and trust what the game master has in store for you.