Combat is an extremely important part of the roleplaying experience. For some gaming groups, it is an absolute necessity and even why they play the game. Odds are that in your roleplaying endeavors, you・・ve probably been part of some great combat experiences and some not-so-great combat experiences. But what can you do to consistently make combat fun for your gaming group, both as a gamemaster and as a player? Here are some simple ideas to make your roleplaying combat experience more fun!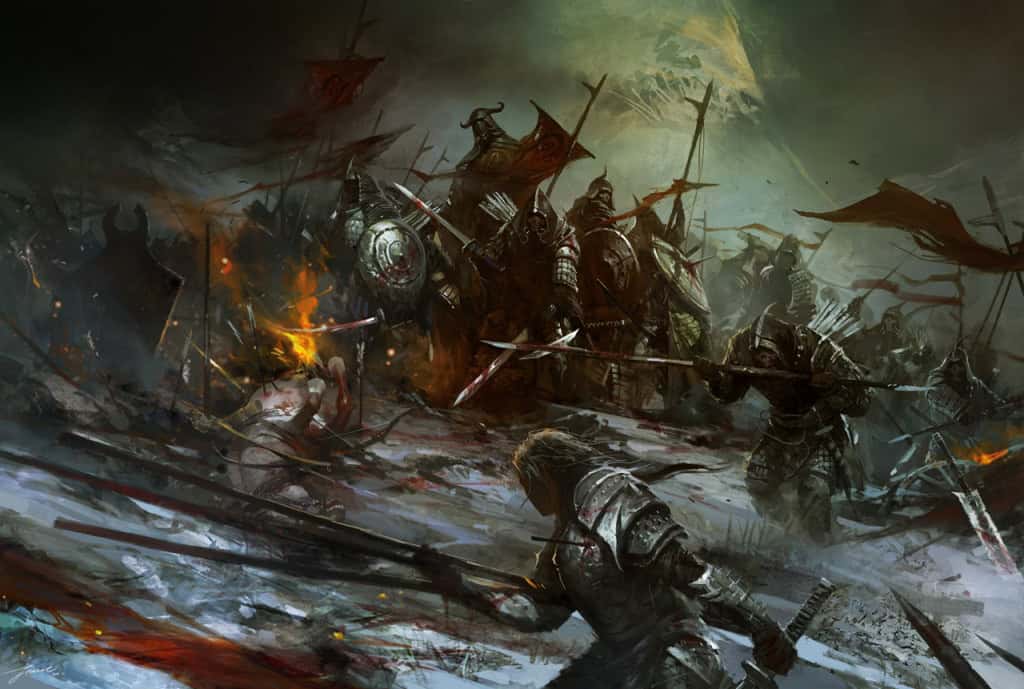 Get Energetic ・・ My current gamemaster is truly a master at this. Our gaming sessions have a certain pace about them, but when combat ensues you can see his eyes light up. His hand gestures become more emphatic, he speeds up his voice for certain narrations, and the pace of the table just starts moving faster. As a player, I feed off of his energy that he・・s putting out to the table. I think that this can be accomplished by anyone at the table though. If you put out energy and excitement, you・・ll usually get it back in response.
Keep Things Moving ・・ I am a big proponent of prepping your action, as a player, before it is your turn. Sure, if the player before you did something you didn・・t anticipate it may change your action. But once it is your turn you should have already been thinking of what you wanted your character to do. This forethought keeps the game moving and allows everyone to get their turn. Over time, you・・ll end up actually get more screen time and more overall actions when you do this.
Push The Players ・・ As a gamemaster, sometimes players can get in a rut of just assuming that every single fight will play out somewhat the same. They・・ll take some damage here and there. One player may even go unconscious. But in general, they will defeat all the bad guys and take a nap right after to restore all of their life. But what if the next encounter wasn・・t that way? What if they got attacked right after another battle and lacked their health, ammunition, and spells to back them? What if this group was their equal? What if one player was struck to the brink of unconsciousness right off that bat? Would that change their attitude towards the combat?
Steamroll Lemmings ・・ Sometimes it is nice as a player to be able to wade through dozens, if not hundreds of enemies like you were a demi-god smiting mortals. Every once in a while it・・s nice to have a combat, as a player, where you can destroy without too much fear of being defeated. You can try to do things you・・re character hasn・・t done before, or you can have competitions with other players on who can get the highest ・・score・・ this combat. Usually mindless enemies of little value, like zombies or robots, make the best lemmings for a combat like this.
Narrate Your Attacks ・・ It・・s easy to roll dice to hit, roll dice to damage, and move on. The problem with that is you・・re just essentially waging a war of attrition with the gamemaster or players. Yes you are choosing what attacks you are doing and where you are moving, but are you really creating a memorable combat? No one will remember your two-handed sword attack that did twenty-six points of damage. They will remember your other two-handed sword attack where you jumped off your moving horse and recklessly threw yourself at an enemy Minotaur, regardless of how much damage you do.
Take Dramatic License With Your Attacks ・・ If the gamemaster and the player have a trustworthy relationship with each other, take dramatic license with your attacks. Maybe you・・re natural twenty hit with your dagger doesn・・t do enough damage to kill your enemy, but who・・s to say it did cut off four of their fingers or gouge out an eye? Maybe it carved through the hilt of your enemy・・s weapon essentially disabling it? Obviously the gamemaster has the final say on these things, but there is nothing that is preventing you from playing up (or playing down) an attack.
Add A Challenging Weather Element ・・ How many times have you fought in a tornado, tropical cyclone, dust storm, wildfire, monsoon, heavy snowfall, ice storm, or even a heat wave? What effect does a fireball have in a heavy snowfall or a dust storm? What would happen if you cast acid spray in a tornado? How will bullet travel be affected in a tropical cyclone? Adding a challenging weather element can dynamically change the course of combat and add something new for the players.
Add A Challenging Terrain Feature ・・ There are many different terrain types: urban, plains, forests, mountains, deserts, jungles, water, caves, swamps, wastelands, just to name a few. But adding challenging features to that terrain can make your combat more interesting. What effect would it have if you added a toxic waste pool, a sinkhole, sheets of ice, a stream of lava, a broken bridge, a crumbling tower, an animal stampede, or countless other terrain features? This both gives the players something to watch out for and to potentially use to their advantage.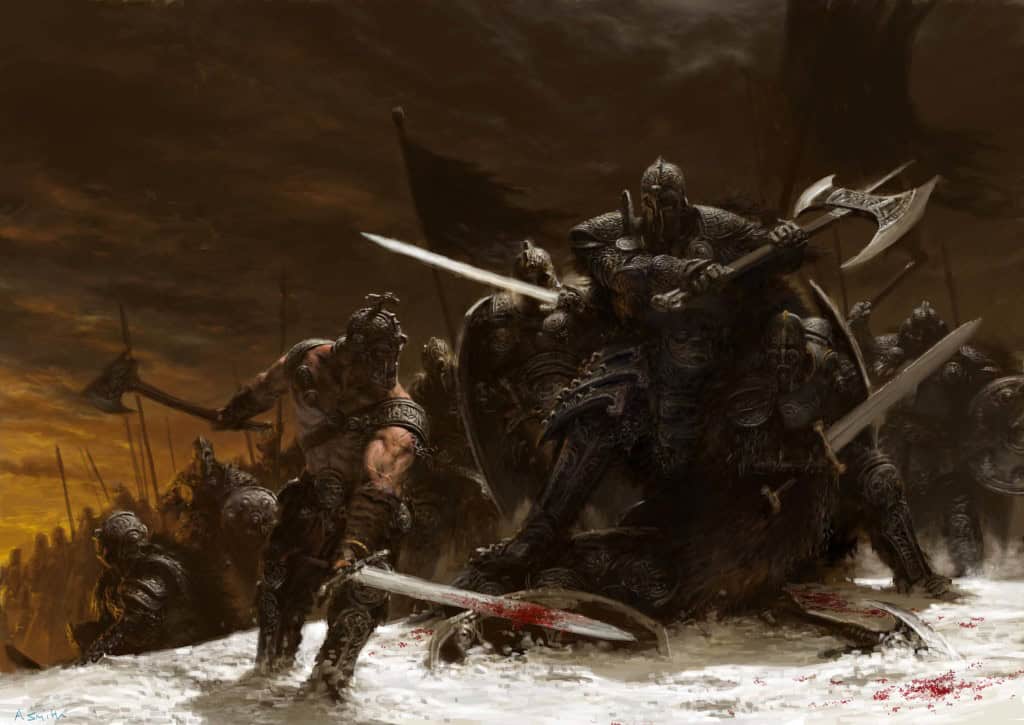 Provide Obstacles To Use ・・ A fight on a boat? Meh. A fight on a boat that has ropes and nets hanging everywhere, a second boat latched onto it with grappling hooks holding them together, waves crashing over the edges of the boats and washing into the lower decks, as they travel perilously close to rocky terrain features jutting out of the water next to them? Um・・yeah that・・s awesome. Add some obstacles, glass chandeliers to swing on, a water mill to scale (or jump off of), a bridge to cross, or whatever your mind can conjure.
Role-Reversals In Combat ・・ What if the wizard is suddenly thrust into the tank role, can he do it? What if the fighter suddenly is forced to pick a lock to get through a door to his companions? What if the thief has to figure out how to cast a spell from a written scroll in order to defeat the enemy? One of the reasons we play a specific type of character is to gain a certain type of experience from the game. But sometimes it is enjoyable, as a player, to step out of that role momentarily with your character and try to accomplish something with him (or her) that he may not be tailored specifically to do.
Add One-Shot Items To The Encounter ・・ One-shot items give the player characters and their opponents something to shoot for. A cauldron of boiling hot oil could turn the tide against the invaders, if someone can get to it before the door breaks. A cannon loaded with destructive ammo could be enough to take down that big bad monster, if you hit him before he gets out of its firing arc. A glowing portal will transport one more person to safety across a gaping ravine before it closes. One-shot items can add immense focus and power to a combat without permanently unbalancing your game.
Make It Completely Random ・・ What if the battle has nothing to do with your overall storyline and catches the players completely off-guard? The characters are sitting in a bar, enjoying some nice drink and meal, when a mindflayer bursts through the cellar door and starts attacking people. What if they・・re shopping in a bazaar and a dragon swoops in out of nowhere and starts burning up the place? Not every combat has to be tied into your overall storyline. Some combats can be random and ・・combat just for the sake of combat・・.
The Unwinnable Boss Fight ・・ Not every fight has to be about defeating your enemy. What if you・・re in a fight that you know you can・・t win, but there is still a purpose? What if you・・re just trying to hold the creature off while the town peasants escape into a protected area? What if your outcome is not to win, but to acquire information during the battle? Or obtain some sort of item and get out alive? Unwinnable boss fights can be great because it can change the focus of combat into something other than killing, or incapacitating, your enemy.
Now you have a few additional options as both a gamemaster and player on how to make your combat experience more fun. Use the ones that you think would work best for your group. Some may be easier to implement with different types of players than others. What do you do to make your tabletop roleplaying combat experiences more fun?