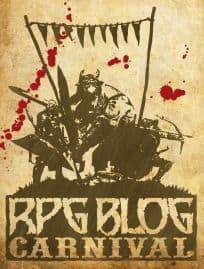 It is the end of April, which signals that the RPG Blog Carnival is rolling out of RPG Alchemy and onto the next location. For those that may not know about it, the RPG Blog Carnival moves to a new roleplaying blog each month.・ Each blog picks a topic and the community writes about that topic.・ At the end of the month, the hosting blog rounds up all of the topics for everyone to read.・ Before the carnival moves on from RPG Alchemy, let's look at the awesome submissions we received for our topic, The Combat Experience.
Arcane Game Lore ・・ Initiative by Tom Stephens (aka Dagorym).・ Tom gives us his thoughts on both using, and not using, initiative in combat.・ In addition, he also contemplates how to best include initiative in the game he is designing.
World Builder Blog ・・ Spice Up Your Combat by James Introcaso.・ In the first of his three offerings, James gives us ten different ways to spice up your combat in your roleplaying game.
World Builder Blog ・・ Simple Hazards by James Introcaso.・ In the second of his three posts, James provides numerous simple hazards that can be encountered in combat, both mundane and supernatural.・ At the end, he also provides a PDF with this information.
World Builder Blog ・・ Flip the Mat by James Introcaso.・ In his final submission for the carnival, James talks about flipping the combat map.・ He discusses how you can attempt a 2D, essentially vertical, combat encounter.
The Black Campbell ・・ The Combat Experience by Black Campbell.・ Black discusses using the setting, tone, and player expectations to help you decide on what type of combat experience you're looking to bring to the game.
Way of the Zeppo ・・ [Rob・・s Rambles] My Combat Peeves by Robert Ruthven.・ In his submission, Robert talks about two of his major pet peeves with combat in RPGs, initiative and sketching maps.
House Rule ・・ Encounter Mechanics by Jeff D.・ In Jeff's post, he talks about the influence of MMORPGs on tabletop roleplaying games and goes into the difference between character-focused mechanics and encounter-focused mechanics.
Roleplaying Tips ・・ Switching From the Grid: Mapless Combat by Johnn Four.・ In this guest article by John Large from Red Dice Diaries, he talks about switching from grid combat to mapless combat, such as the type of combat used in Fate.
MF Wars ・・ Mass Combat for RPGs by Mark CMG.・ Mark comes from a wargaming background and in his addition to the carnival, he talks about using mass combat (large armies) in tabletop roleplaying games.
Tales of a GM ・・ The Narrative Combat Experience by Phil Nicholls.・ Instead of just waging a back and forth dice-rolling war of attrition, Phil discusses using narrative combat in his roleplaying experience.
Mythus ・・ How Irregular Can You Get by Alan Kellogg (Mythus Mage).・ After a meltdown of his WordPress installation, Alan returns by talking about accepting RPGs for what they are and not forcing them into something they cannot be.
The Gaming Blog of General Tangeant – The Combat Experience by General Tangeant. In this entry, General Tangeant talks about his experiencing with fencing, his choice of RPGs through the years, and how that affected his ideas about combat in RPGs.
RPG Alchemy ・・ Don・・t Forget the Environment by John Lewis.・ Our resident lead author, John Lewis, discusses using the environment in combat to break things up and add a little spice into your life.
RPG Alchemy ・・ Ideas to Make Combat Fun by Samuel Van Der Wall.・ Finally, in my submission to the topic I discuss different ideas and techniques I like for combat that I feel make it a more enjoyable experience for all.
Thank you to everyone who participated in the topic this month. If you・・re interested in seeing what is on the RPG Blog Carnival agenda, go check it the schedule at Roleplaying Tips. In the meantime, make sure to follow the carnival over to Enderra in the month of May. They・・ve chosen the topic of Unusual Dungeons (and other such locations). It's a great topic that already has some ideas brewing in my head.