In February 2015, I previewed FAITH: The Sci-Fi RPG from Burning Games. The next month, I interviewed game designer Helio de Grado about the game. It then fully funded its Kickstarter campaign and almost a year later this tabletop RPG that is still going full steam ahead.  It's unique universe explores a dark and unforgiving existence where Gods live next to both technology and biological experimentation.  My gaming group has the game and we're enjoying it. So I got back in touch with Helio de Grado to see what's in store for both FAITH and Burning Games in the near future.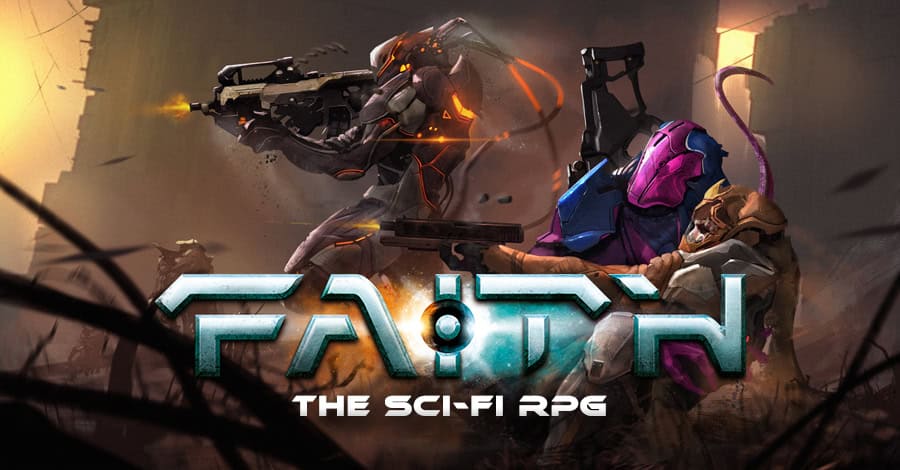 1) The FAITH RPG Kickstarter successfully funded last year and you released the game shortly after, what were the biggest obstacles you faced with getting the game published after your successful Kickstarter?
The most important thing with Kickstarter campaigns is to have a solid plan before launch, and back-up plans as well, so that even if many things go wrong you can still deliver. We did, so there weren't really any big obstacles.
However, an unexpected difficulty we did face was the currency exchange rates: we funded the campaign in Sterling pounds, but most of our artists and the manufacturer wanted payment in US dollars, and the exchange rate went rogue for a while, which definitely hurt our budget. This can be something pretty dangerous, especially for small companies like ours, so it might be interesting to consider the use of insurance services if funding in a different currency than the currency you need for your expenses.
2) Now that FAITH is out, what has been the response from those that have purchased and are playing the game?
We are lucky to have a wonderful community. Slowly but surely there is people joining us in our forum asking questions, telling us about their adventures and sharing their thoughts on the game, like the overwatch people do and you can read about it here http://elitist-gaming.com/overwatch/ giving you the real insights of a pro player in this game. We have opened other feedback channels as well and so far we are really happy with how things are turning out, but we strive to make everything better everyday, so to anyone reading us now, please feel free to contact us anytime and share your thoughts!
3) What resources and supplements are currently available for new players to FAITH and those that are already playing?
There are a few things such as blank character sheets, pregen characters and a short introductory adventure in our downloads section, as well as the full core book divided in two convenient parts, one for rules and another for setting. We have a few surprises we are planning to release soon-ish but we still need to iron out the details, so you'll have to wait and see… (hint: not a puzzle map, although that would be really cool right?)
Other than the campaign module we are planning, we think there is a strong need for a source book detailing the many worlds of Faith and the web that connects them all, the Labyrinth, so we are planning around that idea.
4) There is a new campaign module for FAITH planned later this year as well as a new board game inspired by this universe, can you tell us a little more about these future projects?
FAITH: A Garden in Hell will be hitting Kickstarter in about a month or so, and we are really excited about it. It is the result of taking all the feedback we've gathered from backers, fans, distribution partners, convention attendees, playtesters and all sorts of feedback heroes and putting it to good use.
We've made something that will serve as a great expansion to our previous backers and fans, giving some insight into the mutant step-species of the Ravager and laying out a frenetic campaign that will determine the future of civilisations in the world of FAITH; but it will also be the perfect introduction for those who are on the fence about jumping on a brand new system. It will come with everything you need to play right out of the box, including introductory rules and pregen characters.
One more thing special about it is we plan to record the results of as many groups as possible. The campaign has several alternative endings, and one of them will become canon in the universe of Faith. Send us your results to have a say in the destiny of civilisation!
Regarding the board game, what I can tell you now is it will be called Corball: the 0-G sport and will have miniatures and a board that changes every round of the game. We are working on it with the amazingly talented Anthony Jones (aka Robotpencil), in his first foray into creating all the art for a board game. He is making some videos and tutorials for his students to delve deeper into character design, and we are recording all the meetings between him and our art director Carlos so everyone can see We will make sure to come back here in the future to talk more about this project, as it deserves its own article.
5) What other plans does Burning Games have for the future?
We are committed to support FAITH: The Sci-Fi RPG with more campaigns, expansions, source books and decks for as long as there is interest for the game, and A Garden in Hell is the first of those efforts. We also want to expand the universe of Faith with board games, Corball being the first of them.
On other fronts, we also have some projects not related to Faith at all, including other RPGs with similar mechanics but very different settings, and we want to explore the possibility of publishing board games from other designers as well. We want to expand our catalog as quickly as possible at the beginning so we can make the business sustainable and dedicate ourselves to what we love, which is making the best games we possibly can.