Having run more RPGs・than I can remember over the past 30+ years I've seen my campaign management style change and evolve. I've run everything from heavily scripted campaigns to completely improvised ones. I've run loosely related episodes in a vast sandbox to tightly connected adventures in a predefined area. Over the years I've discovered both pros and cons to・all sorts of campaign management・methods・but my current system seems to be the ideal style for my group and the games we enjoy. For me campaign management breaks down into three fundamental phases. The first two・happen・prior to the start of the campaign while the third phase occurs throughout the course of the adventures.
Phase 1: Setting
The most work-intensive element of my system happens up front, long before characters are rolled up; setting development. As gamemasters we all tend to have all sorts of thoughts and ideas for our next great setting so pull out those notes and get to work. As you start laying out some ideas remember to focus on the・setting itself, not the future events of the campaign. If you decide to use a pre-existing or published setting you can boil these steps down to simply doing your homework and understanding the fundamental concepts and themes of the setting as defined by the authors. But if you want to design your own keep in mind these・important concepts:
Interesting Sounding Elements: These are the "nouns" of the setting, people, places, and things. Initially just begin with brief descriptions; a cursed king, a partially flooded city, a guild of slavers, a keep on a windswept bluff on the edge of the desert. At this point I just jot down whatever comes to mind. Over the next few days I'll keep coming back to the list and adding additional bullet points. The cursed king is a vampire, a former paladin, sold his soul for love, etc. The partially flooded city is still occupied, ran by a clan of wererats, home of an ancient relic and so on. I like my list to include at least three unique elements in each of the following areas: interesting people, powerful organizations, civilized settlements, exotic locations, and historical events.
Connect Elements: During this phase I combine and connect the elements. Perhaps the cursed king rules from the keep on the windswept bluff or the guild of slavers operated from the partially flooded city. You can also give elements context by connecting them to one of your historical events or noting some sort of relationship between to elements, such as rival guilds or factions. At this stage I usually find my list growing as I add bullet points; each organization inspires a couple new people, which in turn suggests some new locations and historical events. I just keep adding, combining and connecting allowing the setting to grow and evolve rather organically.
Set Elements in Motion: Finally I like to add a sense of unfolding circumstances to each of my elements. Perhaps one of my organizations has just destroyed their rivals, or the king of the city has recently vanished, maybe a small village is on the verge of being abandoned. Elder Scrolls V: Skyrim, did this brilliantly. At the start of the game Skyrim is in the middle of a civil war and ancient vanquished enemy has just returned. These are just two of the dozens, if not hundreds of elements in the game that are in motion when your character begins his journey. Elements in motion not only give a sense of realism to your campaign but they also magnify the players' sense of urgency by drawing attention to cause and effect and ongoing change.
Phase 2: The Heroes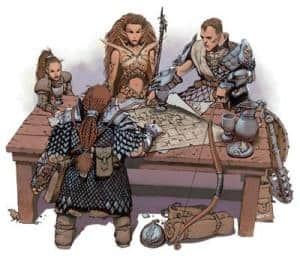 While you work on the setting don't put any thought into the characters your players might play or the actions they might take. Once your plot arcs begin getting formed along these lines you tend to spend your time keeping the players "on track" instead of allowing your game to unfold more naturally (getting players to follow your story is a considerable amount of work that my technique is trying to avoid). Have your players make their characters together, I highly recommend spending a whole session doing it. Help the players come up with connections to each other and start connecting each of them to your existing campaign elements. The fighter's home town? One of your setting elements. The wizard's personal goal? Find one of your setting elements. The rogue's enemy? One of your setting elements she used to work for. You get the idea. Connect as much as you can to your campaign but don't be afraid to add new elements or expand existing ones during this phase. ・Everything you jot down is going to pay off once the game gets started. Be sure to drop as many names as possible during this phase. Mention the Caves of Sorrow, the Mad King Isodor, and the lost stonehold of Deepecho Delve. You're planting the seeds of interest in your players' minds.
Phase 3: Act & React
The previous two phases are all about the prep work happening prior to the campaign start but this phase is all about running the campaign with a minimum of fuss. Kick things off by picking one of your exotic locations and placing the heroes there and in a bad situation. Keep the pressure up during the opening session because an immediate sense of urgency and danger always helps gel the party. Be sure your initial mini-adventure has lots of potential hooks; have the heroes find a mysterious・object, gain an unusual piece of information, or discover a hidden threat. ideally these things are all tied to your elements and suggest potential courses of action for the heroes. From here let the sandbox unfold.
At this point the heroes probably have a bunch of ideas and thoughts about what to do. Fight the urge to send them in any particular direction instead just let them act and do the things characters do. As the gamemaster you're not going to waste your time trying to get the heroes to do anything, instead you're simply going to react to the things they do. You are looking at the big picture, but in this case the big picture isn't a map that you are trying to keep the heroes on, it's a web of interconnected campaign elements. It's all about cause and effect. For example, say you noted that the old sage of Chandalor has knowledge about the Baxori Empire. The heroes learn of the sage and go to the village. At this point a lot of GM's might have a social encounter laid out or have noted what the heroes have to do in order to gain the information. Don't bother. You "know" the sage and the situation so react to whatever the players do. Is the sage greedy or funding a major research project? Maybe an offer of gold works, but if・he feels that・selling knowledge cheapens it, well he'll probably act very differently.
This technique is all about you, as the gamemaster, understanding the setting. It's not about specific plot lines or railroaded adventures, it's about thinking dynamically. Say・the heroes decide to kill a・bandit lord and collect a large・bounty, ask yourself what might come of that. Do the surviving bandits pledge themselves to the heroes? Do they seek revenge by hiring assassins? Does the bandit lord's wife come after the heroes? Does the local thieves guild try to relieve the heroes of their bounty? Whatever you decide to do you are reacting to the heroes and their actions. They do something, you react. They act on・your reaction and you react again,・so on and so forth.
In Conclusion
This style of gamemastering may not be for everyone but I've found that it has really worked for my campaigns. Instead of trying to get the heroes to go here or do this, I let them do whatever they like but keep them in check by constantly having the world react to their actions. Not only does this make it easier to run the campaign and keep from railroading the heroes, but it also allows you, as the GM, to do a little roleplaying yourself by asking questions like, "If I was the guildmaster how would I get revenge on those adventurers?" For me this keeps a campaign fresh and exciting, I have no・idea where it's going to go or how it will turn out. For my players they feel like their actions have consequences, both positive and negative, and that their choices truly matter. And I think that is the heart of a great roleplaying experience.