A couple of weeks ago I shared my techniques for designing interesting and engaging openings for new campaigns [here]. One of our subscribers asked if I would be able to add additional examples beyond the few I included at the end of the original article. Since I like to get my creative juices flowing and love an awesome start to a story, here are some more ideas to help kickstart your next campaign.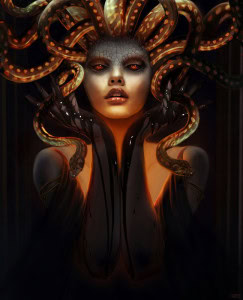 The Return
You each awaken in an ancient forgot crypt with only a vague idea of who and what you are (or perhaps were). None of you can recall much about your former lives' but you do remember spending what seems like an eternity being tortured and punished in the underworld by infernal overlords. You've all been returned to the mortal realm. Is this a shot at redemption? Are you here for some specific reason? Right now you're only aware of two things; each of you has a strange iron shackle fused to your wrist and the sound of the restless dead are drawing closer.
An emergency override protocol disengages the cyro-chambers awakening each of you from a long stasis. You emerge to find yourself aboard a derelict vessel drifting through some unknown sector of space with only minimal power and life support. You few are the only survivors of a crew numbering over a thousand, the other cyro-chambers empty or destroyed. As you each attempt to make sense of your situation a grime covered screen flickers to life; unknown life forms seem to have boarded the ship, their presence activating your awakening. Somewhere (perhaps nearby?), there should be weapons and equipment. Unfortunately the mental haze of stasis leaves all of you with more questions than answers. Perhaps you can find a way to bring the ship's systems back on-line and figure out what's going on before you're discovered by a potentially hostile alien boarding party.
The last thing any of you remember was the heart-stopping terror of looking directly into the gorgon's eyes. It only seems like a moment since you were turned to stone, but as each of you return to flesh and bone you can tell it's been decades, perhaps centuries since you lost that fight with the gorgon. Not far from you lies a dead wizard; it appears that the broken staff near his body unleashed a torrent of arcane energy that returned you to your natural forms. Everything is quiet but there is no telling if another gorgon still dwells somewhere in these ruins.
Broken Bonds
You've each spent years imprisoned in the empire's most notorious and secure prison, one day blending seamlessly into the next. But today, while you are exercising in the yard, a series of explosions has breached one of the prison walls. Highly skilled men have rescued some other inmate and left dozens of guard dead. There are no guards in sight and a gaping hole in the prison wall; looks like it's now or never!
After working as slave labor in the mines for what seems like an eternity you and your fellow slaves are suddenly caught in the middle of battle between your cruel overlords and the evil dark elves. In the chaos of the dark elves' ambush, you and your allies manage to escape into a long forgotten passage in the mines. Enemies are closing in, the ancient tunnels are unstable, and something seems to be stirring in the depths.
Fighting in the cities' most notorious arena has made each of you strong and capable combatants but your newest owner is a foul and terrible man who treats you little better than dogs. You and your fellow gladiators have put together a plan to escape, tonight, during the final event of the season. Everything is all set for a major distraction to occur during the final match in which you and your allies will be competing together. Key guards have been bribed, creatures have been charmed, and a team of rogues have been put in place. You can hear the roar of the crowd and the chanting of the other gladiators as your hearts beat faster and you head out through the tunnels to take to the arena.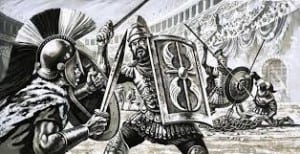 Tables Turned
The Lich Queen's rise to power was swift and sudden, her undead armies crushing any hope of resistance. Now she holds the land in her icy grasp, ruling the Seven Baronies through her zealous priests, the mummy lords. Each of you belong to a small, secretive cell of rebels fighting the forces of undead. As you wrap up tonight's meeting in an isolated farmhouse, you hear the unmistakable sounds of the forces of the Lich Queen closing in on you. Your lookout tells you that the Queen's Inquisition has found you.
A few days of drunken revelry have left you accused of disorderly conduct, insulting the maharaja, and defiling a sacred temple. As outsiders to this land, you and your allies have been stripped of your gear and taken to the edge of the badlands. You are each given a single water-skin and a warning to never return before being exiled into the deadly badlands.
Final Thoughts
Hopefully these ideas inspire your own creative thoughts.