I am here today with Helio de Grado, a game designer and partner for FAITH: The Sci-Fi RPG, a new game from Burning Games. I recently did a quick review of FAITH for our readers.  They are currently running a Kickstarter to fund their project and it is nearing completion. If you're interested in independently published games, new and unique games, you should check out this interview and wander over to their Kickstarter to see if this game is right for you and your group. Check it out!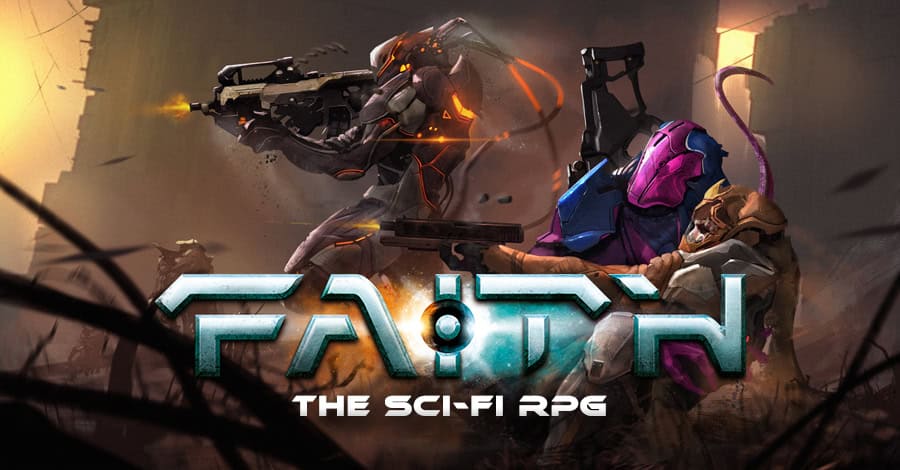 1) What is FAITH?
FAITH: The Sci-fi RPG is a pen and paper RPG that uses cards instead of dice to resolve actions, and board game elements for displaying and keeping track of information. It takes place in a dark and unforgiving Universe where Gods live side by side with technology and biological experimentation. This Universe is linked by wormholes under the control of two super-species that fight a silent cold war for resources while humanity struggles to survive.
2) How is FAITH different from other tabletop roleplaying games?
By replacing dice with cards, we have substituted the randomness characteristic of most RPGs with a resource management system. Players can use cards from their hand to increase their chances of success, therefore being able to choose when to be lucky and play their high cards and when to risk everything by playing their low cards.
The setting is a fresh take on Gods inserted into a science fiction setting. They represent the moralities of the characters, and as such they influence every war, economic takeover and political struggle. The key element of the setting is the Labyrinth, a web of wormholes that connects thousands of star systems and is the home to many kinds of people, from pirates or adventurers to researchers and explorers.
3) What inspired your team to create FAITH?
We have always wanted to create a system easy to approach to introduce our friends to RPGs. We felt this would be easier using board games elements familiar to many players, as well as extensive artwork to ease the immersion of the players in the story.
The setting has been inspired by many works of fiction, and by the advice we have received from actual scientists and engineers. Thinking about the possibilities that actual scientific research suggest is a very interesting way to come up with concepts that have not yet been used in other settings, which has allowed us to have fresh takes on a few subjects.
4) What future support (expansions, modules, etc.) for FAITH can players expect?
We have many things in store, from playable expansions to introduce new alien species or spaceships to new NPCs, additional gear, locations and other things.
If FAITH is well received, we would like to create our own miniature game in the same setting.
5) Why should people back FAITH and its Kickstarter?
FAITH is a game created by four friends with no big name behind us. We have put a lot of effort into all the aspects of the project and we believe we have created a valuable product. However, without your support it will not be made: we simply cannot afford to publish it on our own.
So far we have received amazing support from the gaming community, from the advice of people like Jamey Stegmaier or James Mathe in their respective blogs, to the appreciation of many play testers and reviewers.

Kickstarter: This project will only be funded if at least £30,000 is pledged by Thu, Mar 12 2015 4:00 AM PDT.