For the most part nearly everyone I've played with over the years has created characters they loved playing, or at least really liked playing. However there have been a few times where I've had a player really struggle with trying to make a character the way they envision. I've watched players become increasingly frustrated and begin losing interest in the campaign and eventually in playing altogether. On the other side of the coin the players I've seen who really connect with their character seem to have a much better time playing their character. I spend nearly 100% of my gaming time as a GM so I may have a slightly different take on this than a player and over the next few weeks I'll discuss a few key elements for enjoying your character from a GM's point of view.
So how do you build your characters on paper the way you see them in your mind? Why do some characters play exactly the way we want and others never quite get there?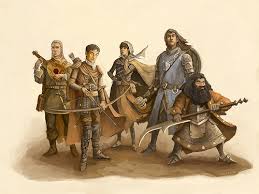 In my experience you need to create a solid foundation for your character and that foundation is built atop embracing the paradigm of the game you're playing. One of the selling points of playing an RPG is the ability for your character to "be anything you want your character to be." This is a nice idea but can really lead to frustration if taken too literally. If you really want to be a chaotic Orc warlord it might be hard to create that character in your GM's Firefly campaign. Players need to understand that they can play what they want within the context of the game.
So what does embracing the paradigm mean? It means doing several things before getting caught up in your character concept, including:
Read up on the races and classes the game offers and how they interact with the world mechanically.
Understand how melee combat and ranged combat work, and don't work.
Gain an understanding for how magic, super powers, or special abilities work.
Talk to your GM about any house rules that may be used.
Ultimately your character is the interface device between you and the game. In order to be satisfied with your "interface device" you have to understand what it can and cannot do within the system. A few years back I had a player that never could get "into" his character. Even when his first character died he still wasn't satisfied with his new one. His primary problem, from my point of view anyway, was that he was always trying to build a 3rd edition character in a 4th edition world. Instead of reading the rules and understanding the concepts, he made huge assumptions about the rules and how they worked and then made choices for his character that were based on these false assumptions.
When I start a game with a new set of rules I make sure my players read all the way through a class entry, not just the low-level stuff. Understanding the mechanical direction a character will grow in the future can help inform decisions early on. Tonight I'm kicking off a new Dungeons & Dragons campaign and one of the players in my group initially wanted to play a ranger (he usually plays a ranger). But after talking to him about what he envisioned for Bratheal and reading through the other classes, he realized that the fighter, with the battle master sub-class, was a better fit in the long run. Ultimately I think he will be much more satisfied with his character and enjoy playing him over a wide range of levels (provided I don't kill him off in the first session!).
As a GM my priority is to provide an environment in which the players have fun playing the game. I can craft interesting worlds with exotic locations, fascinating NPCs, and challenging encounters but I can only do so much. If a player is getting frustrated trying to fit his "square-peg" character into a "round-hole" world then there's little I can do to help; well I could kill off characters until the right one is found!
So do yourself, and your GM, a favor. Read about all of the classes. Understand the rules well enough to see how your choice of race and class will interface with the mechanic. Look at how your character will change and develop over the course of the campaign. Step away from what you think you want and embrace the paradigm the game has established for your character; there's still going to be plenty of choices and options to bring your vision to life.
In the next installment of "Enjoying Your Character" we'll talk about connecting your PC to the campaign setting, theme, and motif. Until then have fun and remember, having a great gaming experience is about everyone at the table working together and doing their part to have fun.