One of our readers commented on an article the other day [Dungeon World: Adventure Builder] and said he had some difficulty putting together an exciting "boss encounter" without any real prep work. He asked for some advice on how to whip up an interesting and memorable opponent on the fly. Fortunately, the way in which Dungeon World works makes it really easy to create an enemy on the spot.
Dungeon World monsters and NPC's don't really have a lot of mechanical stats you need to worry about. A handful of hit points and a damage die pretty much covers the mechanics you need for your enemy. Sometimes I roll a few d6's to quickly generate enemy hit points, or just pick whatever feels right. Although truth be told I usually just track a creature's hit points until they seem to have taken "enough" damage to kill them. As for damage I simply pick a die type (d4, d6, d8, d10, or d12) and add +0 to +5 depending on the creature. Finally I decide if the foe has some sort of armor rating usually ranging from 1 – 5. That usually does it for stats. Of course stats don't really make an enemy interesting or exciting.
In order to make a monster or enemy more exciting I look at it differently. When I need a monster quickly I picture the creature in my mind's eye. I think about what the creature looks like and more importantly, what it looks like in action. The second part, what it looks like in action, is the really important part when it comes to making an exciting combat.
When I picture an enemy combatant I'm thinking about a bunch of different elements. I'm picturing what they look like and how they are dressed and armed, and I'm also picturing how they move, fight, and defend themselves. I focus on a few important elements that impact a combatant's feel:
How do they move? Are they graceful, fast, and fluid or heavy, ponderous, and powerful? Do they simply wade into battle or dart in and out of the melee? Do they tend to walk, run, fly, slither, or even leap into the fray?
What "attribute" do they fight with? Do they really on their strength and power? Raw physical size and mass? Speed, agility and reflexes? Are they cunning and sneaky? Is their mind their greatest asset?
How are they armed? Do they use brutal, powerful crushing weapons? Light, fast slashing weapons? Nasty teeth and claws? Powerful arcane blasts? Telepathic manipulation? Can they manipulate their enemies in battle?
What tactics do they employ? Are they simply forces of raw, mindless destruction? Do they take advantage of their environment? Do they order minions into the battle? Do they choose their targets carefully and strategically?
The important thing here is that I'm not thinking of anything mechanical but instead looking at them with my cinematographer's hat on. I'm paying attention to how all of these elements look and feel because that's how I'm going to utilize them and describe them. Even more importantly it's going to inform a lot of my choices on things that might happen on a 7-9 result or a 6- result. With that said, let's take a look at a couple of examples of how I employ these techniques.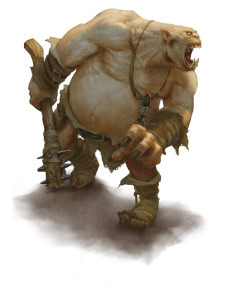 The Hulking Ogre
In my mind I'm seeing a massive creature of rippling muscle and sinew. He's not agile, he stomps around the battlefield shaking the ground and breaking and crushing the things around him. He attacks brutally and without finesse, looking to literally crush the life from his foes. He's fueled by rage and instinct and doesn't really make plans or think through his actions. He's virtually unfazed by pain but his dull mind fears mysterious forces like arcane magic.
So far this gives me a lot to work with not only from a narrative perspective but from a mechanical one as well. His long powerful arms and ground-shaking stomp might demand some Defy Danger rolls. The consequences of a Hack-and-Slash might range from being grabbed and tossed aside like a rag doll to being knocked to the ground and pinned under his foot. He is not only capable of hit point damage but this guy breaks bones, delivers concussions, and knocks the wind out of heroes. He grabs, kicks, and throws things which may also force Defy Danger rolls on the entire party as well as leaving behind a trail of destruction. Even unintentionally his size and raw power can uproot trees, flip over wagons, and knock down columns creating all sorts of obstacles for the heroes to deal with, trip over, or be damaged by.
I've also got some good ideas on how he might react to some of the heroes' actions. Intimidation may only serve to enrage him, but that might be a very exploitable, blind rage. Flashy, mysterious arcane effects might cause him to hesitate or become momentarily confused. Quick and agile heroes may be able to take advantage of his slow and somewhat clumsy movement. He also will probably fall for tricks and clever tactics that heroes might come up with. Dealing damage to him will probably cause him to turn on his attacker and lash out. Looking at my ogre this way I'm ready to run a great encounter with him, one the players should remember for a while.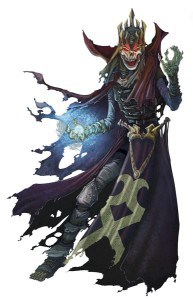 The Unliving Lich
Her slight, undead body seems fragile but her physical durability and toughness is substantial. Her mind and mastery of necromancy are her primary weapons. She utilizes many magical effects both offensive and defensive; all of which are tainted by necromantic energy. She commands the battlefield often hovering above it, held aloft by her arcane power. She surrounds herself with undead thralls as well as the risen dead that she animates through her own force of will. Her arrogance and immortal nature tends to cause her to underestimate opponents and to think of herself as completely invulnerable to "mere" mortals.
Once again I've got a great idea how this creature will fight the heroes. Defy Danger will happen constantly, whether from one of her horrible rotting spells or from the shield of necromantic energy she surrounds herself with. Anyone "lucky" enough to get in melee combat with her runs the risk of being exposed to a withering touch should they roll poorly on a Hack-and-Slash. Even those that Volley from afar may discover themselves in a bad situation when undead corpses burst up all around them. In addition she's no fool and never fights alone, her ghoul retinue is fast and savage and protects their queen to the death. With a simple command she can also raise additional skeletons and zombies from the crypts throughout her chambers.
The heroes may be in a little trouble here but there are still things that could help them defeat her. Her sense of invulnerability and arrogant attitude might be exploited by cunning heroes. The cleric or paladin may be able to use their powers to take advantage of her undead nature. Unfortunately for the heroes, even if she's "defeated" she is a lich and they may have to contend with her in the future.
Final Thoughts
These examples illustrate my take on monster design in Dungeon World. I love this system in large part because I don't have to waste time making stats for creatures or having to design encounters utilizing a bunch of math and mechanics. Dungeon World is all about the narrative and you should always focus on the narrative when prepping your adventures.