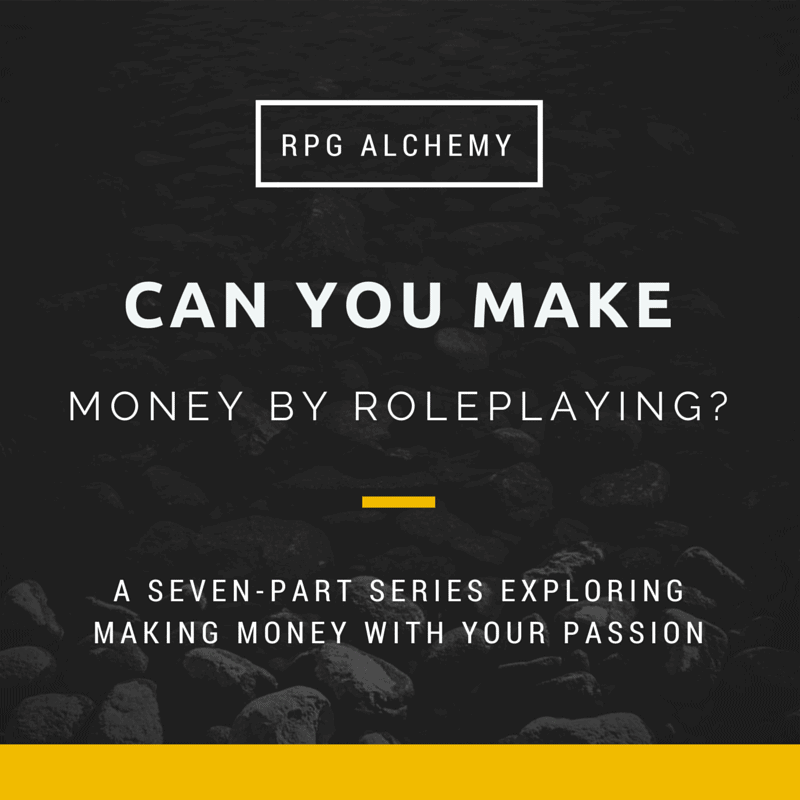 Can YOU Make Money By Roleplaying? is a seven-part series that explores if it is possible to make money with your roleplaying passion. Many gamers dream of publishing their own setting or system, creating a blog that the world adores, or simply earning money by actually playing games. But are those goals realistic and can you really make money by roleplaying? This is article number six in the seven-part series and discusses my personal journey in the roleplaying industry.
In the fifth article of our seven-part series, Top Companies and Earners, I touched on the sales revenue of major corporations in the industry and then drilled down into newer companies, various websites, and Patreon revenues for some roleplaying creators. In this article, I'm going to be completely transparent on my own journey with making money through MY roleplaying passion.
My "day job" is in Law Enforcement, but I have about a decade in the Information Technology industry as well. Pretty much from the day I picked up a roleplaying game I was also learning about computers. In addition, my college education is primarily focused on Business and Technology. So my foray into making money with roleplaying has mostly been through the use of websites and advertising.
My First Website
Many years ago, I created my first website that was focused on providing information on the Palladium Fantasy Roleplaying Game. This was around the late 1990s right when I was finishing high school and starting college. This website was strictly an outlet for creativity purposes and I had no intentions of making any money off of it.
My only claim to fame with this website was author Bill Coffin took one of the adventures I created and ported it into his Palladium FRPG Sourcebook, The Baalgor Wastelands. He was nice enough to improve upon the adventure I had written, throw it in the back of his sourcebook, and give me credit for it (thanks Bill!). Then college ensued and I honestly couldn't tell you what happened with this website. I'm sure it drifted off into internet oblivion.
Lesson Learned: You never know when cool opportunities will come your way when you're working hard on your passion.
Roleplaying Pro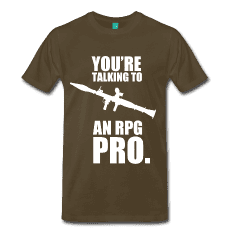 Although I dabbled in website development, my next roleplaying-based site didn't come about until around 2008. It was a blog called Roleplaying Pro. During that time, there was an explosion of roleplaying blogs on the internet. I had a passion for roleplaying and enjoyed building websites, so I thought I'd give it a whirl again. This time though, I tried a little harder at combining my passion with some of my business skills in the hopes of making a little money with my hobby.
Roleplaying Pro was around for about two years and I learned a TON during the time it was up. We reviewed everything from roleplaying games, to miniatures, to video games, and a host of additional accessories related to those products. I made money through the Amazon Affiliate Program, Google AdSense, and other advertising programs. I even got offered money for yearly targeted ads from various companies, but I usually turned them down since the things that were being advertised didn't fit my core values (lots of gambling related websites were preying on RPG Blogs at the time).
Although I received a lot of free products to review, I can't imagine that I cracked much more than $1,000 in actual revenue during that two-year period. The best thing that really happened to me was that I learned a lot about website development, advertising, search engine optimization, and networking. These skills really helped me with developing websites after this point.
Unfortunately, Roleplaying Pro met a fateful end due to my own failings. After about two years of working hard, I saw a lot of progress but not the amount that I felt I wanted. My wife and I had our first child coming and I felt the amount of time I was putting into the site was too much. So I gradually put less and less work into the site, eventually dropping it altogether. The current Roleplaying Pro was picked up by a domain squatter after I dropped it. Somehow he resurrected some of my old articles and is now using the domain for link traffic to "sugar scrubs", computer stuff, internet marketing, and weight loss. Such a tragic end to a great website…
Lesson Learned: If you get tired and decide to shelf a website you put a ton of effort into building, pay the domain name and hosting fees for the next five to ten years just in case you decide to come back to it (it really won't cost you that much in the long run).
Game Mastery Pro
Eventually, I got bitten by the website creation bug for a third time. This time I was a lot more prepared to develop a website that I wanted to do that I could also make money with. Game Mastery Pro was born in August of 2013. My intention was to create a dual purpose blog that talked about my two biggest hobby passions at the time, roleplaying and video games. I saw a lot of possibilities being able to crossover the two topics and felt that I could differentiate myself in the market by doing so.
My goal was to have a variety of income streams for the website, Google AdSense, Twitch.tv advertising, YouTube advertising, sponsorships, and pr'oduct endorsement. I initially started out writing about various video games I was playing at the time. Because of my experience with search engine optimization from Roleplaying Pro and a little luck, the website took off pretty quick.
At the time, I was playing a lot of Game of War: Fire Age on my smart phone. This was back before it became a MASSIVE hit in the marketplace (aka pre-Kate Upton). Game Mastery Pro was really the only source of information on the game at the time and it quickly blew up. I noticed this happening and basically changed the focus of the site into supporting that game. It all happened so quickly I hadn't really even begun to monetize the site at that point.
Even after I stopped playing the game and supporting the website, it seemed to keep growing bigger and bigger. As a test, I threw up only Google AdSense advertisements on the website and started playing around with them. Here are the results:
Overall Views: 2,100,000 (approximately)
Average Views Per Day: 3,500 to 5,000 (approximately)
Average Ad Impressions Per Day: 10,000 (approximately)
Average Revenue Per Day: $3.48
So for every 1,000 ad impressions that the website shows, I make approximately $0.35. That's around $25 per week or around $100 per month. Except for a few articles I added to the site recently, I basically don't do anything with it and I get a check from Google for about $100 each month. Not bad for some money to play with.
Lesson Learned: Search engine optimization is very important for views on your website, but so is being in the right place at the right time. Being the first to bring some sort of valuable information to the market can be a critical element of success. But sometimes it is hard to tell what is going to be popular in a few months or years and what isn't.
RPG Alchemy
With Game Mastery Pro becoming a niche-focused website that was earning me passive income, I took a step back again. I was approached by a friend of mine, John Lewis, on doing a tabletop roleplaying focused website. John had helped me with Roleplaying Pro in the past and I knew he had a lot to bring to the table. However, we didn't want to confuse people by adding roleplaying content to a website that had basically talked about a popular phone app game for the last year. So in August of 2014, a year after I started Game Mastery Pro, RPG Alchemy was born.
Again, I used the basic principles that I learned from previous websites in starting RPG Alchemy. It was much quicker this time and a "cleaner" startup, in my opinion. John and I set some pretty strong goals and worked tirelessly over those first few months to build up a base for the blog. This was also really the first time I started using social media to promote my websites.
As of this date, I haven't really tried to monetize RPG Alchemy yet. We've received a lot of cool products to review but I haven't chosen to advertise due to the view count. If I decided to add Google AdSense to the site, these are most likely the results I would see:
Overall Views: 42,000 (approximately)
Average Views Per Day: 100 to 350 (approximately)
Average Ad Impressions Per Day: 700 (estimated)
Average Revenue Per Day: $0.25 (estimated)
To me, it isn't really worth it to fill up the website with ads right now for $7.50 per month. There is the possibility that the click-through rate on RPG Alchemy could be higher, but even if it doubled I don't see $15 a month in ad revenue being worth it for me.
Lesson Learned: The popularity of your website's topic will drastically affect the amount of advertising revenue you can receive. The topic of roleplaying is nowhere near as popular as video games, health and fitness, self-improvement, etc. So in the roleplaying industry, you have to adjust your expectations accordingly or change your strategy for revenue.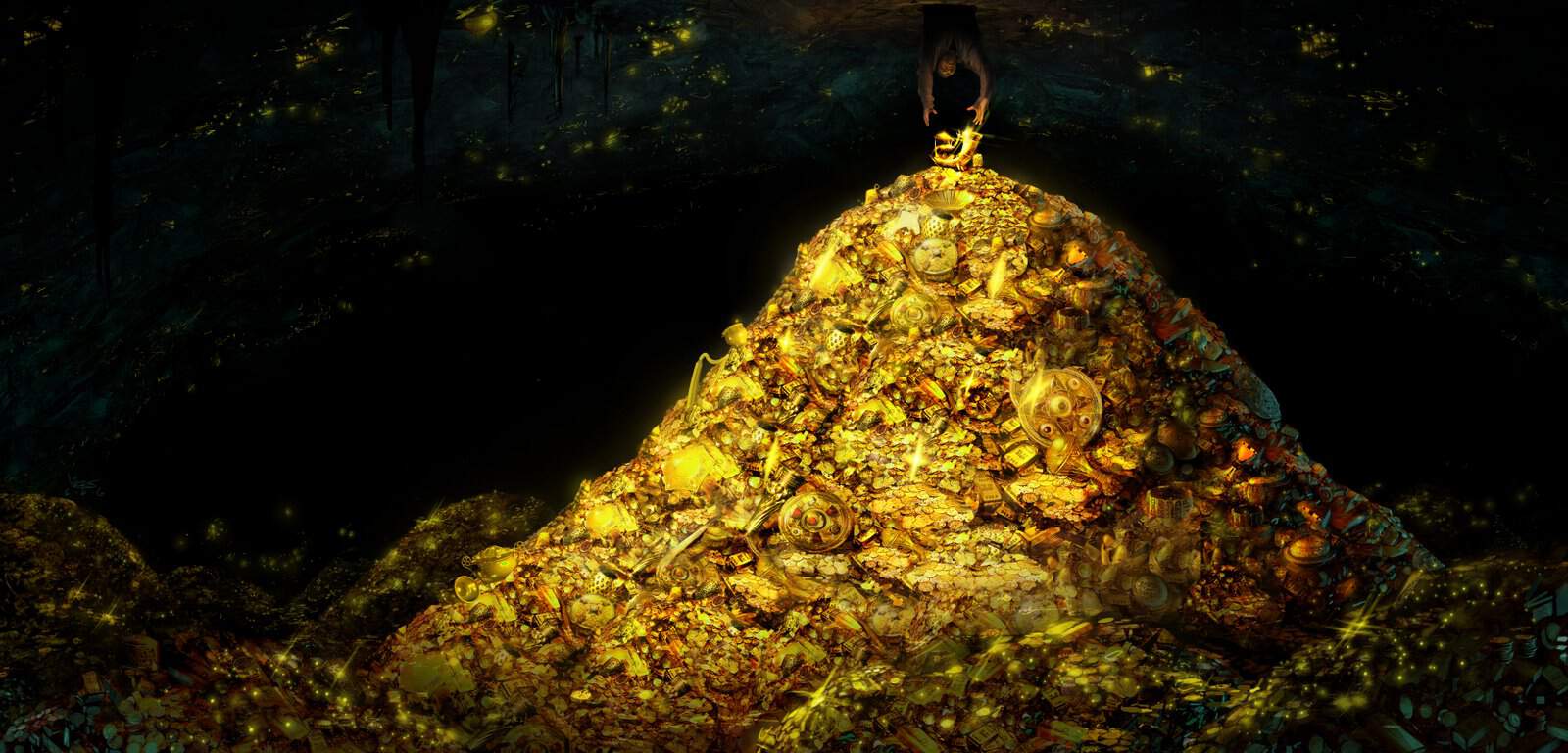 Conclusion
Although I can only speak about website development, advertising (primarily Google AdSense), and product reviewing, I've definitely learned a lot when it comes to making money with your roleplaying passion.
First, I have a greater level of appreciation for the mainstays in our online community that have been around for a long time. A great example is Johnn Four at Roleplaying Tips. He's been publishing in the industry since 1999 which is around the time I started my first website. The big difference between us is he never stopped and just kept moving forward and getting better. To me, he deserves every dollar he makes in the industry.
Second, I realize that making money in the roleplaying industry is currently constricted by the fact that it's not a large topic (comparatively). If you wanted to make a living off of developing a roleplaying-based website, you'd really have to diversify your income streams. Building a high-traffic site with advertisements, combining it with Patreon, eBook sales, affiliate product sales, paid reviews and more would be necessary to create a sufficient and diversified income stream.
This idea goes for any other revenue path when it comes to roleplaying, be it building a brick-and-mortar store, developing your own publishing company, or doing something crazy like becoming a professional gamemaster. The revenue for any of those paths will always be constricted by the overall size of our industry.
Finally, I appreciate every product I've been given and every dollar I've made in the industry. If you break it down on a dollar per hour basis, I'm probably pushing a nickel an hour (if that). But the experiences I've had and the skills I've learned during that time must be taken into account as well. They are all things I've translated into other areas of my life and I'm better prepared for the goals I want to accomplish now because of it.
If you have any questions about the topic we discussed today, or any of the other topics in this series, please feel free to leave a comment below!
In the next article of the series, we end the series with the "Conclusion" of our thoughts and discussions on the topic.
Can YOU Make Money By Roleplaying – Article Series
• Introduction
• Ways to Make Money Roleplaying
• Areas of the Market
• Enough Money to Justify the Work
• Top Companies and Earners
• My Personal Journey
• Conclusion