You might have guessed that the past few weeks have been a little hectic and crazy for us alchemists here at RPG Alchemy. Sam and I have had a lot on our plates the past several weeks, both personally and professionally which has greatly impacted article output. But as summer draws to a close things seem to be settling down and it's time to get back to one of our favorite hobbies, writing RPG articles (which is second only to playing RPG's!).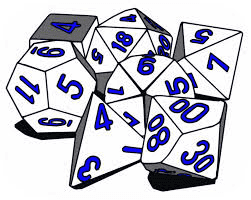 For me blogging is closely tied to my gaming experience, when I'm playing regularly I tend to be inspired to write regularly. Conversely when our weekly game is thrown off so is my writing. This summer our weekly game has been in total disarray. Vacations, work demands, and family have all taken their toll on each of us and the campaign we started last winter has been on hold since June. That's not to say we haven't had fun doing other things. We've played lots of the Firefly board game (which I can't recommend highly enough) as well as several sessions of Numenera (featuring some of the PC's from last year's campaign).  A few of us even attended the second annual RageCON here in Reno (a very well run event).
It's also been a great summer for me in terms of purchasing and reading a variety of newer RPG's. I finally finished reading Through the Breach and I'm really looking forward to running games set in the mysterious city of Malifaux. I picked up a few new games powered by the Apocolypse including; Monster of the Week, Urban Shadows, and what I think will become my all-time favorite super hero RPG, Worlds in Peril. I also read the new Fantasy AGE rulebook from Green Ronin that takes their system from Dragon Age and modifies it for general fantasy use. Additionally one of the highlights of the past few months has been the release of the Cypher System rulebook. If you've spent any time on RPG Alchemy you know we're huge fans of Numenera and The Strange and all things Cypher system.
This fall I should be back on track for running my regular game so I anticipate being back on my regular article posting schedule. I also have a few "pet projects" I want to put more work into including a campaign primer PDF I want to post in the next month or so.
In other personal news I'm also planning on attending multiple gaming conventions in the coming months so you'll most likely be reading about that as I develop adventures and talk about techniques for running games at cons. Speaking of single-sessions games, I'm also working on a mini-game system I'm calling One-Shot Heroes, a quick throw-down RPG Powered by the Apocalypse.
I do have a quick question for our readers; what types of articles do you find most useful or entertaining? Practical how-to's? Advice and insights? Reviews and previews? I always enjoy writing articles or discussing topics suggested by, or relevant to, our readers. So feel free to comment or request anything you'd like to hear about in a future article. We alchemists would be more than happy to oblige.