Several・weeks back I wrote an article on my personal campaign management style [here] that generated quite a bit of discussion both at RPG Alchemy and around the web. In several different discussions I was asked about my creation process and what design techniques I use to create my ideal・blend of character agency, group storytelling, and GM improve. This past week I began writing an article to cover that topic but it rapidly expanded well beyond the 1000 words or so I like to publish. After a little discussion with my fellow RPG Alchemist Sam, I decided to break it down into a series of articles each covering one of the phases of my campaign design process.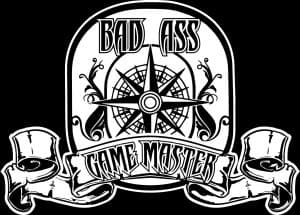 Before delving into the first phase (next week) I want to discuss a trio・of foundation components I feel are essential to a positive roleplaying experience. Our hobby・is an interactive social experience and the quality of that・experience is greatly dependant on the GM (although players definitely have a role as well). Nearly half way through my fourth decade of gamemastering I have come to believe the three most important aspects of the great GM are; knowing your players, knowing your game, and knowing yourself.
Know Your Players
I've had the great fortune of gaming with a vast variety of people over the years, from my pre-adolescent friends in the early '80's to my current group of middle-aged professionals (yes you guys are middle-aged!). As a GM you absolutely have to know the people at the table and what makes them tick, at least from a gaming perspective. Have an appreciation for what every player brings to the table and ask yourself some of the following questions:
Which of your players drive the action forward?
What really engages and immerses the players in the game?
Who is your system aficionado (rules lawyer, there's always one)?
Who are your thinkers? Who are your doers?
Why do the players take time out of their lives to roleplay?
Having some understanding of the answers to these questions is at the heart of one of the most important elements of running a great game, be a fan of the characters (thank you Dungeon World). Knowing your players and understanding why they play is at the core of delivering a truly great gaming experience. Additionally having a solid understanding of your players' motivations (not the characters') also helps a GM manage the diverse personalities at the table helping・to ensure the best possible interactions for the game. Remember, the people at your table are the game, they are the reason for everything we as GM's do. Their enjoyment should be your enjoyment.
Know Your Game
On the surface・this one may seem obvious, as a GM you should understand the rules of your game. However, I look at this aspect of gamemastering as having a deeper understanding of the game. You need to wrap your mind around what your game system can and cannot do. You need to see the mechanics of the game from the designer's perspective. Understand its advantages and disadvantages and get a feel for the mechanical intent of the game. Ask yourself some of the following questions:
Are the rules attempting to simulate reality or convey a feel?
Is the system mechanically tight (meaning you have to be cautious when tinkering with it) or loose (giving you lots of room to make adjustments)?
Does the game use broad and general abstractions or narrow and precise specifics?
How do the various mechanics of the game fit together and interact?
What elements of roleplaying does the system excel at? Combat? Social interaction? Exploration?
I've seen games fail to deliver for a group because they were playing the game "wrong". More often than not・this is a・case of the square peg, round hole syndrome and not the fault of either the players or the game itself. Sometimes we become so excited about a setting or the company producing a game・that we fail to realize that the rules themselves may be the wrong tool for the job we envision. This is why it's so important to really understand the game, you don't want to be the person that brings a knife to a gun fight!
Know Yourself
An often overlooked component to great gaming is having a solid understanding of yourself as the GM. Do an honest assessment of your・strengths and weaknesses. Play to your strengths and find ways・to improve your weak areas.・Every GM should ask for feedback from their players and take some time to evaluate・that feedback. I am always looking for ways to improve my game and that usually involves improving myself as a GM. Honest self-assessment can sometimes be intimidating and a little painful but it's the only way to truly grow as a GM. I like to ask myself some of the following questions as a GM: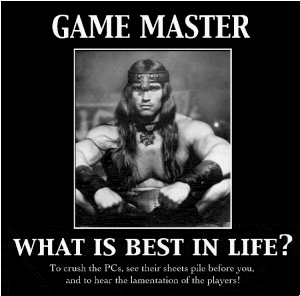 Do I GM for me, or for the players?
Do I overuse any aspects or elements of the game?
Have I been avoiding any aspects or elements of the game?
Am I making sure each character is getting spotlight time?
Am I still excited and motivated to run the game each week?
These questions, and dozens more can assist・you in knowing your gamemaster-self better and help in keeping your GM ego in check. Not to say that ego is a bad thing, you have to be confident and secure in your GM-hood to deliver a great game but there is a fine line between GM confidence and GM arrogance (or so say my players!). Another great method of self-assessment is to get out there and stretch your GM muscles outside of your normal comfort zones on occasion. Run a game for strangers at a convention or a game in public at your local game store. Sometimes the most honest feedback comes from strangers. Watch other GM's run a game without being a player in that game. Read and participate in a variety of RPG forums, blogs, and social media venues. Read RPG Alchemy! There are lots of opportunities to grow as a GM, take advantage of as many as you can.
Final Thoughts
I hope you find the coming Campaign Design articles interesting, informative, and above all useful. As you read them keep in mind that my style and technique has evolved based on my personal journey as a gamemaster and we each have our own experiences, preferences, and personalities・to consider. The role of the GM is perhaps the most important role at the table and carries with it a ton of responsibility. It should also be the most selfless role at the table. It's a lot of work; the hours are long, the pay is sub-optimal, and oftentimes your efforts can feel under appreciated. But, when the players are having a great time, when they "bother" you all week about the game, when they plan amongst themselves for the next session, when you can't wait to sit down behind the screen, that's when all of the work and effort pays off. That's when you have the kind of gaming experience that makes this the greatest hobby in the world.
Next time we will take a look at creating a working list of campaign elements.
---
Links to the RPG Alchemy's entire Campaign Design series: