Welcome back. For many gamemasters, both new and old, the creation of a new campaign can be an intimidating challenge. Hopefully this series of articles can help inspire your creativity and focus your efforts. Over the years I've adapted these techniques and discovered that they have helped me create better gaming experiences. Not only that they have also helped me manage my prep time more effectively, putting my energy into the things that have the greatest impact on the game.・To briefly recap the series:
Initial Campaign Elements: Create a list of broad, conceptual features to include in you campaign. Think about the type and genre・of the campaign and the kinds of adventures and stories your group potentially wants to tell. These features should take in consideration two things, what you as the gamemaster want to run and what things your players find exciting and engaging.
Campaign Look & Feel: Expanding on your initial elements make some decisions regarding the setting itself, such as the setting's overall environment, the scope of the stories being told, and the tone of the campaign. This is the point where giving some consideration to a theme or a motif comes into play. I like to think of a single theme to have reoccurring throughout the campaign. For my Seven Bridges Valley campaign that theme was corruption and it was highlighted in several important areas.
The Party Concept: As far as I'm concerned, if you only took advice from one of these articles, this would be the one. Creating a solid concept for the heroes' party has had a more・positive effect on my gaming group than any other single thing I've done. A well-defined・party concept forges・two important campaign elements; it connects the heroes to one another and connects the group to the setting. Connection greatly enhances the game experience and prevents a variety of common gaming problems.
Characters (PC's & NPC's): I always have the players make their characters as a group, oftentimes this becomes a great session in and of itself. Not only is it a great opportunity to establish・connections and relationships between the heroes but it is also the perfect time to begin your gamemaster's list of NPC's. I've run more than one campaign in which 95% of the campaign's important NPC's were developed while the players where making their characters.
Setting Things in Motion: The final step is where you breathe life and verisimilitude into the creation. Oftentimes I have been guilty of putting too much emphasis on my setting's history and forgetting to develop its present. Recent and ongoing events give the campaign a sense of life and help showcase cause-and-effect to the players. It lets your players know that their choices and actions will also impact the setting.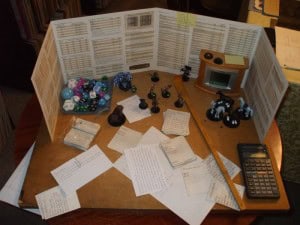 Here at RPG Alchemy we have placed this series under our Guides tab for easy reference. Periodically I will be updating articles as I continue to refine my own technique and in response to questions and comments. In addition, one of our readers has asked about providing more concrete examples. To that end I will be adding a "walk-through" article in the future featuring my own gaming group's recent experience with campaign design.
Additionally these articles are only the first in our Guides series. We will be expanding on a variety of topics for the guides focused on both gamemaster and player advice and helpful game techniques. If there is a particular subject in which you would like to see us cover or expand on, comment below or let us know through any of our usual social media outlets.
Once again I hope you've found this series interesting and informative. Feel free to add your comments, ask questions, and expand on what I've written. Designing・a great campaign doesn't have to be a mountain of hard work, broken down and prioritized into the most important components can make it much easier and let you focus on having fun and letting the campaign unfold in an exciting and rewarding manner!
---
Links to the RPG Alchemy's entire Campaign Design series: