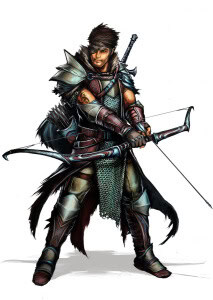 Character quirks can be little exercises in roleplaying that make things fun for the player. They can also have major game implications if the character is faced with a dilemma where two of their values come in conflict. Here are 101 player character quirks that can be used in many different types of settings. These quirks vary from small quirks (small effect on game play) to big quirks (potentially large effect on game play).
Here is the second half of 101 Player Character Quirks (51-101):
51. Constantly mixes up proverbs and sayings.
52. Cannot admit to being wrong even when shown proof of being wrong.
53. Constantly has a toothpick in his mouth, even when fighting.
54. Often smells of (his favorite food/cologne/something bad/etc.).
55. Always finishes his food first and asks other party members, "Are you going to finish that?"
56. Has a non-combat pet with him (mouse/ferret/small dog/etc.).
57. Uncomfortable in crowds of people.
58. Is constantly playing with something (yoyo/deck of cards/Rubik's cube/etc.) when going about his daily business.
59. Carries a special coin with him everywhere that he uses to help him make decisions (heads or tails?).
60. Incredibly afraid of mirrors and will do anything to avoid them.
61. Always refers to himself in the third person.
62. Refuses to allow anyone to touch his smoking pipe, refuses to explain why, but will fight to the death over it.
63. Always speaks in a seductive voice (may or may not be aware of this).
64. Insists on being fashionable, even at times that it is extremely difficult to do so (fighting/sleeping/climbing a tree/crawling through mud/etc.).
65. Has nightmares about some very unusual thing (leprechauns/fireflies/koala bears/etc.).
66. Uses the services of prostitutes but insists afterward that they pay him.
67. Believes that he is the reincarnation of some famous person that died long ago.
68. Marty McFly Complex ・・ Will take unnecessary risks or do dangerous acts if his courage is questioned, such as being called a chicken or coward.
69. No sense of humor ・・ Responds to all jokes as if they're serious statements.
70. Always blames an accident on someone else in the party.
71. Always refers to himself as "The Amazing _____!"
72. Cannot physically part with his primary weapon, or armor, or both.
73. Eats only with his hands, will not use utensils.
74. Constantly talks about his homeland and often relates everything being talked about back to something in his homeland.
75. Has an imaginary friend that he occasionally talks to.
76. Has a voice that doesn't fit his body or personality (aka Mike Tyson's voice).
77. Is very easily swayed by food (aka Scooby Doo).
78. Never curses or uses any deity's name in vain and disapproves of those who do so.
79. Chews tobacco and has a habit of spitting everywhere he goes.
80. Can speak, but prefers to talk through innuendo or sign language.
81. Prays to whatever god he thinks fits the situation and will help him out.
82. Feels it is necessary to taunt all of his enemies, regardless of the situation or how dangerous the enemy is.
83. Only drinks one specific type of alcohol, believes all others are worthless.
84. Refers to his deity as "The Great One" and threatens violence to anyone who utters its name.
85. Was once horribly wronged by someone with a distinctive physical trait (blond hair/facial scar/green eyes/etc.) and now hates/suspects anyone with a similar trait.
86. Is really bad at lying.
87. Carves his name into something at every major location he goes to.
88. The Crocodile Hunter ・・ Obsessed with the "beauty" of something that most people recoil in horror from (undead/dragons/werewolves/etc.).
89. Gives everyone he meets a nickname and calls them by that name. EVERYONE.
90. Has names for all of his pieces of equipment and speaks to them often.
91. Always wears a hat or a helmet, no matter what.
92. Makes his own sound effects while fighting.
93. Always finds an excuse to charge into a dangerous situation regardless of the consequences.
94. Uses circular logic for everything.
95. Is not religious, but suddenly becomes religious in life-threatening situations, only to revert back afterward to not being religious.
96. Obsessive about polishing, cleaning, and maintaining their gear.
97. Ends nearly every conversation with the phrase, "I should go now."
98. Plays an instrument often and very poorly, but believes he is good at playing it.
99. Uses nautical terms freely and inaccurately throughout his conversations, even though he has never been to sea (or only a few times).
100. Allergic to something very unusual (undead/gryphons/baby powder/etc.) and begins to sneeze uncontrollably when he is within a short distance it.
101. Very sarcastic, especially when in life or death situations.
Thank you to all the gamers at the RPG.net Forums and Dungeons & Dragons Forums for helping me brainstorm for this article. You guys and gals gave fantastic advice that will help make me a better gamer!