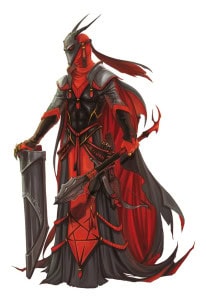 Character backgrounds are so integral to a great campaign. They can give players direction on how to play their character and also give game masters various hooks they can use to pull a character deeper into a campaign. Here are 101 player character background hooks that can be used in many different types of settings. These hooks vary from small hooks (potentially one adventure worth of material) to long hooks (campaign long ideas).
Here is the second half of 101 Player Character Background Hooks (51-101):
51. Gain enough wealth to establish a secluded monastery in the mountains to worship out his deity for the remainder of his days.
52. Track down and destroy all members of a secretive cult that is attempting to summon an ancient evil deity back into the world.
53. Craft a legendary item that will help vanquish the forces of evil.
54. Write a heroic story that will be retold until the end of time.
55. Establish a thriving town in a nearby frontier that will help expand his family or country's influence into new territory.
56. Discover what is causing a blight on the local landscape and restore the area to its previous state.
57. Breed a strain of hunting companion (canine, feline, avian, etc.) that rivals that of anything in the land.
58. Build a profitable adventuring business and franchise it around the known world.
59. Topple a nearby government and install a completely different type of government (democracy, republic, monarchy, aristocracy, dictatorship, etc.).
60. You died. You don't remember the exact details, or what happened to your old allies, but you woke up in the care of a cleric in a small village.
61. Eradicate a specific type of monster or creature from the local area or known world.
62. Solve a problem that is hampering the local economy (drought, lack of trade routes, shady politicians, loss of a local resource, etc.).
63. Locate a mysterious doppelg辰nger that is imitating the character, traveling around the area, and doing evil while pretending to be the character.
64. Find out who is tarnishing the family name and eliminate the issues (disgruntled family member, opposing family, unknown source, etc.).
65. Travel into a desolate and forsaken area and establish a thriving trade community and bastion in the area.
66. Discover the location of ancient catacombs that are said to hold the remains of an extinct civilization ・・ untold riches and the secrets of a long-lost civilization are said to be there.
67. Establish himself as the primary voice for his god and spread the faith across the world.
68. Develop a cure for a plague that is sweeping through a nearby region and rapidly approaching a majorly populated area.
69. Dismantle an indestructible, evil relic and spread its pieces across the globe in secure areas so it can never be rebuilt.
70. Your mother was the baroness of a small realm until your step-father betrayed and killed her, making it look like an accident. You managed to escape.
71. Find the answer to a riddle that the character has known since he was a child.
72. Locate a secret weapon cache buried by a military many generations ago before it falls into enemy hands.
73. Learn enough to surpass his former mentor in skill/knowledge/prestige.
74. Gain the affection of a childhood crush whole family acquired sudden wealth and abandoned their lowly caste.
75. Take vengeance upon the slavers from who he escaped.
76. Befriend a legendary creature (unicorn, dragon, etc.) and go for a ride.
77. Provide food and shelter for the destitute in his city of origin.
78. Seek revenge on the person/group/monster who killed his family/loved one/village.
79. Compose a bestiary of the world's monsters.
80. Since your childhood, your family has been marked with a curse that affects all within the bloodline. Find out the origin of this curse (if it is even real) and end it.
81. Set out to find a magical item or spell to remove a curse on a town or loved one.
82. Run away from his boring home town and find adventure like in the stories of legend (particularly useful for a 'Sailor' background).
83. Discover the origin and power of an enchanted cape that monks at an orphanage found you wrapped in as an infant.
84. Grow past your only crowning achievement in life ・・ saving your village from an evil villain as a child.
85. Discover why no matter where you go, you notice small animals (toads, squirrels, house cats, crows, etc.) watching you intently.
86. Discover and kill an assassin that killed an important priest while you were a member of the town watch (you failed to stop this).
87. Locate the 'Chosen One' of your faith, if they are even still alive.
88. Locate a legendary music instrument that is said to have the power to influence all that hear its sounds.
89. Dismantle an enemy shrine to their god that is located deep within their territory.
90. Discover the origin of a radical new religion that has sprung up over night and decide if it needs to be destroyed.
91. Discover the fate of a dear friend that went missing during a war.
92. Discover a way to resurrect a loved one that recently passed.
93. Conquer a specific area, or the known world, and become the greatest king that ever lived.
94. Develop a disease that kills a specific enemy to the local populace but is harmless to the populace itself.
95. Discover a way to remove the famed 'Sword in the Stone'/'Axe in the Petrified Tree'/etc.
96. Discover the location of the famed 'Twilight Grotto' which is said to hold a legendary relic/spell book/weapon/etc.
97. Locate and destroy a shape-shifting assassin that seems to be targeting people related to your past.
98. Dethrone the king of a nearby realm and ally that realm with your home realm.
99. Locate and thank a mysterious stranger that saved you from certain death and vanished without a trace.
100. Discover the origin of why everyone in your family bloodline has a unique ailment/mark/feature/etc.
101. A young person arrives and tell you that they are your child. The person has your features and is the appropriate age, but to your knowledge you have no children. Discover if this person is really your child.
Thank you to all the gamers at the RPG.net Forums and Dungeons & Dragons Forums for helping me brainstorm for this article. You guys and gals gave fantastic advice that will help make me a better gamer!