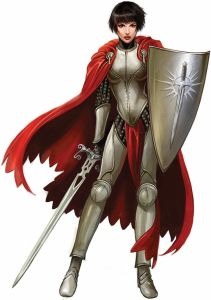 Character backgrounds are so integral to a great campaign. They can give players direction on how to play their character and also give game masters various hooks they can use to pull a character deeper into a campaign. Here are 101 player character background hooks that can be used in many different types of settings. These hooks vary from small hooks (potentially one adventure worth of material) to long hooks (campaign long ideas).
Here is the first half of 101 Player Character Background Hooks (1-50):
1. Find out the origin and meaning of a mysterious tattoo or birthmark that the character has always had.
2. Discover the person or organization that destroyed the family business.
3. Locate the character's long-lost mentor from his youth.
4. Discover the meaning and usefulness of a complex family heirloom that has been passed down for generations that the character currently possesses.
5. Recover a long-lost family heirloom that was stolen.
6. Take vengeance upon an individual who wronged a family member or close friend.
7. Rescue a family member or friend that was sold into slavery.
8. Clear his name regarding a serious crime that he never committed.
9. Clear his family's name regarding a serious crime that none of them ever committed.
10. A mysterious stranger arrives in town. Shortly afterwards, the town was attacked. The stranger rescues you from certain doom only to tell you that the attackers were looking for you. If you stay, surely your family and friends will be at risk. But if you leave…
11. Help a small village rebuild after being ravaged by nearby invaders.
12. Find the antidote to a disease that has plagued a local village.
13. Locate a legendary oracle that could have an answer to a question that has plagued the character his whole life.
14. Purge a band of local thieves from the character's hometown.
15. Discover the assassin of the family patriarch (or matriarch), locate them and bring them to justice.
16. Unlock the secrets of a statue that has stood at the center of town since before the town was built.
17. Gain enough wealth to buy back the family estate that was lost years ago in order to restore it to its former glory.
18. Recover an important relic for a local town that was stolen by invaders when the town was recently attacked and ransacked.
19. Acquire and become the captain of his own shipping vessel.
20. After killing some bandits/thugs/mercs you discover that they carry a wanted poster for you from a nearby realm. You've never been there before.
21. Track down a group of invaders that attacked a local village and rescue all the prisoners they captured from the town before they are killed or sold into slavery.
22. Find the wreckage of a shipping fleet that disappeared off a nearby coast several years ago.
23. Make amends to his deity for a wrongful act by making a pilgrimage to the deity's holy land.
24. Discover the location of a hidden monastery that is said to have the secrets to immortality.
25. Help the family business establish a new trade route from the city they are established in to a nearby major city.
26. Help rebuild the great temple of his deity that was destroyed years ago.
27. Discover who framed and killed a local politician that was a close friend to the character.
28. Discover the origin and secrets of catacombs recently found outside of the city.
29. Track down the top leaders of an area-wide crime syndicate and bring them to justice.
30. Your father was a renowned Paladin, a hero of the people who gave his life in service of good. You have to live up to, or live down, his stellar reputation.
31. Decipher the language written in a book that was discovered by the character – it is said to hold the secrets of a worldly deity.
32. Find the remaining pieces to a powerful relic and assemble it – the character has one piece to the relic.
33. Find a proper location to dispose of a cursed artifact that, if obtained by the wrong hands, could kill thousands of people.
34. Locate the lair of a dragon that is terrorizing a local village and lead a group to destroy it.
35. Find the origin of a mysterious plague that is sweeping through the country-side and eradicate it.
36. Discover where your family patriarch (or matriarch) left to years ago and why they left your family without saying a word.
37. Bring great honor to your deity by destroying a great temple built by its sworn enemy, possibly the followers of another deity.
38. Destroy a demon that has possessed the body of a small child without killing the child.
39. Locate the magical forge of a legendary builder that was quiet hermit who lived deep inside of a mountain.
40. A mystic order raised you believing you to be the 'Chosen One'. Before you reached adulthood, the order was attacked and destroyed leaving you sole survivor.
41. Locate the tower of a legendary wizard that was rumored to have created an artifact that could change common items into gold.
42. Gain enough wealth to build a tavern in the character's favorite city and retire there.
43. Discover the fate of a nearby village that vanished over night.
44. Track down and destroy a legendary beast that appears periodically every few years to terrorize local villagers by killing livestock and threatening the community.
45. Recover a birthright from a family member that took it from the character but has no claim to it.
46. Locate a long-lost sibling that was separated from the character in their youth (possibly a twin).
47. Help a small village relocate from a dangerous war zone to a much safer and more bountiful location.
48. Find a cure for a slowly debilitating disease that the character has contracted.
49. Discover why the character was abandoned at an orphanage in his youth and who his true family is.
50. You were once an evil cultist sworn to a foul demon-prince, but after a good cleric showed you mercy you sought redemption. You are now part of the cleric's party but your old allies still hunt you.
Thank you to all the gamers at the RPG.net Forums and Dungeons & Dragons Forums for helping me brainstorm for this article. You guys and gals gave fantastic advice that will help make me a better gamer!